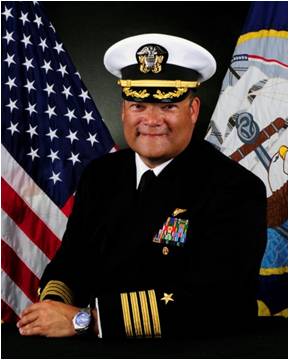 CAPTAIN JACK OLIVE USN-COMMANDER NAVAL SURFACE FORCES, FLEET AVIATION

Capt. Jack Olive, a native of Hemet, California, enlisted in the US Navy in 1986 and graduated from Naval Nuclear Power School in 1988. In 1989, Capt. Olive received a NROTC Scholarship to Jacksonville University and graduated Magna Cum Laude in 1991 with a B.S. in Political Science and a Naval Aviation designation in 1993.
He joined HSL-45 in 1994 and served as the Maintenance Officer on Detachment 8 on USS Lake Champlain (CG 57), USS Anzio (CG 68), and USS Fife (DD 991). He was also the squadron's NATOPS Officer.
In 1997, Capt. Olive reported to HSL-41 to serve as an instructor pilot and Quality Assurance Officer in the SH-60B Fleet Replacement Squadron. In 1998, he reported to Monterey, CA as the Flag Aide to Naval Postgraduate School, during which time he graduated from Marine Corps Command and Staff College.
In 2000, Capt. Olive reported to USS Dubuque (LPD-8) and served as Air Boss, VBSS Officer, and Senior Watch Officer during Operation ENDURING FREEDOM. In 2002, Capt. Olive returned to the Wolfpack of HSL-45 where he served as the Safety and Maintenance Officer. As Officer in Charge of Detachment 2, he participated in Operation IRAQI FREEDOM.
Capt. Olive was then ordered to Naval Personnel Command to serve as the Strike Helicopter Placement Officer. While there, he was awarded a M.S. in Operations Management from the University of Arkansas in 2005 and graduated from Joint Forces Command and Staff College.
From 2006 through 2009, Capt. Olive served as both Executive Officer and then Commanding Officer of HSL-47 deploying on USS Abraham Lincoln (CVN 72) with Commander Air Group Two in support of Operation NEW DAWN and then transitioned to the MH-60R and HSM-77.
From 2009 to 2011, he reported to Commander Naval Air Forces as the Carrier Readiness Officer and HSM Class desk.
From 2012 to 2014, Capt. Olive reported to USS Carl Vinson (CVN 70) as the Navigator and deployed to the Arabian Gulf. He is currently on the Commander Surface Forces staff as the senior Aviator.
Capt. Olive has over 3000 hours logged in multiple aircraft with over 200 hours and 70 missions in combat. His awards include the Legion of Merit, three Meritorious Service Medals, two Air (Strike/Flight) Medals, six Navy Commendation Medals, and a Navy Achievement Medal, as well as various unit and campaign awards.