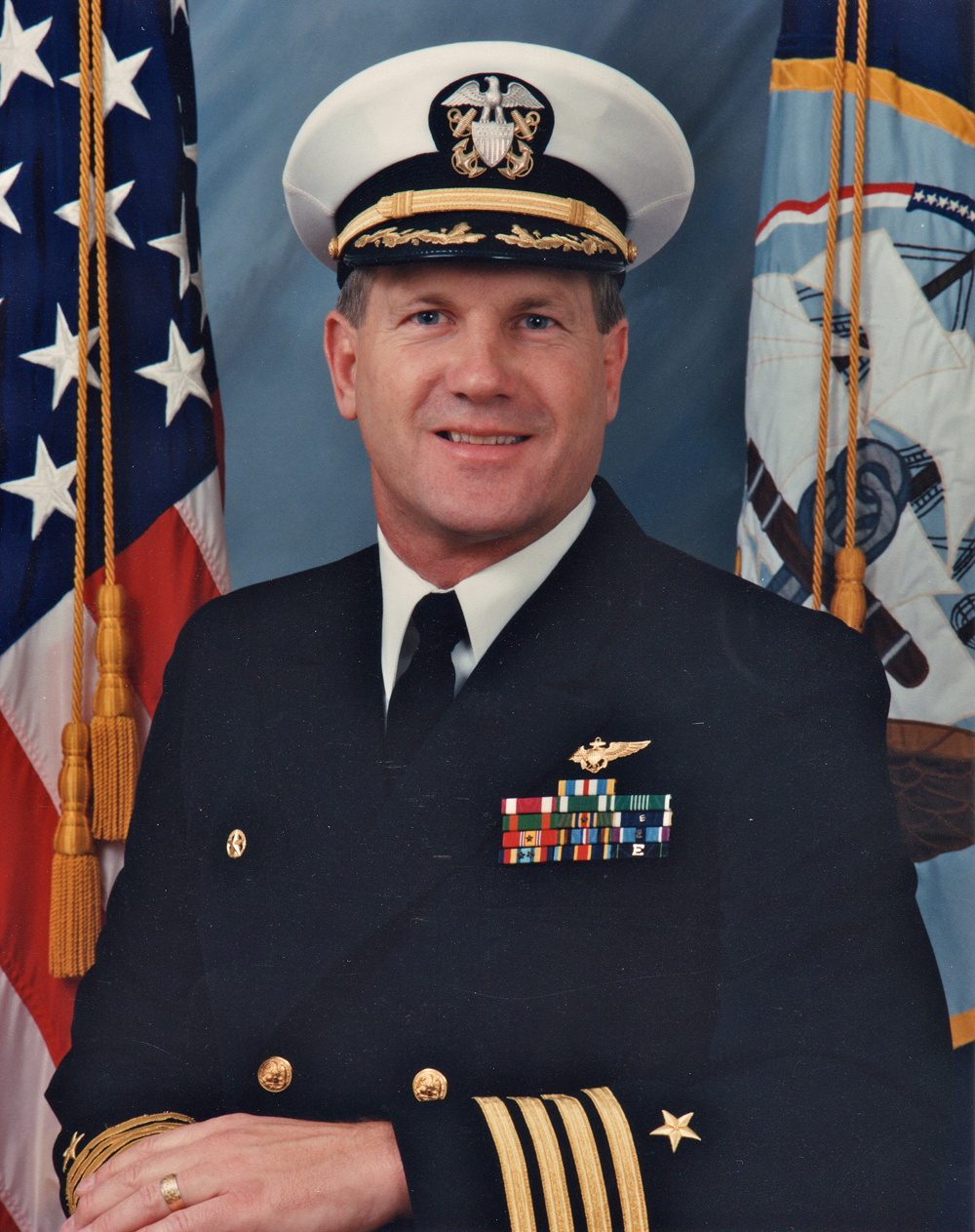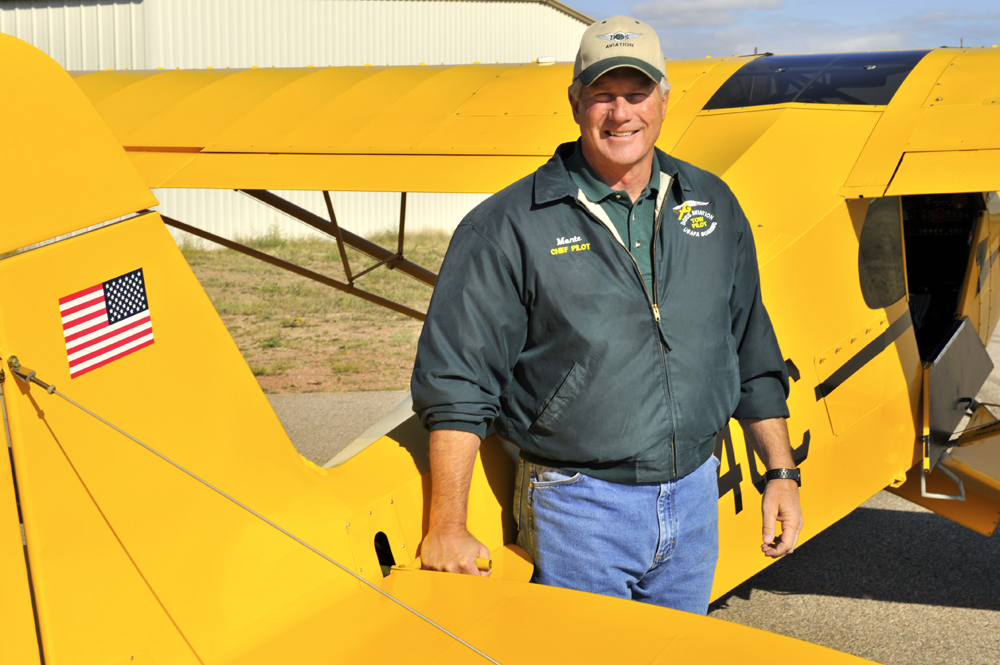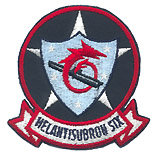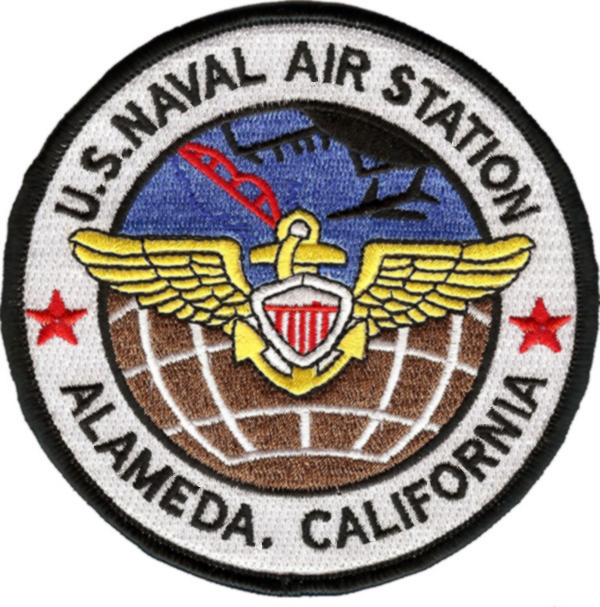 Captain Monte A. Squires, USN (Ret.)
CAPT Squires is a 1970 graduate of Brigham Young University, lettering in football all 4 years. He was commissioned through the Aviation Officer Candidate School, Pensacola, Florida, Class 27-71. He received his wings in September 1972 from HT-18 at NAS Ellyson Field. An HS career followed an initial station SAR assignment. Junior officer tour was as a Plankowner in HS-12 deploying aboard the USS America (CV-66) with CVW-11. An instructor tour followed with the HS-10 "Taskmasters" and Department Head duties with HS-6 and CAG-11, assigned to the USS Enterprise (CVN-65). Command selection saw CAPT Squires joining the HS-14 "Chargers" as Executive Officer in 1987. He "Skippered" the Chargers from June 7, 1989 to October 26, 1990 during which time the Squadron earned the COMNAVAIRPAC Battle Efficiency "E," the CNO Safety Award and the Sikorsky Superior Maintenance Award. He completed two WESTPAC/IO deployments with CVW-2 and the USS Ranger (CV-61) and his mishap free flight hours surpassed 5,500 total hours.
Other shore assignments included a Pentagon assignment with the Navy Staff (OP-60; Strategy, Plans and Policy) and studies at the Naval War College where he received his graduate degree in National Security and Strategic Studies. While at the NWC in Newport, RI, CAPT Squires also earned a Masters Degree in Management from Salve Regina University in 1991. Monte was selected for Major Command in 1993 and was "Commodore" of the HSWINGLANT, Jacksonville, FL, from October 8, 1993 to December 15, 1995. Captain Squires retired with 27 years naval service in 1997 from the U.S. Space Command in Colorado Springs, CO.
In addition to both the Navy and Army Commendation Medals, Captain Squires earned the Defense Superior Service Medal, the Legion of Merit, Defense Meritorious Service Medal and the Meritorious Service Medal in addition to numerous personal and unit awards.
Captain Squires left the Navy, mishap free, with over 4,400 helicopter hours and 1,200 fixed-wing hours. His total flight time is approaching 15,000 hours as he flew and towed gliders at the U.S. Air Force Academy until retiring in 2018. He was the Chief Pilot at the USAFA for over 10 years.
Monte married the former Brooke Fisher of Alameda, CA, in 1975. They have 2 married daughters, 7 grandchildren and reside in Colorado Springs.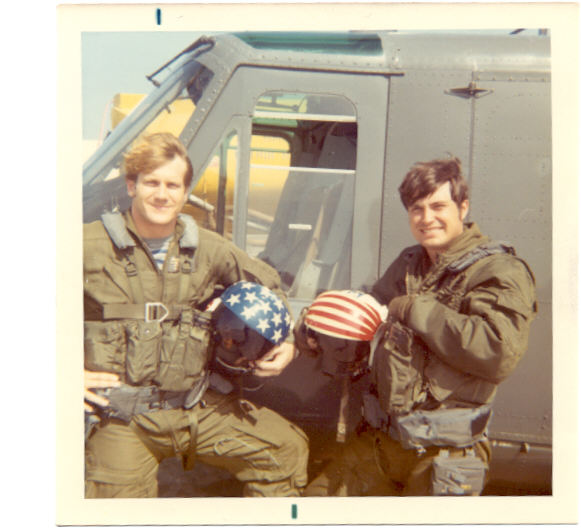 CAPTs Monte Squires and Ken Marion, USN (Ret.) NAS Alameda, California UH-1N-1973