CDR Kenneth P. Pisel, Jr., USN (Ret.)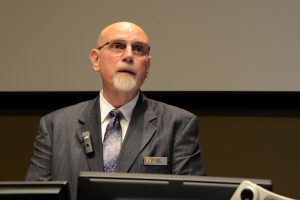 ENS Kenneth P. Pisel, Jr., USN received his wings at HT-18 on April 9, 1976. CDR Pisel is Navy Helicopter Pilot Designation Number R-13848.
Kenneth P. Pisel, Jr. died peacefully on May 25, 2021, after an extended battle with prostate cancer. In his final act (death) he successfully killed every cancer cell in his body and declared victory over the disease. Just to be sure, he toasted the little bastards and they are now in this blue urn. Ken also made numerous presentations about prostate cancer to deprive the disease of future victims…another victory. 
Ken had many loves in his life: his family, the Navy, work, travel, and the Philadelphia Eagles. It all started with his wife, Andrea—the first and only girl he ever dated or loved. They met in high school, were married at the United States Naval Academy Chapel in June 1974 and went on to have three wonderful children: Christopher, Matthew, and Allison. Together they have two grandsons: Chris and Becky with Casey and Allison and George (Kaline) with Grayson. He shall always be with them in spirit and is confident they will all be brilliant in his physical absence. 
Commander Pisel's love of the Navy started in 1970 when he reported to the Naval Academy for Plebe Summer. Over his four years as a Midshipman and the many years to follow, his classmates and company mates were always a source of strength and inspiration. After graduation, he reported to flight training and soon found the second greatest love of his life: the H-46 Sea Knight helicopter. He loved flying the Phrog, slinging loads of supplies between ships at sea, and was always indebted to the fellow pilots, aircrew, and maintenance folks who helped keep him out of the water. 
Ken reported to the Armed Forces Staff College for his final tour in the Navy. Knowing retirement was in his future, he went back to college to get a fresh degree to be more marketable as a civilian. He learned that the VA would not pay for another master's degree, but they would pay for a Doctorate. Doctor Pisel completed his degree and accidently created a job for himself at the college. In his 27+ years at the Joint Forces Staff College he held myriad titles and most notably created enduring blended learning and satellite programs and led the direction of distance education across the numerous DOD professional military education schools. Were it not for his inconvenient demise, he would prefer to still be working. 
His wanderlust was aided and abetted by both the Navy and the Staff College. Right out of flight training, he and Andrea spent two years on the side of Mt Etna in Sicily. They returned from that tour with Christopher. Multiple deployments enabled Ken to see the fjords of Norway, Portsmouth England, the Mediterranean, the Suez Canal, the Indian Ocean, and Guantanamo Bay, Cuba. His penultimate Navy tour was three years in London with the entire family. They all have great memories of London, Scotland, the tulips of Holland, the German Alps, Wales, and Devon. The programs he developed at the college required multiple trips to the major headquarters. His favorites were Stuttgart and Hawaii, but there was always a favorite place to eat or visit and wonderful people at every site. 
After the Eagles won the Super Bowl in 2018, Ken cried. He was never sure if this was a side effect of hormone therapy that made him a large, bald, menopausal woman or the sheer joy of the Eagles' victory. Unfortunately, the NFL became a bastion for social justice warriors and Ken abandoned watching professional football (serendipitously at the same time the Eagles stopped playing football). 
A Memorial Service honoring Commander Pisel will take place at 11:00AM, Saturday, June 5, 2021 at Hollomon-Brown Funeral Home, Princess Anne Chapel, 3445 Princess Anne Road, Virginia Beach, 23456. An inurnment with military honors will take place on site immediately following the Memorial Service . 
If you know Ken and are wondering…yes, he wrote this. He encourages you to find humor in every aspect of life.
Fair Winds and Following Seas CDR Pisel