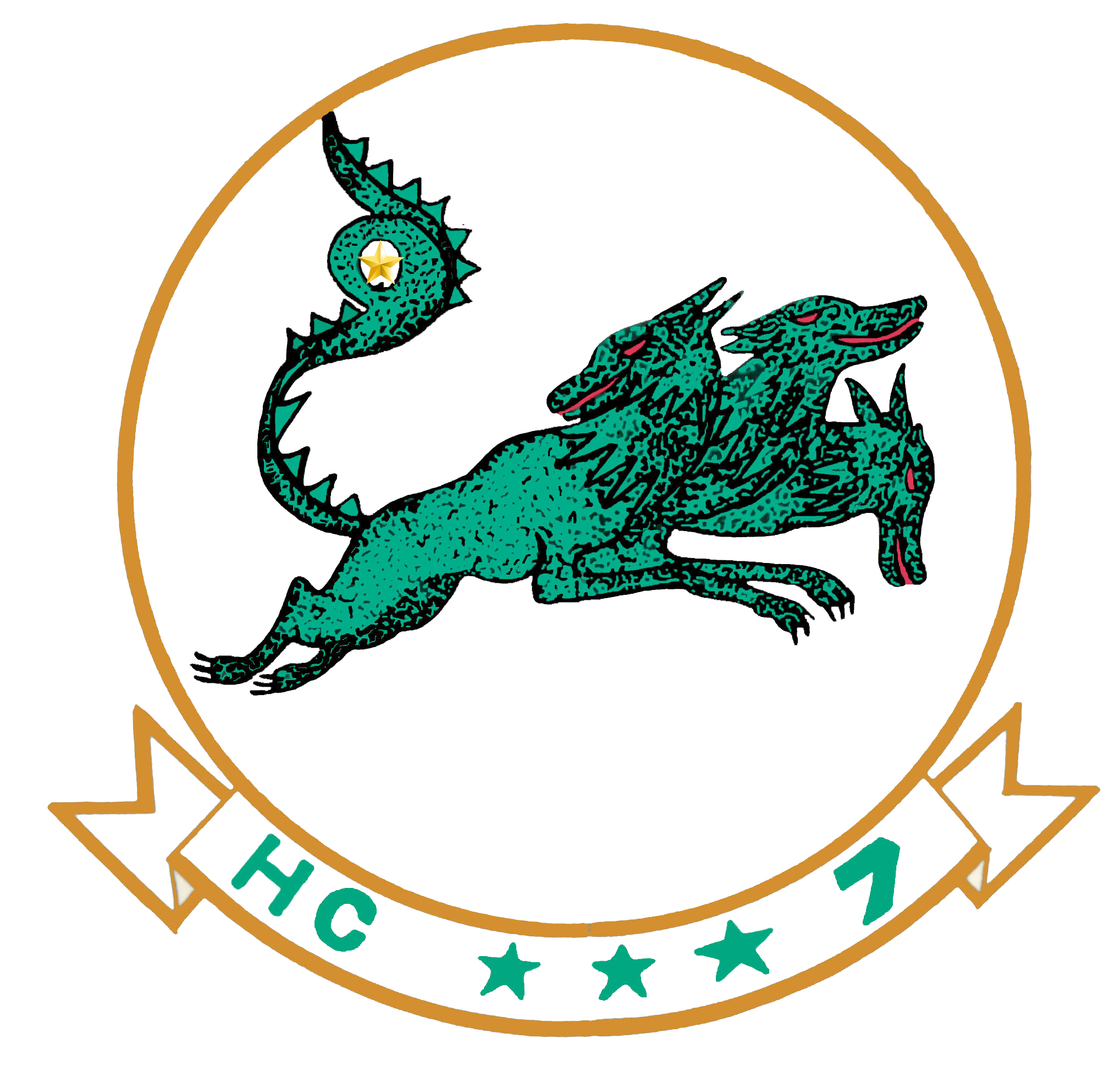 HC-7 RESCUE 85 (1) 3-Mar-1972 (Friday)
HH-3A Sikorsky Seaking helo Det 110 Big Mother #64
USS Sterett (DLG-31) Routine Day (2)
31 miles off North Vietnam coast
Water: 72⁰ Air: 69⁰ Wind: 5 knots Sea State: 1
Pilot – LCDR William G. Barnes
Co-pilot – LTJG Rickie G. Reynolds
1st crew – AO-3 Joseph E. Hilyer
2nd crew – AMS-3 Allan L. Gaynor
Alert received – 1010: MAYDAY call UHF Guard
Vehicle departed – 1015: 56 mile
Arrived on scene – 1045: no search required
Located survivor – 1045: Dye marker – flares
Begin retrieval – 1045: high speed hoist
Ended retrieval – 1047: high speed hoist
Survivor disembarked – 1115: ambled, USS Sterett (DLG-31)
F-4B Phantom 150417 (NL-107) VF-51, (Screaming Eagles) USN
USS Coral Sea (CVA-43)
LT. George H. Westfall (Pilot)
LT. Kevin T. Moore (RIO)
A Phantom had to be abandoned by its crew following an accidental control failure during a BARCAP mission. (5)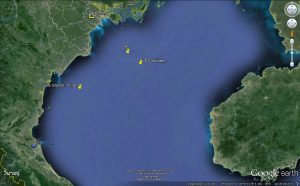 Statements of F-4 Pilot and RIO
"The RIO transmitted to NL 105 that he thought we were in a spin, and indicated we had just entered one. The RIO ( 80-150 knots) (6a) then told me to pop the drag chute, and I did. I felt no results. The spin was to the right, I had forward stick, so I added right aileron and held it. The RIO told me to put spin recovery correction in, I had. The spin continued and continued. The only changes was a lessening of nose erosions above and below the horizon.
At 10,000 feet the RIO called the altitude and I knew I had to get out. For a moment, I tried every conceivable stick and rudder position. No effect. The RIO ejected (at 7,000 feet) (6a). I looked in my mirrors and noted his absence. I also saw the drag chute, streamed, sticking up behind the aircraft, it was leaning perhaps 15 degrees to the right from my vantage point. At this point I tried to read the hydraulic pressures thinking PC-1 and PC-2 could have failed. I couldn't read the gauges and moved for the alternate handle. I remember the altimeter going through 5,200 feet. I pulled the alternate handle three times, hard. It had come out of its seating, and I could feel it on the cable. It didn't work. Scared, I went for the curtain, it did work. Ejection was smooth, I felt myself tumbling, then the chute opened with a jerk. (RIO saw pilot's chute about 3-4,000 feet below) (6a) I looked up and checked the chute. It was full. Then I looked down and saw the aircraft right below me. I hoped I would not land in it. I also noted some debris and realized I would soon be in the water. I felt around for the risers and fittings, then remember the raft. I had to fumble around a while to find the right handle to get the raft out. Remembering the MK-3C I found the toggle with my right hand just as I entered the water. I pulled the toggle under water. It worked and I popped to the surface. I was facing the chute which was still inflated, but not pulling on me. (RIO- I fixed my eyes on the horizon and put my fingers under the Koch fittings. As my feet hit the water I released my chute and went free into the water) (6a) It was easy to get rid of it. I then inflated the left side of the MK-3C. My raft was inflated and floating nearby. This surprised me because I thought I had released it too late. I pulled it over to me, remembering to get rid of the top of the seat pan (unhooked the left side only) and struggled into the raft. Not difficult at all. Once inside the raft I took my helmet off, had a drink of water, noted my keen watch was screwed up, and began to inventory my gear. Then I remembered my radio, got it out, and managed contact with my RIO. I could see him about 200 yards away. ( heard someone say " You have strangers inbound, you better arm up") (6a) Both of us agreed not to shoot flares or smoke because of a fishing fleet seen earlier. NL 105 was overhead at about 2,000 feet but neither of us could contact him. Later an F-8 relieved him and we managed a few words with him. He gave us little satisfaction as to how the SAR effort was progressing. Mostly I just waited. The water was cold and I got quite cold before I was picked up. I was shaking badly before too long. To amuse myself I looked for sharks, and deployed some dye marker. After about 35 – 40 minutes I saw the BIG MOTHER approaching. When it was about a mile away, I shot off a smoke. It occurred to me I did that too early because it went out long before they arrived. Their course was downwind from me and they over flew my RIO and came to me first. I decided to forget a second smoke, put on my helmet, jumped out of my raft, untied the connecting lanyard, and paddled about ten feet to the waiting horse collar. I decided to use my snap ring and it was an easy device to use. Attaching it was super quick. They hoisted me aboard with no problems. About two minutes later they had my RIO and I couldn't have asked more of the BIG MOTHER, we were home FREE." (6)
RIO- I had my snap link already to hook up, but the horse collar was lowered. I got into the collar with no problems and just held on while they hoisted me aboard. When I got level with the helo I made a point of remaining still and letting the aircrewman pull me in. Once I got settled I checked my gear and found that everything was intact. (6a)
Statements of Helo Crew
Big Mother, stationed aboard USS Sterett (DLG-31) Piraz (Redcrown) position, as combat SAR alert helo. At 10:09, the crew receives a call over the 1-MC, that they may launch shortly in response to a mayday call. Gaynor had been bleeding the brake system, Barnes instructs the crew to knock off all maintenance and prepare to launch. 10:13 the USS Coral Sea, receives notification that an F-4 has crashed into the sea. (12) Flight quarters sounded at 10:10, while engaging the rotors the crew receives a vector of 060 for 56 miles. 10:15 the helo is airborne, climbing to 1000 feet and 130 knots.
Reynolds handled the radios and obtained all the available information. The crewman request permission to clear and test the mini gun, M-60. Gaynor dawns his swim gear as Hilyer readies the hoist. Gaynor re-checks his gear. (7c) The USS Sterett and USS Worden (DLG-18) continue to provide vector updates. Reported that the pilots were in their rafts in good condition, also advised of the friendlies in the area, and of any surface contacts or bandit activities.
10:30 Reynolds makes contact with PageBoy 200, who was circling the aviators. At 3-4 miles the helo crew sites dye marker at their 12:00. At 2 miles the pilots are sighted and instructed to pop a smoke. The crewmen had prepared the hoist, by coiling the cable. Passing the RIO, Barnes flies up-wind to the furthest survivor, pulls into a 30 foot hover, 50 yards short. Gaynor kicks out the horse collar. The survivor appeared to be in good condition, no swimmer needed in the water. Crewman were available to man the guns if needed. The survivor used his snap link and was hoisted aboard. Barnes broke hover, completed a 180 turn to the right, upon approach to the second survivor, he popped a smoke and exited his raft. He used the horse collar and the rescue was effected at 10:47. (7) 10:51 USS Coral Sea was notified that the pilots have been rescued by the SAR helo. (12)
Breaking hover, Big Mother is ordered to proceed to the USS Worden, 13 miles away. Upon arrival at the Worden, they are ordered to return to USS Sterett instead of landing on the USS Worden. [ INSERT: "10:09 secured from leapfrog exercise c/c 347⁰T, c/s 25 knots, commenced SAR mission for downed pilots at Lat 20⁰13'N, Long 107⁰12.5'E. 10:20 went to general quarters. Set material condition zebra. 10:50 set helo detail c/c 172⁰T. 10:53 130⁰T, 10:54 c/c 095⁰T, c/s 15 knots. 10:59 secured helo detail. 11:01 c/c 175⁰T, c/s 20 knots. 11:06 set condition yoke secured from general quarters, completed SAR Mission…"(14) ] {helo didn't land}
Departing the area, and landing aboard the Sterett at 11:24 (13) . The aviators are taken to sickbay for examination and later to the wardroom for lunch. At 13:30 the helo crew and survivors depart USS Sterett for the Coral Sea.(7a) 14:55 pilot Westfall and RIO Moore were returned to Coral Sea. (12)
This entire search and rescue operation was a success because everyone knew his responsibilities and executed same with skill and professionalism. The two survivors did exactly as they were instructed in survival training and the officers and men of USS Sterett made ready to launch Big Mother 64 with speed and efficiency. The entire operation was almost as if it were taken right out of the survival books. (7a)
1) Numbering as per HC-7 Rescue Log (accumulative rescue number)
2) HC-7 Rescue Log
3) HC-7 Det 110 Rescue report
4) Map – Google Earth
5) "Vietnam – Air Losses" By: Chris Hobson (with permission)
6) Statement of pilot LT Westfall (except)
6a) Statement of RIO LT Moore (inserts)
7) Statement of helo pilot Barnes
7a) Statement of helo co-pilot Reynolds
7b) Statement of helo 1st crewman Hilyer
7c) Statement of helo 2nd crewman Gaynor
10) HC-7 History collection; Ron Milam – Historian
12) USS Coral Sea (CVA-43) – Deck Logs
13) USS Sterett (DLG-31) – Deck Logs
14) USS Worden ( DLG-18) – Deck Log
BARCAP = Barrier Combat Air Patrol
(Compiled / written by: Ron Milam, HC-7 Historian – HC-7, 2-1969 to 7-1970, Det 108 & 113)