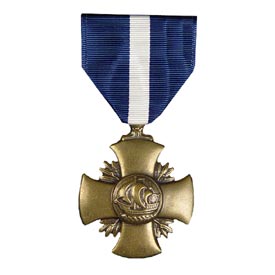 The President of the United States takes pleasure in presenting
The NAVY CROSS to
Arlene K. Babbitt, Chief Aviation Machinist's Mate, U.S. Navy
For service as set forth in the following
CITATION
For extraordinary heroism in connection with military operations against an armed enemy of the United Nations while serving as a Helicopter Pilot in Helicopter Utility Squadron ONE (HU-1), Unit FOURTEEN, attached to H.M.A.S. Sydney, in action against enemy aggressor forces during the rescue of two downed airmen behind enemy lines near Sariwon, Korea, on 26 October 1951. Although fully cognizant that failure of the mission would result in capture and possible death and keenly aware of the grave hazards presented by approaching darkness and the limited flying range of his helicopter, Chief Aviation Machinist's Mate Babbitt unhesitatingly volunteered to fly his extremely vulnerable aircraft deep into enemy-held territory in a brave attempt to bring back two men. Boldly approaching his objective in the face of intense hostile anti- aircraft and small-arms fire, he effected a daring landing in full view of the enemy, picked up the downed airmen and returned safe to Kimpo airfield eighty miles distant. By his outstanding courage, exceptional ability as an airman and selfless efforts in behalf of others at the risk of his own life, Chief Aviation Machinist's Mate Babbitt served to inspire all who observed him and upheld the highest traditions of the United States Naval Service.
Return to Navy Cross