1STLT Harold "Hal" Hunt, USMCR-R NHA LIFETIME MEMBER # 545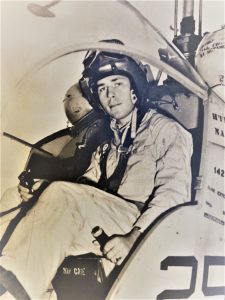 1STLT Harold "Hal" Hunt, USMCR joined the service as a NAVCAD, receiving his designation as a Naval Aviator on September 26, 1956 after carrier qualification on the USS Saipan. He completed his helicopter training at HTU-1 at NAS Ellyson Field, Pensacola, FL on April 5, 1957 and is Navy Helicopter Designator R-3413, selecting the US Marine Corps.
Harold S. "Hal" Hunt, Jr. was born in Newton, Kansas and grew up in Iowa, Illinois, and Kansas. He graduated from Winfield Kansas High School in 1954 and completed college courses whenever and wherever his military and civilian work-related obligations allowed. In September,1980 he was awarded a B.S. in Political Science by the University of the State of New York (now Excelsior College), Albany, New York. In March 1984 he received a master's degree in Business and Public Administration (M.B.P.A.) in International Management from Southeastern University (now incorporated into the Graduate School USA), Washington, DC. In August 2006 Shenandoah University in Winchester, Virginia awarded him a Graduate Certificate in Teaching English to Speakers of Other Languages (TESOL).
Hal enlisted as a Private in the United States Marine Corps In January 1955. During in-processing at Marine Corps Recruit Depot (MCRD) San Diego, California he was selected as a candidate for Navy flight training. After completing recruit training at the MCRD, marksmanship training at Camp Mathews, and combat training at Camp Las Pulgas, he proceeded as ordered to Marine Corps Air Station (MCAS) El Toro, California to appear before a selection board. Following selection by the board for flight training, he reported to Naval Air Station (NAS) Pensacola, Florida.
At Pensacola Hal was honorably discharged from the Marine Corps and enlisted as a Naval Aviation Cadet (NavCad), USNR-R in July 1955. His aviation training consisted of four phases: Pre-Flight (Aug '55 – Nov '55), Basic (Nov '55 – Oct '56), Advanced Multi-Engine (Oct '56 – Jan '57), and Helicopter (Jan '57 – Apr '57). He completed helicopter training with Helicopter Training Unit-1 (HTU-1) at Ellyson Auxiliary Landing Field (ALF), Pensacola, FL on April 5, 1957. He was honorably discharged from the Navy on February 28, 1957, and immediately designated as a Second Lieutenant in the Marine Corps Reserve (USMCR).
After completing flight training, Hal reported to the 1st Marine Brigade, HMR(L)-161 at Marine Corps Air Station (MCAS) Kaneohe Bay, Hawaii. His primary duty in the squadron was Helicopter Aircraft Commander (HAC) with the collateral duty of Flight Line Officer. After completing a tour of duty with the squadron, he was transferred to Marine Air Group-13 (MAG-13) with the assignment of Air Group Passive Defense Officer. Final assignment before release from active duty was Forward Air Controller (FAC) with the 1st Battalion 4th Marine Regiment. Following release from active duty in 1959, he fulfilled his reserve obligation in the Marine Corps Reserves first with a Volunteer Training Unit (VTU) and then with HMM-764 at NAS Los Alamitos, California.
During his military service, Hal flew the following aircraft:
Beech SNB-5 (C-45) "Navigator"
Beech T-34B (T-34) "Mentor"
Bell HTL-6 (H-13) "Sioux"
Cessna OE-1 (L-19) "Bird Dog"
Kaman HOK-1 (H-43) "Huskie"
Lockheed TV-2 (T-33) "Training Star"
North American SNJ-6 (T-6) "Texan"
North American T-28B (T-28) "Trojan"
Piasecki HUP-3 (H-25) "Retriever"
Sikorsky HRS-3 (H-19) "Chickasaw"
Sikorsky SH-34D (H-34) "Seahorse"
After completing his active-duty military obligation, Hal joined the civilian workforce as an electromechanical drafter with an aerospace company in the Los Angeles, California metropolitan area. He trained as a computer programmer in a course conducted by IBM and entered the field of information technology. While employed as a Project Staff Engineer developing automated systems for the Apollo spacecraft program, he received and accepted an offer to join an employer working with the U.S. Navy in the Republic of Vietnam. During his presence in Vietnam (and briefly in Thailand) from 1966 through 1974, he engaged in a variety of programs and assignments with the U.S. Military Assistance Command, Vietnam (MACV), the Republic of Vietnam Joint General Staff (JGS) and the U.S. Embassy Defense Attaché Office (DAO).
Since his departure from Vietnam, Hal has consulted to or supported as a civilian contractor in the field of information technology numerous military organizations, civilian government agencies, and private sector enterprises. His career has included, in addition to the United States, living and working in eight other countries: Indonesia, Iran, Japan, Oman, Saudi Arabia, Thailand, United Arab Emirates, and Vietnam.
Foreign military decorations and awards:
823 Campaign Badge of Honor awarded by the Republic of China (ROC) Ministry of Defense in recognition of assistance in defending Taiwan and its offshore islands during the conflict across the Taiwan Strait that began on August 23, 1958
US-ROC Mutual Defense Commemorative Medal awarded by the ROC Ministry of Defense in recognition of assistance in the Republic of China's defense operations during the period from 1954 to 1979
People's Self Defense Medal, Republic of Vietnam, Ministry of the Interior
Technical Service Medal, Republic of Vietnam, Ministry of Defense
Currently active memberships:
American Legion Generals Ward and Chennault China Post 1, Senior Vice Commander (Advisory)
Naval Helicopter Association (NHA) – Naval Helicopter Pilot Designator Number is 3413 and NHA Lifetime Member Number is 545.
Project Management Institute (PMI), certified Project Management Professional (PMP)
Tan Son Nhut Association (TSNA)