Rotorhead Rumble Reunion April 9-10, 2022 Jax O'Club SITREP #19 and FINAL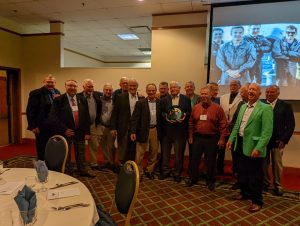 Issues:
PHOTOs of EVENT – I still would like to get more photos especially of HSM-60.
FUNDS – Well, all bills have been paid and we are in the BLACK. Thank you to all that donated monies to the event.  The donations prevented us from having to raise ticket prices.  The donated funds went primarily to overhead costs.
REMAINING FUNDS – All remaining monies are being split evenly and donated to Navy Safe Harbor and the NHA Historical Society as noted on our Website.
VOLUNTEER – As surprising as this may sound, no one has volunteered to form a committee for a future Rumble. The current Website will shut down in January 2023.  If we missed your volunteer email . . . sorry . . . If you wish to form a committee, please contact Hardy Kircher (hkircher@comcast.net) (904-589-4353) or Al Ferber (alferber@aol.com)( 904-891-6668) for information.
PAPERWORK – Thank You notes and Letters of Appreciation were sent to the appropriate people within two days of the events closure.
PHOTO ALBUMS FOR DOWNLOAD – Attached is the Zip File for the photos in BOTH photo albums on the website. The Zip File is also on the Website's "Photo Album" page.  Link – http://fundraising.myevent.com/downloadimages/337a65eba8d2413ef6143fdd03670b2c_1361457.zip
Thank you – The Committee thanks each of you that participated in the Rumble! It was great seeing, sharing and remembering with all of our friends and shipmates.