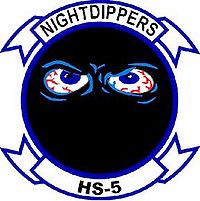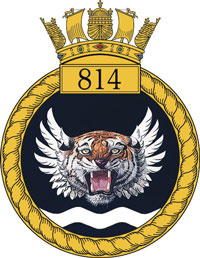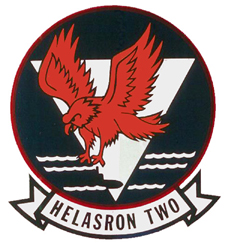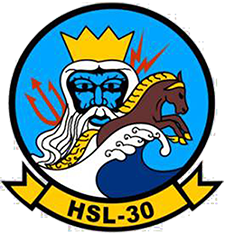 CAPT BRADLEY ALWIN BUTCHER, USN-RET SIGNAL CHARLIE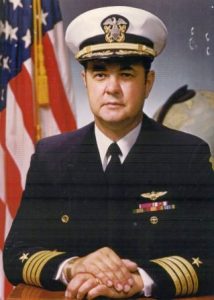 CAPT Bradley Alwin Butcher, USN (Ret.) 83, of Pensacola, Florida passed away on December 17, 2018. He was born in Chippewa Falls, Wisconsin to the late Earl H. and Bernice Pauline Butcher of Amery, Wisconsin.
A 30-year Navy veteran, Captain Butcher earned his wings and was designated as a naval aviator in Pensacola, Florida, Naval Helicopter Designator Number 4185 on 27 June 1958 and was subsequently assigned to Anti-Submarine Squadron Five (HS-5) based at Naval Air Station (NAS), Key West, Florida. During the Cuban Missile Crisis in 1962 he took part in the Navy-Air Force support operations in the Florida Straits.
Three years later, Capt. Butcher was assigned to the British Royal Navy as an exchange pilot in Culdrose, England. He served as senior pilot and training officer in the 814 Squadron. During this tour as an exchange officer he deployed to the Far East aboard the Royal Navy aircraft carrier, HMS Victorious.
Following the English exchange tour, Capt. Butcher returned to the United States in September 1967 and reported to NAS Quonset Point, Rhode Island, where he served with HS-5 as Maintenance Officer. During this tour he enrolled in the Navy War College in Newport, Rhode Island and earned a Bachelor's Degree in Political Science.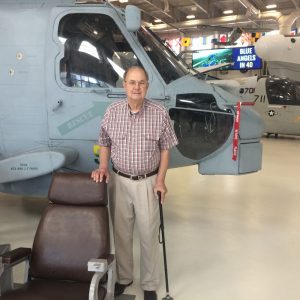 In 1970 he returned to the fleet and reported to the Naval Air Systems Command Test and Evaluation Coordination staff at the Naval Air Test Center, Patuxent River, Maryland where he served as the Rotary Wing/VSTOL Branch head. The rotary wing community called him to HS-2 in 1973 at San Diego, California as the Squadron's executive officer. One year later he assumed command of the squadron and was deployed to the Far East as a unit of Carrier Wing Fourteen aboard the USS Enterprise (CVN-65).
Following the ten month deployment in the Far East, he relinquished his command and reported to the Air War College in at Maxwell Air Force Base, Montgomery, Alabama. While completing his requirements at the Air War College he attended Auburn University where he earned a Master's Degree in Public Administration in 1976.
Another tour at sea posted Capt. Butcher as the operations officer on the staff of Helicopter Sea Control Wing One and the Commanding Officer of HSL-30 based at NAS Norfolk, Virginia.
In 1978 he joined the Naval Air Systems Command in Washington, DC and was extensively involved in the development of the Light Airborne Multi-Purpose System (LAMPS) Mark III Program where he served as the Lamps Mark III assistant program manager for systems engineering. Following this assignment he served as Assistant Deputy Chief of Naval Material for Reliability, Maintainability, and Quality Assurance at the Naval Material Command Headquarters in Washington, DC.
In true full circle style, Capt. Butcher was assigned to NAS Pensacola, Florida in 1984 as commanding officer of the naval station, where he retired in 1987 and ended his 30 year career as a United States Navy officer at the same place that it began.
Born in Chippewa Falls, Wisconsin to Earl H. and Bernice Butcher on 19 December 1934, Capt. Butcher married the former Miss Cleon Gresham of Pensacola, Florida on 3 July 1958; they have two sons Gregory and Bryan.
CAPT Butcher, a 30-year U.S. Navy helicopter pilot whose passions were HAM radio, woodworking and antique car restoration has signed off for his final time. 7388s to all that have shared the airwaves. He is survived by his wife, Cleon R. Butcher; sons, Gregory Alan Butcher and Bryan Lee Butcher ( Elizabeth Marie Butcher); grandchildren Kylee Elizabeth Butcher and Kelsey Briane Butcher.  Arrangements have been entrusted to Woodlawn Funeral Home in Gotha, Florida. Full Military Honors will be bestowed upon interment, Monday January 7, 2019 at The Barrancas National Cemetery at Naval Aviation Museum, NAS Pensacola, Florida in Bradley's name.  In lieu of flowers, the family invites you to please consider making a donation to The National Naval Aviation Museum, NAS Pensacola, Florida in Bradley's name.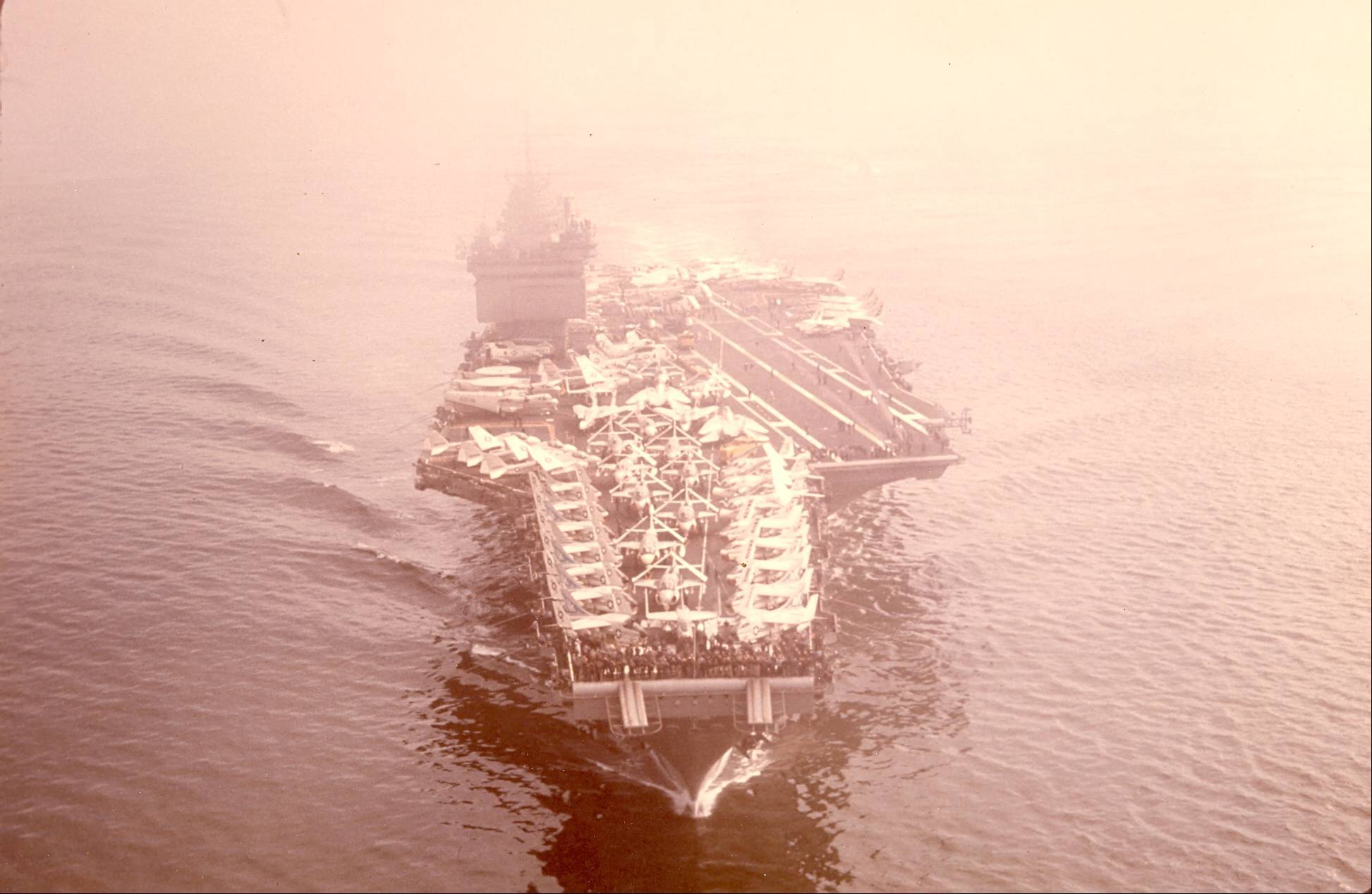 CDR Brad Butcher, CO HS-2 with his squadron onboard, apart of CVW-14 deploying onboard USS Enterprise CVAN-65 September, 1974. The ship is coming out of the fog heading under the Golden Gate Bridge to the Western Pacific on deployment in September 1974.
Picture taken by Gordon A. Brattland from the Golden Gate Bridge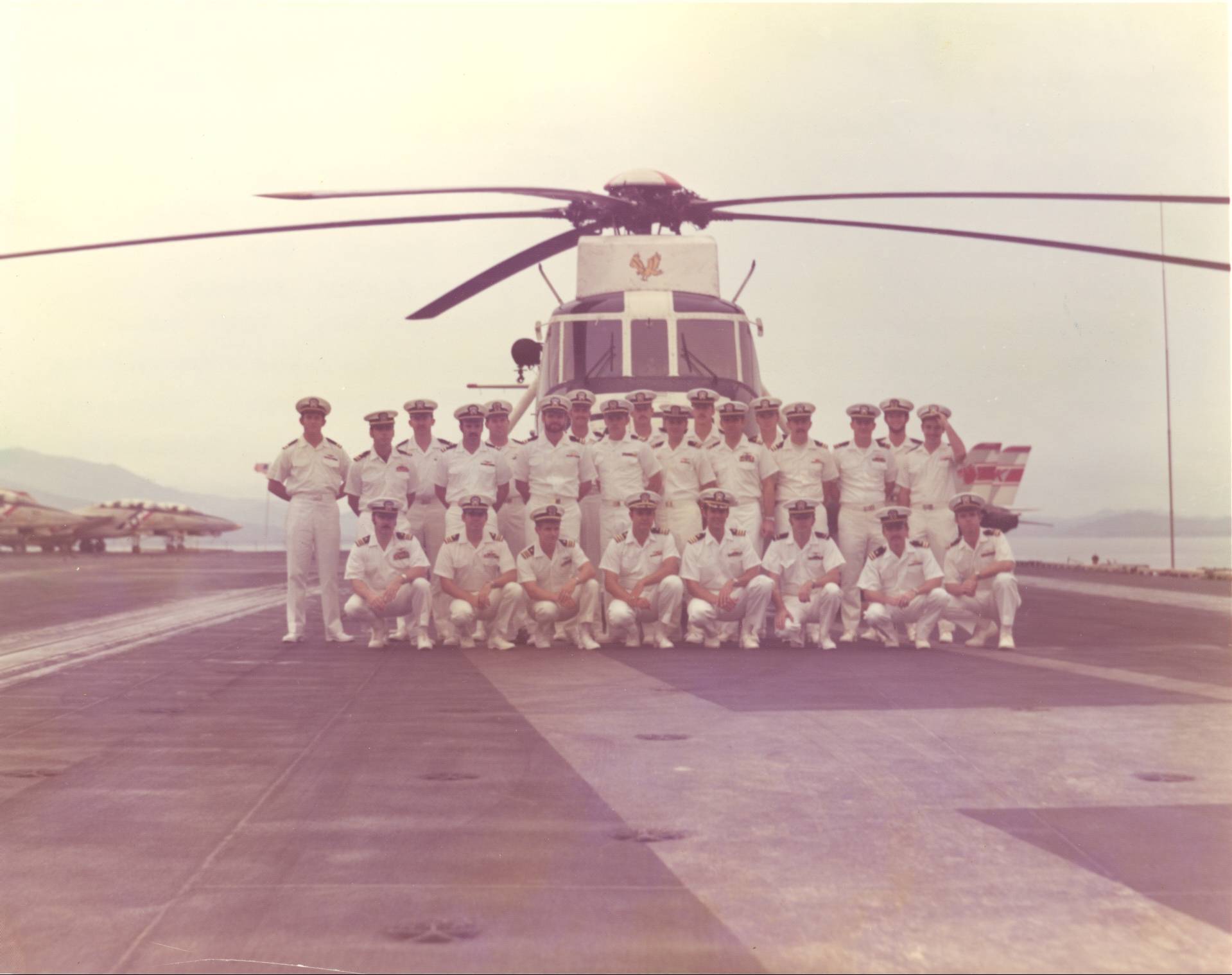 HS-2 Golden Flacons Wardoom including CDR Brad Butcher, Commanding Officer, on the flight deck of the USS Enterprise, CVAN-65, alongside carrier pier NAS Cubi Point, PI, October 1974