CAPT Charles A. Erickson, USN (Ret.)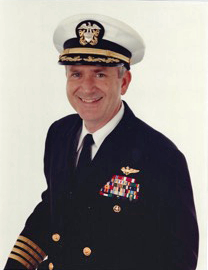 CAPT Charles A. Erickson was born in Seattle, Washington, December 9, 1949. He graduated from the University of Virginia in 1971 with a Bachelor of Science degree in Commerce and received his MBA degree form Pepperdine University in 1983. He was commissioned an ensign in June 1971 after participating in the NROTC program on a naval scholarship.
ENS Erickson went on to flight school and received his wings at HT-18 at NAS Ellyson Field, Pensacola, FL on May 26, 1972. ENS Erickson is Navy Helicopter Pilot Designator Number R-12043.
ENS Erickson reported to HSL-31, NAS Imperial Beach, California, where he transitioned to the SH-2F Light Airborne Multipurpose System (LAMPS) helicopter. As a plank owner in HSL-33, he deployed with first SH-2F detachment on the USS Bagley(FF-1069) and participated in the first extensive Indian Ocean operations during the 1973-74 Middle East crisis. In 1975 he reported to HSL-31 as a Readiness Air Group Instructor. During this tour he was commended for performing an at-sea rescue of two fisherman whose boat had sunk off San Diego.
In April 1978, Lt Erickson left active Duty and affiliated with HS-85 at NAS Alameda, CA flying H-3 Sea King helicopters. In December 1978, He became a "Blue Hawk" with Helicopter Attack Light Five at NAS Point Mugu, CA. Flying HH-1K helicopters, he deployed on several over sea detachments supporting the Navy Seals. He served as the last HAL-5 Executive Officer before the squadron we decommissioned in 1988.
On 5 August 1989, CDR Erickson assumed command of Helicopter Combat Support Five and transitioned into the Navy"s newest Combat Search and Rescue and Special Operations helicopter, the HH-60H Sea Hawk. While Commanding Officer, CDR Erickson led a detachment to Saudi Arabia during Operation Desert Shield/Storm flying 33 combat support missions. During his command tour, HCS-5 received the coveted Noel Davis, Navy Unit Commendation and Joint Meritorious Unit commendation awards.
CAPT Erickson's awards include the Bronze star, Meritorious Service medals(2) and Air Medals(Strike/Flight). As Mission Commander and Pilot at the Controls for the first HH-60H rescue mission on night vision goggles, he was honored as "Pilot of the Year" in 1990 by the Naval Helicopter Association. The rescue took place in the eastern Sierras following two Navy H-46 Sea Knights that crashed in the mountains. CAPT Erickson retired in July, 2001 after 30 years of combined active/reserve service.
CAPT Erickson served concurrently 35 years in Aerospace and Defense companies in Marketing and Sales leadership positions. He is an active volunteer and Docent on the USS Midway Museum. He is married to the former Penelope Jo Simon of La Canada, CA has two daughters, Nicole and Lindsay, and three grandchildren, Dani, Alex and Wayland.