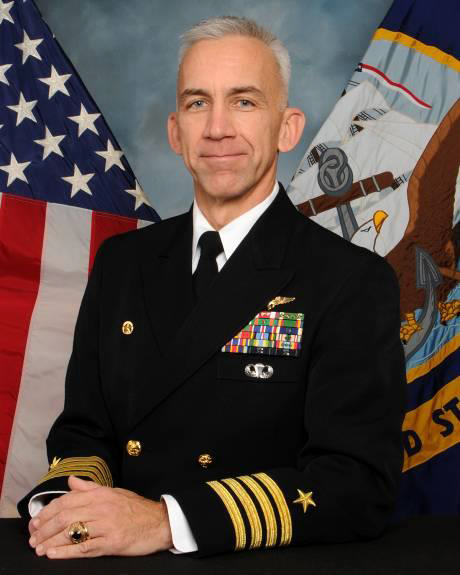 Captain Christopher W. Brunett, United Stated Navy
Christopher W. Brunett is a native of Buffalo, New York and member of Amherst High School's Class of 1984. He is a graduate of the United States Naval Academy Class of 1989, the Marine Corps War College, and the Joint Forces Staff College. He was commissioned in 1989 and designated a naval aviator in 1991.
Early in his career, Brunett served as a division officer, safety officer, and pilot standardization officer at Helicopter Combat Support Squadron 8 (HC-8) in Norfolk, Virginia and deployed on several ships flying the CH-46 Seaknight helicopter. He then reported to Helicopter Combat Support Squadron 3 (HC-3) in San Diego, California, serving an instructor pilot, aviation safety officer, and assistant maintenance officer. During this tour, he was selected as Instructor Pilot of the Year and awarded the Naval Helicopter Association (NHA) President's Award. Subsequently, he returned to Norfolk and served as aircraft handler, public affairs officer and helicopter detachment officer-in-charge aboard USS Nassau (LHA 4).
Promoted to Lieutenant Commander in 1998, Brunett served as the officer-in-charge of helicopter detachments, deploying aboard USS Bataan (LHD 5) and USS Nassau (LHA 4). Later, while serving as Operations Officer at Helicopter Combat Support Squadron 6 (HC-6), he coordinated the squadron's response to the 9/11 terrorist attacks by deploying every available squadron asset within 24 hours of notification.
In 2002, Brunett reported to the Pentagon, where he served as aide-de-camp to the Commandant, United States Marine Corps. Promoted to Commander in 2004, he transitioned to the MH-60S Knighthawk, and subsequently Commanded Helicopter Sea Combat Squadron 25 (HSC-25), located on the island of Guam. In addition to preparing and deploying multiple helicopter detachments, he led the naval air ambulance detachment, flying medical evacuation missions in Kuwait and Iraq in support of operation Iraqi Freedom.
In 2007, following command, Brunett was a senior military operations analyst, project manager, and executive assistant at NATO Supreme Allied Command Transformation. He was promoted to Captain in 2011 and served as current operations director and global force management branch head at U.S. Fleet Forces Command, where his team developed deployment plans for the Atlantic Fleet.
In 2014, Brunett took command of USS New York (LPD 21), leading her on deployments to European Command, Africa Command, and Central Command. Under his leadership, New York also conducted a short fused, surge deployment in direct support of counter-terrorism special operations in Libya. New York was awarded the Marjorie Sterrett Battleship Fund Award as the most battle-ready ship in the Atlantic Fleet.
Currently, Brunett is a Fellow with the Defense Innovation Board in Washington, D.C., providing the Secretary of Defense independent advice and recommendations on innovative means to address future challenges.
Brunett has 3000 flight hours in fixed and rotary-wing aircraft and has earned various personal, unit, service, and campaign awards. He is a two-time recipient of the Navy and Marine Corps Association Leadership Award for excellence in command. He holds a Bachelor's of Science degree in Engineering and a Master's of Arts degree in National Security and Strategic Studies.
Captain Brunett, his wife Marci and their daughters, Madison and Catherine, live in Chesapeake, Virginia.