CAPT J. Curtis Shaub, USN (Ret.)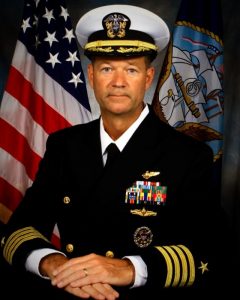 Captain J. Curtis Shaub was born in Lancaster, PA, graduated from Wayne State University, Detroit, MI, with a Bachelor's Degree, Mathematics, in 1985.  He entered the Navy in January 1986 as an Aviation Officer Candidate, was commissioned in May 1986 as an Ensign, and designated a Naval Aviator in April 1987.
His operational and command assignments include flying the LAMPS MK III SH-60B Seahawk helicopter with the "Battlecats" of HSL-43, NAS North Island, San Diego, CA.  He was assigned to USS PELELIU (LHA 5) for duty as the Assistant Air Officer (mini-boss) in San Diego, then to the "Easyriders" of HSL-37, NAS Barbers Point, HI.  He commanded the "Wolfpack" of HSL-45, was the Air Boss aboard USS BOXER (LHD 4), then commanded the World Famous "Seahawks" of HSM-41, training new aviators and flying the Navy's newest helicopter, the MH-60R. As Deputy Commander, Amphibious Squadron ONE (CPR-1), the squadron led PACIFIC PARTNERSHIP 2009 and later as Commodore, he led WESTPAC 11 with the BOXER Amphibious Readiness Group and 13th MEU.  His final assignment was to Commander, Naval Air Forces Pacific, San Diego, CA, as the Aviation Force Safety Director.     
Assignments to shore billets include the "Fighting Tigers" of HS-816, HMAS Albatross, Nowra, Australia, as a member of the Personnel Exchange Program, where he flew the S-70B-2 Seahawk helicopter.  He completed his master's education in National Security and Strategic Studies at the Naval War College, Newport, RI and was Assistant Deputy Director for Operations at the National Military Command Center for the Joint Chiefs of Staff, Current Operations (J3 directorate), at the Pentagon, Washington, DC. 
Captain Shaub is a sub-specialist in Anti-Submarine Warfare and is authorized to wear the Joint Chiefs of Staff Identification Badge, the Command Insignia, Naval Aviator Insignia, Surface Warfare Officer Insignia, two Legions of Merit, Defense Meritorious Service Medal, three Meritorious Service Medals, two Navy Commendation Medals, the Joint Service Achievement Medal, the Navy Achievement Medal and additional fleet awards.  He retired with his family in Southern CA, after 30 years of dedicated service.