Captain Joellen Drag Oslund, USNR (Ret.)
The U.S. Navy's Fourth Woman Naval Aviator and First Woman Helicopter Pilot on April 19, 1974.
Naval Helicopter Association (NHA) Lifetime Member #487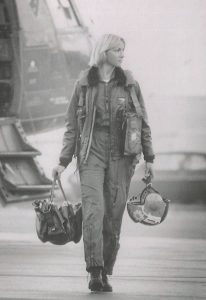 Captain Joellen Drag Oslund, USNR (Ret.)  from Meadow Vista, California broke new ground for U.S. servicewomen when she completed Navy flight training as the fourth woman Naval Aviator and the first woman helicopter pilot in 1974. ENS J.M. Drag, USNR received her wings at HT-18, NAS Ellyson Field, Pensacola, Florida on April 19, 1974. ENS Drag was Navy Helicopter Designator Number R-12906.5.
In 1972, CAPT Oslund was selected as one of four civilians to enter Navy flight training when the program was opened to women by Admiral Elmo Zumwalt, Chief of Naval Operations.  In 1973, CAPT Oslund graduated from Navy Women Officer School (now Officer Candidate School) in Newport, Rhode Island, and entered Navy flight training at Pensacola, Florida.  In 1974, she earned the coveted Naval Aviator "Wings of Gold" and reported for flight duty with Helicopter Combat Support Squadron 3.
In addition to being the Navy's first woman helicopter pilot, CAPT Oslund's significant career accomplishments include:
Successfully challenged the federal law that excluded women from serving on U.S. Navy ships
1st Navy woman pilot assigned to flying duty aboard a U.S. Navy ship
1st Navy woman Combat Search & Rescue (CSAR) Helicopter Aircraft Commander
7 rescues of aircraft accident survivors—6 over open ocean, 1 in steep mountainous terrain
2017 Women in Aviation International Pioneer Hall of Fame Inductee
In 1979, CAPT Oslund transferred from Navy active duty to the U.S. Navy Reserve.  Between 1980 and 1984, she was assigned to Helicopter Combat Support Squadron 9 at NAS North Island, San Diego, flying Combat Search and Rescue training missions.  Between 1984 and 1998, CAPT Oslund was assigned to the Navy Command Center, Office of the CNO at the Pentagon; Fleet Air Mediterranean in Naples, Italy; and Navy Emergency Planning Liaison Officer to FEMA for the Commander, Naval Base San Francisco.  CAPT Oslund retired from the U.S. Navy Reserve in 1998 after completing 25 years of service. 
CAPT Oslund was a close friend of the late CAPT Rosemary Mariner, USN (Ret.), the Navy's first woman tactical jet pilot and operational aviation squadron Commanding Officer.  They were commissioned Ensigns together and were members of the first group of six Navy women pilots.  In a tribute to Rosemary at her funeral, the Navy conducted the first ever missing "woman" formation flyover of four F/A-18 Super Hornet jets, all flown by Navy women combat pilots. 
CAPT Oslund has been married to Dwayne Oslund, a retired Navy Captain and former Navy helicopter pilot, since 1978.  They have two adult children—Kenneth, an EE graduate of Caltech and a Robotics Masters graduate of Stanford University; and Cassandra, a Doctor of Veterinary Medicine practicing in Michigan.
.