CAPT JOHN M. "JACK" HOOD, JR, USN (RET.)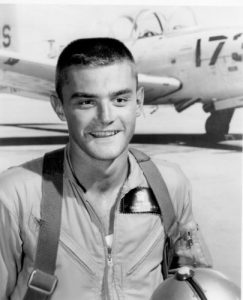 March 17, 1940-January 3, 2021
John (Jack) Hood was born on March 17th, 1940, the son of Dr. John and Mary Hood, in Mason City, Iowa. Jack spent most of his childhood fishing, hunting or playing sports. He excelled in track and won first place in the 100 yard dash at the Drake Relays in 1958. That led to an appointment to the US Naval Academy in 1959. He served 24 years in the Navy, retiring as a captain in 1987. While in the Navy, he served as a helicopter pilot, and test pilot, actively flying all but two years of his career. ENS Hood received his wings at HT-8, NAS Ellyson Field, Pensacola, FL on August 18, 1964. ENS Hood was Navy Helicopter Pilot Designator Number R-7548.
He returned to Pensacola, FL with his wife Ginger and their two boys and earned his teaching certificate. He taught high school physics, and found teaching as much as a challenge as flying. He loved to tell the story of his most famous student, Emmet Smith (Dallas Cowboys). Emmet told Mr. Hood that someday he would be a famous football player and would return to give him a ride in his Lamborghini, which he did to the delight of Jack and the whole school.
He and Ginger grew weary of the frequent hurricanes that came through Pensacola and decided they would move back to his home town of Mason City. They enjoyed monthly get-togethers with his classmates, and made many new friends during their 10 year stay there. He and his sister, Cathy Buren, often swam together at the Y, and he loved to help (direct) his sister on the art of lawn maintenance.
They eventually moved to Virginia to be closer to family. They enjoyed touring the many wineries and visiting all the historic sites with their grandchildren. Jack led a very active life up until a recent diagnosis of Stage 4 Pancreatic cancer. He elected to enter into the excellent care of Hospice and died peacefully, surrounded by family, on Jan. 3, 2021.
Jack will be remembered for his quick smile and helpful hand to anyone in need.
He was preceded in death by both of his paternal and maternal grandparents, and his parents, Dr. John and Mary Hood..
He is survived by his loving wife of 58 years, Ginger Center Hood, his sons John, a retired US Naval captain (Sandra), Tom, a teacher,(Marla), four grandchildren, Katie (Matt) Baker, Karen Hood, Jack and Liev Hood, two sisters, Susan Hoisington, Houston TX, and Cathy (Paul) Buren of Mason City Iowa.
There are no plans for a funeral, but will have a private family gathering at a later date.