CAPT KENNETH T. "CANNONBALL" MARION, USN (RET.) SIGNAL CHARLIE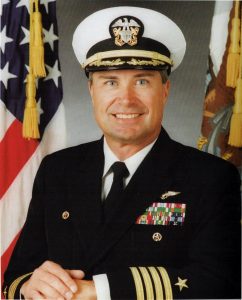 Mrs. Linda Marion and Family invite you to a Celebration of Life Mass on Monday, 27 September 2021 at 9:30 AM at Sacred Heart Catholic Church in Coronado, California.
A Burial Service will immediately follow at Miramar National Cemetery at 1:00 PM (should you plan to attend, please arrive at the cemetery by 12:30 PM for procession to the ceremonial location).
Later in the afternoon, you are cordially invited to a Celebration of Life Reception at "Feast and Fairway" at the Coronado Municipal Golf Course starting at 4:00 PM.
The Marion Family extends a sincere and heartfelt thank you for all the love, prayers, phone calls, letters, and e-mails regarding Ken's passing – all of which served to lift our spirits. 
Please RSVP if you and those in your party are planning to attend the Celebration of Life Mass and Reception no later than Monday, 06 September 2021 by e-mailing Linda Marion at lindadornemarion@gmail.com / (619) 322-2210 C.
On March 25th, 2020, Captain Kenneth T. "Cannonball" Marion, U.S. Navy (Ret.) quietly passed away at his home in Coronado, California, surrounded by his loving family.
Ken was a native of West Orange, New Jersey, and a 1971 graduate of Villanova University. After graduation, he entered the U.S. Navy through the Aviation Officer Candidate Program and upon completion of flight training earned his Wings of Gold in October 1972.  His Navy Helicopter Designator Number is 12283.
Ken's early Navy assignments include Search and Rescue pilot flying the H-1 at Naval Air Station Alameda, California, and Western Pacific deployments with HSL 37 "Easyrider" aviation detachments, based at Naval Air Station Barbers Point, Hawaii. A plankowner of HSL 37,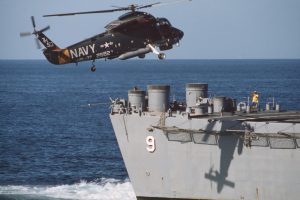 Ken flew the SH-2F Seasprite from the flight decks of the nuclear guided missile cruiser USS TRUXTUN (CGN 35), and frigate USS WHIPPLE (FF 1062). While deployed aboard TRUXTUN, Ken earned the rare distinction of Golden Shellback, when he crossed the Equator at the International Date Line.
Remaining in Hawaii, Ken served in a Joint Duty assignment on the staff of the Commander-in-Chief, Pacific Command, providing daily intelligence briefings to the Commander during the 1979 Soviet invasion of Afghanistan and throughout the Iranian hostage crisis.
Ken returned to HSL 37 for his department head tour, serving as squadron Operations Officer and Detachment THREE Officer-in-Charge aboard the destroyer USS FIFE (DD 991). Ken next attended the Naval Post Graduate School in Monterey, California, and earned a Master of Science Degree in Information Systems Technology.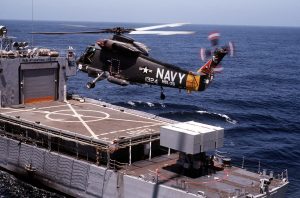 Selected for squadron command, in June 1987, Ken served as Commanding Officer of the world famous HSL 35 "Magicians." Under Ken's command, HSL 35 was recognized for operational excellence, earning the Battle Efficiency "E", the CNO Safety Award, and the Navy Unit Commendation.
After squadron command, Ken deployed as Operations Officer aboard USS NEW ORLEANS  (LPH 11) during Operations Desert Shield and Desert Storm, and served as the final Commanding Officer of HSL 31, the West Coast SH-2F Fleet Replacement Squadron in San Diego.
Returning to Hawaii in 1993, Ken served as Fleet Warfare Officer on the staff of the Commander-in-Chief, Pacific Fleet. There, he played a key role in winning approval for arming LAMPS helicopters with forward firing ordnance. In January 1995, Captain Marion served in major command as Commodore of the Navy's largest type-wing, Helicopter Anti-Submarine Wing (Light), U.S. Pacific Fleet. During this tour, the wing deployed the Navy's first Hellfire and forward looking infrared-equipped armed helicopter detachment.
Ken's last tour of duty was in command of the Fleet Area Control and Surveillance Facility (FACSFAC) San Diego. Ken retired from the Navy in March 2001. During his Navy service Ken earned the Legion of Merit (3 awards), Defense Meritorious Service Medal, Navy Meritorious Service Medal (3 awards), in addition to various other Navy medals, and campaign and unit awards.
Ken's post-Navy career included jobs as Vice President for Strategic Planning at North Island Financial Credit Union, and civil service at his former wing, redesignated as Helicopter Maritime Strike Wing Pacific. Ken managed squadron transitions from the SH-60B Seahawk Helicopter to the MH-60R, and the introduction of carrier airwing based squadrons in the HSM Community.
Ken, a model naval officer and superb naval aviator, was known as mentor and friend to countless naval officers whose careers he nurtured and advanced, and as a kind spirit and quick wit to all who knew him. An outstanding golfer, Ken was former Club Champion (2011) and Senior Club Champion (2009) at the Coronado Men's Golf Club. In one tournament he beat the then self-named world's best athlete, Bruce Jenner, a story he loved to tell while sporting his million-dollar smile. Always the consummate gentleman, Ken's goal was to "make sure those he was playing with had an enjoyable time and desired to return," which he did with style and grace.
Ken and Linda, his loving and devoted spouse, celebrated their 50th wedding anniversary December 7th, 2019. Every year this unique day prompted friends from around the world to call and message to honor this day that "lives in Infamy." Their marriage was a true love story and served as an inspiration to others.
Ken is survived by his wife Linda, son Ken Marion Jr (Janine), daughter Jennifer Marion Engstrom (Michael), and two beloved grandsons Luke and Liam.
FAIR WINDS AND FOLLOWING SEAS KEN
Dear Seasprite Family,
It is with a heavy heart that I inform you, that after a fierce fight, Ken Marion passed this morning at 0830 San Diego time surrounded by Linda, his children and his sister. Ken, as we would expect was classy to the very end. Please hold Ken and Linda in your prayers. Linda at this moment is with Ken. 
With gratitude, Garry RADM Garry E Hall, USN (Ret.)
HSMWP Team, It is with a heavy heart I pass along, that after a fierce fight with cancer, former HSLWINGPAC Commodore and staff member Ken Marion passed this morning at 0830 in Coronado surrounded by his wife Linda and family.
Commodore Marion was a visionary LAMPS community leader with unmatchable charisma.  He was also a trailblazer, serving as our N5 for many years, and his fingerprints are embedded in large part in the operating construct of HSMWING today. We mourn his loss greatly, and honor and recognize his immense contributions through a lifetime of Service to our country and Naval Aviation. Most importantly, he nurtured meaningful relationships with countless colleagues and friends, and he made our Navy family one of deep seeded connections.  We thank him for his mentorship.  It's never too early to say thanks to mentors, shipmates and friends-especially at times like these.
Please hold Ken,  Linda and their family in your thoughts. 
Respectfully, and proud to be serving with you,
CDRE
CAPT Jeff Melody  Commander, Helicopter Maritime Strike Wing, Pacific
CAPT Monte Squires, USN (Ret.) note about Ken Marion to CDR Mike Brattland, USN (Ret.)
Big hole in our hearts as you know. God bless "K.T."
Ken was one class behind you & me (AOCS 28-71). I remained about a week or two weeks ahead of him in the pipeline at HT-18. He was so pissed when I got orders to NAS Alameda, CA.
He wanted the Bay Area very badly and when the JO detailer gave me Alameda, he hunted me down and we had a beer to my luck.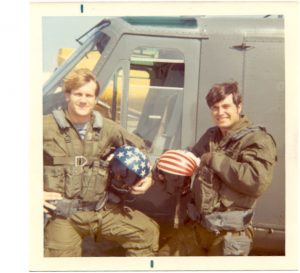 Good news was another Alameda billet popped up and Ken got it. We were "joined at the hip" for a couple years trying to out do each other in the UH-1N, T-28Cs and S-2s. 
The boy stood beside me (groomsman) at Brooke & my wedding at NS Treasure Island in 1975. Hell of a shipmate!
Had an email from him last November saying he'd had some fatigue, loss of appetite and weight loss. Trip to the labs & doc saw a large drop in his red blood cell count.
That lead to a diagnosis of myelofibrosis (MF). Curable cancer but he'd need chemo, radiation and a bone marrow/stem cell transplant.
Obviously did not make it to the transplant and the rest is Marion-history.
Last saw Ken & Linda at your Viejas NHA Symposium this past May. Had dinner at their casa in Coronado and relived old times at the Member's Reunion by the Viejas pool.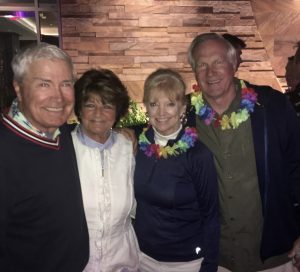 Here's a "brownie" of the 4 of us at the Convention. He looked & felt fine as far as we knew. 
Prayers to the Marion families. It's a heck-of-a-thing when we reach the age where contemporary friends begin to pass away (still think of Ms. Pat Brattland often).
We've got to grieve well and celebrate the living.
V/resp,  Monte