CAPT Larrie Gene Cable, USN (Ret.)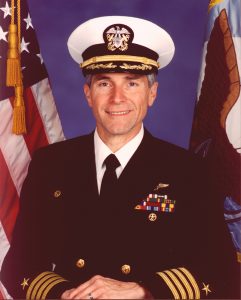 Born in Tucson Arizona, Captain Cable enlisted in the United States Navy in 1969. Following nuclear power training and qualification he was selected for a Naval Enlisted Scientific Education Program college scholarship. He was commissioned an Ensign upon graduation from North Carolina State University in December 1974.
Captain Cable was designated a Rotary-Wing Aviator in December 1975. His operational tours were as a member of the Helicopter Anti-Submarine Squadron Light (HSL) community, flying SH-2F and subsequently SH-60B helicopters. Captain Cable served in squadrons on both the east and west coasts culminating in command of the "Proud Warriors" of HSL-42 in 1989. He represented the Commander Helicopter Wings Atlantic in the identification and planning of future undersea warfare requirements in the U.S. Navy's "Team Alpha" (1984-1990).
Captain Cable served at the Naval Air Test Center as the project officer and test pilot during developmental testing of the SH-60B air vehicle and sensors of the LAMPS MK III ship/air weapon system, and development and acceptance of the SH-60B Operational Flight Simulator. Following certification as a training systems specialist, he was assigned to the LAMPS MKIII Block II Fleet Introduction Team with responsibility for developing and implementing the SH-60B helicopter pilot training curriculum and standardization program.
In October 1990 Captain Cable assumed the duties as the COMNAVAIRSYSCOM Assistant Program Manager for Systems and Engineering for the SH-60B and LAMPS MK III Block II Upgrade (to become the Multi-Mission Helicopter Upgrade-MH-60R). During this assignment he drafted the Requirements and Decision Options Paper for placing Forward Looking InfraRed (with laser designator) systems, on Naval helicopters. In February 1993, Captain Cable assumed the duties of the Deputy Program Manager for H60 Development Programs where he executed the upgrade program, the Airborne Low Frequency Sonar (ALFS) program and additional H60 weapons and sensor development programs. In May 1995, Captain Cable assumed the duties as Program Manager for Multi-Mission Helicopters (PMA-299). Captain Cable conceived and, working with Pentagon requirements officers and Fleet and industry leaders, co-authored the Helicopter Master Plan (later referred to as the Helo CONOPS ver.1) which increased community access to the S/MH-60R, created the C/MH-60S, re-aligned naval rotary-wing communities reducing naval rotary-wing type model series aircraft requirements from eight to two, and established the roadmap for aircraft and system development and procurement, and training. His initial implementation enabled the expansion of the rotary wing community roles and missions and recognition of rotary-wing aviation's ability to provide increased cost-effective warfighting capability to the US Navy. During his tenure as Program Manager, Captain Cable led his organization to the forefront of the Navy in the implementation of Acquisition Reform initiatives. Many of the acquisition processes currently used by the Navy and DOD are outgrowths of developments originating within his program office.
Captain Cable retired from the Navy in October 1999.
Captain Cable continued his commitment to the men and women of the Armed Forces through his employment by Lockheed-Martin and BAE Systems. In September 2000 he was promoted to Vice President and General Manager of the BAE Systems Information Dominance Systems business area leading the development and production of technologically advance Information Warfare and Electronic Warfare systems designed to detect, identify, point at, decoy, disrupt and if necessary, destroy adversary capability throughout the frequency spectrum, from acoustic through ultra-ultra-high frequencies. He continued to support the Naval Helicopter Association and stimulate innovative tactical thought through his annual participation in the Captains of Industry panels at the association's symposia.
In addition to military awards and commendations, Captain Cable's contributions were recognized through his receipt of the Navy League Spirit of America Leadership Award; the U.S. Naval Air Test Center Test Pilot of the Year Award (1981), the NHA Helicopter Pilot of the
Year Award (1982), and he was specially honored to receive the NHA Lifelong Service Award (1999).
Captain Cable holds a Bachelor of Science degree with a major in Nuclear Engineering and minor in Macro-Economics from North Carolina State University (1974); and is a graduate of the U.S. Naval Test Pilot School (Class 77). He is a graduate of the Mahler School of Executive Management, Carnegie-Mellon Software Engineering Institute, and Hult International Business School with a degree in Innovation Excellence and Management. He and his wife the former Judy Anne Partee of Charlotte, North Carolina, presently reside in Dumfries, VA. They have two grown sons; LCDR Bryan Cable USN(ret) and David, an Explosive Ordnance Tech for the US Government.