CAPT Martin L. Chamberlain, USN (Ret.)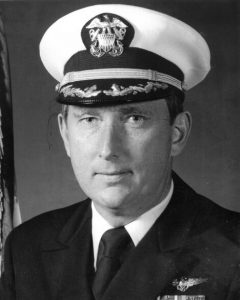 LTJG Martin L. Chamberlain, USNR was designated as a Naval Aviator on December 19, 1968 at HT-8, NAS Ellyson Field, Pensacola, Florida. LTJG Chamberlain was Navy Helicopter Designation Number R-10274.
CAPT Chamberlain is a former HAL-3 Seawolf, and a Commanding Officer of HC-11 March 1984 and  HC-3, September 1987.
Martin L. Chamberlain, 77, of Northumberland Co., VA passed away on Friday, March 11, 2022 in Fredericksburg, VA.
Martin was a Captain in the United States Navy and a Seawolf Helicopter Pilot. Later, he worked as a consultant for the Office of Naval Research.
Survivors include his wife, Darlene Chamberlain; children Mark Chamberlain, Andrea Leggiardro; Tracy Gill, Joseph Amberger, and Tammy Amberger; grandchildren Brooke Leggiardro, Aubrey Leggiardro, Kaitlyn Atkins, Abbie Gill, Kylie Amberger, Hope Amberger, Jacey Amberger, Brooke Voyles, and Mersates Sims; great-grandchild Brantley Atkins; and sister Linda Hendrixson.
He was preceded in death by his parents, Leonard and Jean Chamberlain.
In lieu of flowers, donations may be made to St. Paul's Mission Catholic Church in Hague, VA.
Fair Winds and Following Seas CAPT Chamberlain