CAPT Melvin A. Runzo, USN (Ret.)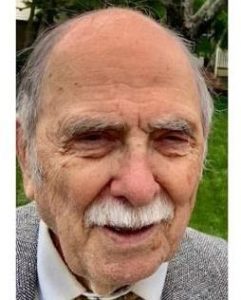 CAPT Runzo passed away on June 20, 2022. ENS Runzo was a graduate of the US Naval Academy Class of 1958. LTJG Runzo received his wings as a Naval Aviator on February 2,1960 at HTG-1, NAS Ellyson Field, Pensacola, Florida. LTJG Runzo was Navy Helicopter Pilot Designator # R-5095. CAPT Runzo is the former CO of HM-12.
Mel Runzo went to be with his Lord on June 20th, 2022. He was 86 years old when he died unexpectedly from a fall and subsequent bout with COVID. Mel was born in 1935 in Zelienople, Pa. and later upon graduation from Mesa High School in Mesa Az. accepted an appointment to attend the United States Naval Academy. He graduated from the USNA in 1958. He then attended flight school and became a helicopter pilot. Several years later while stationed in Norfolk, Va., Mel met his soul mate, best friend, and future wife, Tinker Barker. Stationed mainly on the east coast, in Norfolk and Washington DC, Mel served his country for 27 years, rising to the rank of Captain.
For all the accomplishments and accolades Mel received while in the navy, if you asked him what he is most proud of, his answer would be his relationship with Jesus Christ. A close second would be that he was a good husband and father to Tinker and his son Chris, respectively.
Always smiling, with never a bad word to say about anyone, Mel loved life and loved bringing joy to those around him. In addition to his family, he loved Eastern Shore Chapel and his Peanut friends. Mel found so much joy in the relationships made working at the Food pantry and often spoke of the wonderful friendships he had formed while living at Atlantic Shores Retirement Community. He also loved his grandchildren with every fiber of his being.
Left to cherish memories of Mel are his son Chris (Beth); his three grandchildren Aaron (Nikki), Dustin, and Ethan (Brooke); his great grandchildren Elijah and Ruah; his sister Ann McCready; his sister-in-law Corolla Runzo; his sister-in-law Barbara Hull; and his two nieces Patty Bartneck and Peyton Von Hirsch.
The family would like to extend an incredible thank you to all the nurses, doctors, and caregivers at Virginia Beach General Hospital that tended to Mel during his stay. You were compassionate throughout.
Proverbs 3:5-6 Trust the Lord with all your heart and lean not on your own understanding; in all your ways acknowledge him, and he will make your paths straight.
A funeral will be held for Mel at Eastern Shore Chapel Episcopal Church on July 23, 2022 at 11am. A live-stream link of Mel's Celebration of Life service may be found at https://youtu.be/1q1OhipMcZI . In lieu of flowers a donation may be made in Mel's honor to the Eastern Shore Chapel food pantry. On line condolences may be offered to the family at hdoliver.com.
Melvin Runzo Obituary (1935 – 2022) – Norfolk, VA – The Virginian-Pilot (legacy.com)
Fair Winds and Following Seas CAPT Runzo.