CAPT Michael L. Martin, USN (Ret.)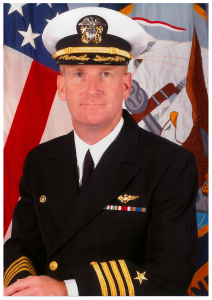 CAPT Martin was born November 30, 1961 and passed away on July 7, 2021. He was 59.
LTJG Martin received his Navy Wings at HT-18, NAS Whiting Field, Milton, FL on June 14, 1985. LTJG Martin was Navy Helicopter Designation Number R-18103.
A 1983 graduate of the University of Mississippi, Captain Martin reported to his first fleet squadron, HSL-42, in 1986.  He completed deployments aboard USS Doyle (FFG 39) and USS Nicholas (FFG 47).  His follow on tour was as an instructor pilot at HSL-40.  He returned to sea in 1991 serving in the Air Department of USS OKINAWA (LPH 3) deploying to the Western Pacific Persian Gulf.
Following a tour in Commander, Training Command, U.S. Pacific Fleet as Flag Lieutenant, Captain Martin transferred to HSL-46 in 1994 where he was assigned as Maintenance Officer.  He completed his tour as Air Officer in USS MONTEREY (CG 61).  Captain Martin then reported to the Bureau of Naval Personnel as a placement officer.
Captain Martin assumed command of HSL-42 in September 2000, serving with the Proud Warriors until January 2002.  He then reported to the U.S. European Command where he served as a Country Desk Officer.
In July 2006, Captain Martin assumed command of Helicopter Maritime Strike Wing, U.S. Atlantic Fleet.  The Light Airborne Multipurpose System (LAMPS) Wing is responsible for the training, readiness and deployment of the five Atlantic Fleet LAMPS MK III Helicopter Squadrons, Wing Weapons School, Aircraft Intermediate Maintenance Detachment (AIMD), Aviation Support Detachment (ASD) and the Surface Rescue Swimmer School (SRSS) located at NAS Jacksonville.  The squadrons operate SH-60B Seahawks in one or two aircraft detachments aboard LAMPS equipped destroyers, cruisers and frigates.  Captain Martin's Change of command was in September of 2007.
Captain Martin then transferred to Naples, Italy and served as the Chief of Staff to Commander, U.S. Sixth Fleet.  His final tour on active duty was as the J3 at USNORTHCOM in Colorado Springs, CO.
Captain Martin is a graduate of the Naval War College and the Joint Forces Staff College and has earned the Defense Superior Service Medal, the Meritorious Service Medal, the Air Medal, the Navy and Marine Corps Commendation Medal (4), the Navy and Marine Corps Achievement medal (3) and various unit awards.
We will be having a "Celebration of Life" for CAPT Mike Martin, USN (Ret.), Saturday, August 14th 5-8pm at 255 Deer Haven Drive, Ponte Vedra Beach, Florida 32082.  His loved ones are taking great comfort in knowing that he is at peace. Theo, Marilyn (Will) and Drew look forward to time with you that evening but are asking for privacy during this very difficult time.
Please RSVP if you are able to come as food will be provided, and if you need any additional info, reach out to Joy and Glenn Doyle at 904.881.7775 (text please).   If you could share this on appropriate pages and let anyone that loved Mike know, it would be greatly appreciated.  We will ensure your condolence cards get to the family.
Joy Doyle (Theo) 3799 Catania Place, Jacksonville, FL 32224
As we continue to move towards the Celebration of Life for Mike, the family has decided to ask for donations to K9 for Warriors. Please let them know that your donation is in honor of Captain Mike Martin. If they receive $25K, a dog will be trained and gifted to a recovering warrior.
Donate to K9s for Warriors online at www.k9sforwarriors.org <http://www.k9sforwarriors.org/> or by check to 114 Camp K9 Road. Ponte Vedra Beach, FL 32081.
Special thanks to all at HSM Wing Atlantic and those working to make the event on Aug 14th special for this amazing family.