CAPT Michael S. Ruth, USN (Ret.)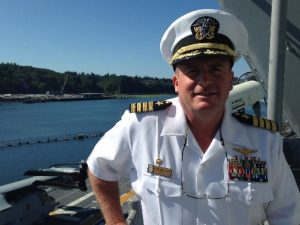 Captain Michael Ruth hails from Alexandria, Virginia. He proudly joined the Navy in 1987 and was commissioned through Aviation Officer Candidate School. He earned a Bachelor of Science Degree from Regents College, NY; Masters Degree in International Business from the University of Redlands, CA and is a graduate of the Air Command and Staff College and Joint Forces Command and Staff College.
Operational assignments include USS CARL VINSON (CVN 70); Helicopter AntiSubmarine Squadron 7; USS KITTY HAWK (CV 63); Helicopter Anti-Submarine Squadron 15. Captain Ruth commanded Helicopter Sea Combat Squadron 8 and was awarded the Battle "E"; Helicopter Sea Combat Squadron 3; ship command of USS BOXER (LHD 4) while there BOXER was awarded the Battle "E" three years in a row.
Other assignments include Helicopter Anti-Submarine Squadron 10 as a Fleet Replacement Squadron Flight Instructor; Navy Personnel Command as Helicopter Shore Detailer; Exercise and Engagement Officer, CENTCOM, forward deployed to Oman; Chief Staff Officer, Helicopter Sea Combat Wing, U.S. Pacific Fleet; Deputy Commander, Al Asad Air Base, Iraq. Captain Ruth was most recently the Assistant Chief of Staff, N3 Operations, Naval Air Forces, Pacific. Captain Ruth was twice awarded the Navy and Marine Corps Leadership Award and his personal decorations include the Legion of Merit, 2 awards; Defense Meritorious Service Medal; Meritorious Service Medal, 3 awards; Navy Commendation Medal, 5 awards; Army Commendation Medal; and various campaign and service awards. During his aviation career, he has accumulated over 4,300 flight hours in seven aircraft models.