CAPT Michael Wellman, USN (Ret.)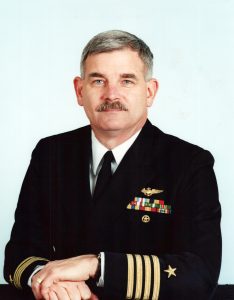 After graduating from Aiea High School in Hawaii in 1973 Captain Wellman attended the University of North Carolina, Chapel Hill under an NROTC scholarship. In 1977 he earned his Bachelors degree in Political Science, a regular commission and orders to flight school in Pensacola, Florida. He completed preflight training at NAS Pensacola then transferred to NAS Whiting Field in Milton, Florida for primary and intermediate training in the T-28 Trojan and advanced rotary-wing training in the TH-57 Jet Ranger and UH-1L Huey, earning his wings in 1978.
Mike's first operational tour was with Helicopter Anti-Submarine Squadron Light THREE SEVEN (HSL-37) at NAS Barbers Point, Hawaii flying the SH-2F Seasprite. While assigned there he completed two Western Pacific deployments, one aboard the USS David Ray (DD-971) the other aboard the USS Whipple (FF-1062). He also served as squadron Aircraft Division and Quality Assurance Officer. In January 1982 Mike reported to Training Squadron TWO (VT-2), NAS Whiting Field for duty as a flight instructor in the T-34C Turbo Mentor. In addition to instructing students in the primary and intermediate curriculums, he also participated in the Troy State University graduate studies program earning a Masters of Science in Management.
Mike's next assignment in the fall of 1984 was to the Helicopter Amphibious Assault ship, USS Okinawa (LPH-3) in San Diego, California. While aboard he served as Fuels, Hangar Deck & Flight Deck Division Officer, Aircraft Handler, Assistant Air Boss and Navigator. Additionally he qualified as Officer of the Deck Underway and earned designation as a Surface Warfare Officer.
In January 1987 he reported to Helicopter Anti-Submarine Squadron Light FOUR ONE (HSL-41), the Fleet Replacement Squadron (FRS) at NAS North Island, California for transition training to the SH-60B Seahawk and assumption of duty as an FRS instructor and squadron Maintenance Officer. In 1988 he was selected the Naval Helicopter Association Western Region Maintenance Officer of the Year.
From January 1989 to January 1990 Mike was assigned to Helicopter Anti-Submarine Squadron Light FOUR SEVEN (HSL-47) at NAS North Island, serving as the Officer in Charge of a two-aircraft SH-60B detachment embarked aboard the Aegis cruiser USS Antietam (CG-54) for a Western Pacific deployment. After returning from deployment he was next assigned to duty at the Pentagon serving as Flag Aide for the Deputy Chief of Naval Operations for Navy Program Planning (OP-08). After serving one year as a Flag Aide, Mike was selected for operational command of HSL-47 and returned to San Diego serving first as Executive Officer then as Commanding Officer in November of 1992.
After completing his command tour in February 1994 Mike was ordered to the staff of Tactical Training Group Pacific, San Diego where he served as an Air Anti-Submarine Warfare and Rules of Engagement instructor as well as the Director of War Gaming in support of Pacific Fleet battle group basic and pre-deployment training. In February 1997 Mike next reported for assignment as the Joint Requirements Coordinator, Policy and Requirements Division, Supreme Headquarters Allied Powers Europe (SHAPE) in Casteau, Belgium. While there he coordinated the 1999 Biennial Defence Requirements Review that established specific requirements for NATO military force structure necessary to address a wide range of potential future challenges to the Alliance.
In April 2000 Mike received orders to the office of the Deputy Chief of Naval Operations for Manpower & Personnel (N1) in the Navy Annex, Washington, D.C. While there he served as the Director of Military Compensation & Policy Coordination (N-130) overseeing the execution of current military pay and benefit programs and also worked with other Services, the Department of Defense and congressional staffers in the development of new programs and policies.
Captain Wellman retired from the Navy in June 2002 and remained in the Northern Virginia area working for the consultant firm Whitney, Bradley & Brown, Inc., as a Manpower, Personnel, Training and Maritime Helicopter Operations specialist. In December of 2005 the family moved to Utah where Mike was hired as an Assistant Professor teaching courses in the Professional Pilot Associates Degree Program at Salt Lake Community College. In December 2011 the family made their final move to San Diego where he was hired in October 2012 by the consultant firm CACI to serve as a VA Benefits Advisor for the Department of Veterans Affairs at Marine Corps Air Station Miramar, San Diego assisting transitioning service members, their families and other veterans learn about and apply for applicable VA, state and other veteran benefits. In August 2017 Mike fully retired from the private sector to offer his services and support to local charitable organizations and to spend more quality time with family.
Over the course of his Navy career Captain Wellman amassed a total of 4,000 flight hours flying both fixed-wing and rotary-wing aircraft. His personal awards include the Defense Superior Service Medal, Legion of Merit, Navy & Marine Corps Medal, three Meritorious Service Medals, three Navy Commendation Medals and various service and unit awards.
Captain Wellman's wife of 35 years, Kim Wellman, passed way in November 2022. He still resides in San Diego and has one daughter, Brittany who also lives in the San Diego area.