CAPT Richard "Rick" Grant USN (Ret.)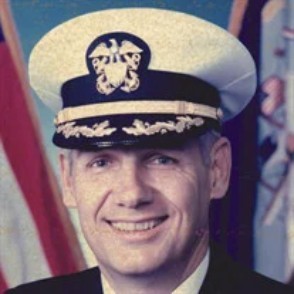 October 21, 1940- September 22, 2023
CAPT Grant was a NHA Lifetime Member #34.
ENS Grant became a Naval Aviator on April 23,1965 at HT-8, NAS Ellyson Field, Pensacola, FL. ENS Grant was Navy Helicopter Pilot Designator # R-7852.
Captain Richard "Rick" Grant USN (Retired) of Memphis, TN, passed away on Friday, September 22nd, 2023, leaving behind a lasting legacy of family, friendship and service to his country and community.
Rick will be lovingly remembered by his wife of 56 years, Elyse Howard Grant of Lovington, NM; his daughters, Stacey Grant Navin and her husband, Paul Navin, along with their three children, Amanda, Stephanie and Elizabeth, who reside in Milton, GA; and Kelley Grant MacDonald and her husband, David MacDonald, with their two children, Margaret (Maggie) MacDonald, and Grant MacDonald, who live in Fort Mill, SC. He is also survived by his loyal dog and favorite walking companion, Sunshine.
Born October 21, 1940, in Jackson, MS, Rick grew up in Chicago, IL, and was the only son of the late Margaret O. Schultz and Maurice H. Paquette. He held a deep affection for his grandparents, frequently sharing fond memories of his time at their home in Blue Mountain, MS. Cherished moments included his grandfather taking him hunting and fishing, playing Rook with his grandmother, and enjoying her delicious Southern cooking.
As a teenager, Rick's passion for sports, especially baseball, took root during high school and continued through his graduation from Fenger High School in 1957. He pursued his education at Murray State University where he played baseball, graduating in 1963. Rick later earned his Master's Degree from the University of Utah in 1970, where he taught Navy ROTC.
Rick had a distinguished military career in the United States Navy, proudly serving for 26 years. In August 1963, Rick reported to Pensacola, Florida for flight training as an Aviation Officer
Candidate and was commissioned an Ensign in 1964. He served two tours in Vietnam and was involved in five combat rescues of downed U.S. pilots. Additional following notable assignments included command of aircraft-carrier based Helicopter Anti-Submarine Squadron HS-5 (Jacksonville, FL) and HS-10 (NAS North Island, CA), where he made lifelong friendships. Rick, Elyse, Stacey and Kelley took their final Navy family adventure in 1987 when he screened for major command as Commanding Officer, NAS Memphis, at Millington, TN, an assignment he loved.
After retiring from the Navy in 1989, Rick and Elyse made Memphis their permanent home. Rick continued with his civilian career as the Director of Economic Development for the City of Millington and Vice President of Distribution at TBC, eventually retiring in 2001.
Rick remained deeply committed to his community and served in various leadership roles including President of the Germantown Rotary, President of the Memphis Navy League, and President of the World Cataract Foundation. His passion for veterans led him to serve on the board for the Tennessee State Veterans Home, where he played a pivotal role in the establishment of a VA home in Memphis, which is currently under construction.
Rick was a loving husband, father, grandfather, and a loyal friend. His family was a source of immense pride, and he never missed a chance to tell them. On the golf course, where he found great joy, Rick celebrated three holes in one – though he always attributed them to luck. Known for having a wonderful sense of humor, love of puns, gregarious nature, and genuine enthusiasm for celebrating the successes of others, Rick was beloved by all who knew him.
A celebration of Rick's life will be held at Memorial Park Funeral Home on Saturday, October 21st, 2023. Visitation will begin at 12:00 PM with a Memorial Service to follow at 1:00 PM. Memorial contributions may be made in Rick's honor to the World Cataract Foundation, National Helicopter Association (NHA) Scholarship, or the Memphis Navy League.