CAPT Richard S. "Robbie" Roberts, USN (Ret.) 2017 NHA CAPT Mark Starr Pioneer Award Winner, NHA Lifetime Member #107, Former CO of HU-2 Passes Away at 107 Years of Age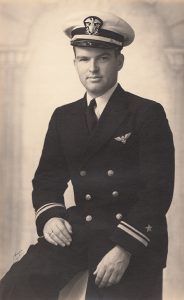 CAPT Roberts was originally designated as a Naval Aviator in 1939, becoming a Navy Helicopter Pilot on January 6, 1953 at HTU-1, NAS Ellyson Field, Pensacola, FL. He was Navy Helicopter Pilot Designator Number R-1344. CAPT Roberts was born April 14, 1914 and passed away on August 13, 2021 at age 107 years.
2017 – HSM-40 Presentation-CAPT Richard Roberts, USN (Ret.)
2017 – Fall 2020-Navy League Presentation-Navy Birthday-CAPT Richard "Robbie" Roberts, USN (Ret.)
2017-HSM-40 Presentation-April 15, 2021 107th Birthday/NHA Lifetime Member #107 Presentation-CAPT Richard "Robbie" Roberts, USN (Ret.)
A Life of Consequence
Richard Sharp Roberts, "Robbie" to his many friends and family, passed away peacefully on 13 August at 107 years of age. He remained positive and optimistic, assured of his place in Heaven.  Robbie was known for his quick humor, his zest for life, and his love of Country and the U.S. Navy.  He was born April 17, 1914 to David and Ida Mae Roberts and grew up in Medford, Oregon where he was active in the Boy Scouts and earned the rank of Eagle Scout. He was preceded in death by his parents, older brother Dale, and two beloved wives, Virginia (Ginny) and Gloria.  His family includes Julie Castleberry, Blake and Lucy Warren, Joe and Sandy Warren, Frank and Kathleen Ribik, and David and Emy Roberts.  
He applied for duty as a Naval Aviator in 1938 after listening to an advertisement on the radio. Captain Roberts served in the U.S. Navy for 26 years as a legendary pilot and leader in peace and war. He earned his Navy Wings of Gold in 1939 and was already an accomplished aircraft commander in the PBY-4 Catalina on pre-war patrols in the Philippines when the Japanese attacked across the Pacific and Pearl Harbor. He fought in every major naval battle in the Pacific, earning nine campaign ribbons and the bronze star with "V" for valor in combat.  He also flew missions into remote areas of China, supporting the famous Flying Tigers expeditionary force.  In 1945 while a flag aide to VADM Montgomery, he served as the JAG officer for the mysterious "Lost Patrol" Flight 19 Avenger Flight which disappeared at sea on a routine training mission.
Following WW II, the Navy began a transition from seaplanes to helicopters. Robbie became an accomplished helicopter pilot when these aircraft were experimental. He commanded the first heavy lift helicopter squadron (HUP-1) and helped develop engineering and safety improvements; much of the helicopter doctrine is still in use today. He personally trained many helicopter pilots that went on to serve in the Korean War.  Robbie was awarded the prestigious Mark Starr Pioneer award in 2017 and was recognized in March 2021 as the oldest living Naval helicopter pilot by the National Helicopter Association.  His flight logs reflect 4,853 hours in 51 different aircraft.
After his Navy career was over, Robbie traveled the world with his second wife, Gloria. He continued to serve the community as a Mason, as a Council President for the U.S. Navy League in Beaufort, SC, and a mentor to many. He relocated to Florida, living in Maitland, Altamonte Springs and Winter Park for many years.  
Robbie continued active service all his life in the Central Florida Council of the U.S. Navy League and was recently inducted into the National Navy League Scroll of Honor. He was incredibly active, and was very knowledgeable and current on science, politics, and world events. He could be counted on for a strong, well-reasoned opinion. He had an amazingly detailed memory of the procedures and flying characteristics of multiple aircraft and could call these up at any time.
Even as his eyesight failed, he continued listening to multiple books on tape and attended luncheons, social events, and the annual Navy Ball. Robbie spread joy and optimism wherever he went and will be sorely missed. 
Services will be held at a future date at the Florida National Cemetery in Bushnell, Florida. In lieu of flowers, donations may be made to The ASPCA or to The American Foundation for the Blind.
Those who trust in the Lord will renew their strength. They will soar high on wings like eagles. They will run and not grow weary.  Isaiah Fair Winds and Following Seas CAPT Robbie