CAPT Robert S. Vermilya, USN (Ret.)
Founder of NHAHS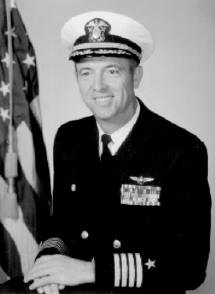 CAPT Vermilya was one of nine original founders of the Naval Helicopter Association Historical Society (NHAHS).
More than a decade after flying fighter planes off aircraft carriers in the Korean War, CAPT Robert S. Vermilya, USN-(Ret) found himself on another risky mission and in another war.
Piloting a helicopter for an anti-submarine squadron in Vietnam, he rescued a downed comrade under heavy enemy fire in Haiphong harbor.
The mission resulted in a Silver Star for Capt. Vermilya, a 30-year Navy veteran who died Saturday, December 4, 1999 at San Diego Naval Medical Center. He was 74.
The cause of death was multiple myeloma, which he developed about a year and a half ago, said longtime friend and retired Navy Capt. Dick Bruning.
Capt. Vermilya's last tour of duty was the former naval air station in Imperial Beach, where he was commanding officer for more than a year. He retired from active duty in 1977 and worked for many years as an independent real estate agent and broker in Chula Vista, where he had lived for three decades.
During the Korean War, Capt. Vermilya was stationed aboard the carrier Valley Forge in the Sea of Japan. A few years later, in 1957, he completed helicopter training and was assigned to squadrons at Ream Field in Imperial Beach and at North Island Naval Air Station.
During the Vietnam War, Capt. Vermilya commanded an anti-submarine squadron aboard the support carrier Kearsarge in the Tonkin Gulf. The Kearsarge earned five battle stars and a Meritorious Unit Commendation during the war and later was celebrated as a recovery ship in two Mercury orbital space flights.
After leaving the Kearsarge, Capt. Vermilya commanded the troop carriers Sandoval and Austin, based in Norfolk, Va.
Later, he was assigned command of the naval air station at Ream Field, which in 1967 included more than 5,000 civilian and military personnel.
"Capt. Vermilya was there when it was decommissioned by President Nixon," Bruning recalled.
After the Vietnam War, the air station at Ream Field was named the Naval Auxiliary Landing Field.
Born in Bowling Green, Ohio, Capt. Vermilya entered the Navy's V-5 aviation cadet program and received his wings in 1947. He served aboard several ships as a fighter pilot before being assigned to the Valley Forge.
During retirement, Capt. Vermilya served on the board of directors of the North Island Federal Credit Union. He was a former president and chairman of the board of the Naval Helicopter Association, was a founder and served on the board of directors of the Naval Helicopter Historical Society.
An avid golfer, he played regularly at North Island Naval Air Station as a member of the North Island Sea 'n' Air Club.
He is survived by his wife, Ginny; sons, Robert of El Cajon and Richard of Chula Vista; sisters, Helen Rethmel of Alamogordo, N.M., and Ruth Budd of Decatur, Ill.; and brothers, John of Greenville, Ohio, and Tom of Bowling Green. Memorial services are scheduled for 10 a.m. Thursday at North Island Naval Air Station.
Donations are suggested to the American Cancer Society.