CAPT ROGER WILLIAM LLOYD, USN (RET.)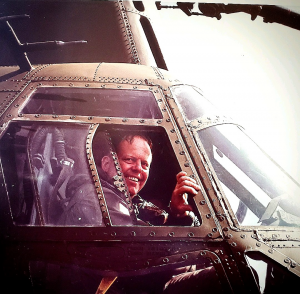 Captain Roger W. Lloyd died on 8 October 2021 from natural causes at his home in El Cajon, California.   
"Bill" was born in Atlantic City, NJ and raised in Harrisburg, PA.  He enlisted in the Navy in June 1953, and attended the Naval Academy preparatory school earning an appointment to the United States Naval Academy.  
Bill graduated from the Unites States Naval Academy in 1960 and was designated a Naval Aviator on February13, 1962 at HT-8, NAS Ellyson Field, Pensacola, FL. Bill was Navy Helicopter Pilot Designator Number R-5918.  As a helicopter pilot he served in numerous positions to include flying with Helicopter Antisubmarine Warfare Squadron FOUR and TEN, while deployed to the Western Pacific on the USS Yorktown (CVS-10); Fireteam Leader in Helicopter Attack (Light) Squadron THREE flying UH-1B helicopters in support of the U.S. Navy brown water operations in the Mekong Delta (credited with 395 combat flights in Vietnam). 
After Vietnam, Bill was: a helicopter project pilot and participated in the initiation of the Navy's Light Airborne Multi-Purpose System (LAMPS) development program; Deputy Program Manager for the LAMPS MK III Project and worked at the Naval Air Rework Facility, North Island.  Bill's final two assignments were as the Commanding Officer of the Naval Plant Representative Office, Stratford, CT., and as the Commanding Officer of the Naval Air Rework Facility, Alameda.  Bill was still flying when he retired in 1986.  His career included 61 months of command.
Bill accumulated over 5,150 aircraft flight hours which includes over 4,450 hours of helicopter flight time.  He was awarded the Legion of Merit with Gold Star, Distinguished Flying Cross, 23 Air Medals, Navy Commendation Medal, Vietnamese Cross of Gallantry, and numerous campaign medals.
Bill earned a Bachelor of Science degree from the Naval Academy; a Bachelor of Science degree in Aeronautical Engineering and Master of Science degrees in Financial Management and Material Management. 
Since retirement he traveled extensively with his wife Connie.  Bill served as: The Chairman of Board NHA; President, Kiwanis Club of ECV: President, USNA Alumni Coronado/SD Chapter; National Trustee, USNA Alumni; Commander, American Legion San Diego Downtown Post 492; and Voting Member, SD Veterans Council.
Bill is survived by his beloved wife of 52 years the former Connie Zeller; children and their spouses, Holly (Bruce), Lori, Patty, Ernie (Margaret), Jeff (Amy), Russ (Lisa), Roger (Kristin), Nancy, William (Christine); twenty grandchildren, and three great grandchildren.
Bill was preceded in death by his parents, first wife Nancy and sons-in law Dennis and John. 
CAPT Bill Lloyd was interned at Miramar National Cemetery on Dec 3rd at 11:30 AM.