CAPT Thomas J. Bernsen, Jr., USN (Ret.)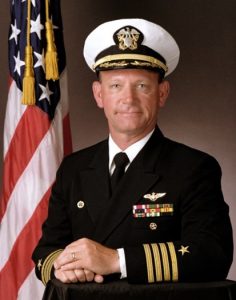 ENS Thom Bernsen, USNR became a Naval Aviator on July 29, 1971 at HT-8, NAS Ellyson field, Pensacola, . ENS Bernsen was Navy Helicopter Pilot Designator Number R-11731.
It is with great sadness that the family of CAPT Thomas J. Bernsen, Jr., USN (Ret.), announces the passing of their beloved husband, father, grandfather, and stalwart veteran of the HS community, on January 3rd, 2023.
Born December 13, 1948, in St. Louis, MO, he grew up in a sailing family in Long Beach, CA.  After graduating from CSU Long Beach with a BA in Mathematics, Thom dedicated his life to serving his country as a Navy helicopter pilot and test pilot.
Sea assignments included HS-2 in Imperial Beach, CA, involving service aboard USS Enterprise, in HS-2 Det One, Vietnam.  Highlights include numerous rescues during Operation Linebacker II and later being a primary pilot for the initial flights into North Viet Nam during Operation End Sweep to negotiate de-mining Haiphong Harbor.  Captain Bernsen served as a department head with HS-8, on staff with CVW-15, and commanded HS-4 aboard USS Carl Vinson in WestPac.  Ashore, Captain Bernsen attended the US Naval Test Pilot School in Patuxent River, MD, and later became Director of the Test Pilot School and Commanding Officer of the Systems Engineering Test Directorate there.  Notable projects included primary Test Pilot for the initial test article of the SH-60B Seahawk. Captain Bernsen retired from FASOTRAGRUPAC, at NAS North Island on June 30, 1994, after 26 years in uniform.
Captain Bernsen's Post Navy positions included being a Director for Horizons Technology Inc., Senior Director SAIC Corporation, COO for National Dispatch Center, Inc. in San Diego, and owner/operator of Dryer Vent Wizard, all while cultivating his love for German sports cars.
Thom was a devoted husband and a proud father and grandfather.  Thom and Linda made their home in Point Loma, CA, where they enjoyed many happy years together.  He was known for his sharp mind, quick wit, keen sense of humor, and ability to find the silver lining in any situation.  He was an avid sailor and loved nothing more than being out on the water, a calling he passed on to his two children, Eric and Lauren.  Thom was a master of the deadpan and could keep a straight face even when delivering the corniest of dad-jokes. He was as sharp as a naval officer's sword and could express an entire conversation through a single look.
Thom will be deeply missed by all who knew him, but his memory will live on in the hearts of his family and friends.  Thom is survived by his wife, Linda, children, Eric and Lauren, and four grandchildren, Charlie, Havana, Jack, and Zoe. 
A celebration of Thom's life, complete with humorous anecdotes and tall tales of heroism, will be held at a later date, when known. In lieu of flowers, the family asks that donations be made in Thom's memory to the Semper Fi Fund or Disabled American Veterans.
Fair winds and following seas, Pappy.
The memorial is scheduled for Fort Rosecrans National Cemetary, Point Loma, San Diego, 1415 (215PM) Thursday February 9, 2023.  For full details click on the EverLoved link, https://everloved.com/life-of/thomas-bernsen/. RSVP's via EverLoved webpage.   Reception to follow at the Thursday Club, on Santa Barbara Ave.  For purposes of condolence cards, flowers, family contact:
Linda Bernsen, 2668 Narcissus Dr., San Diego, CA 92106 lindasuebernsen@gmail.com  ericbernsen@gmail.com