CAPT VICTOR M. OTT, USN (RET.)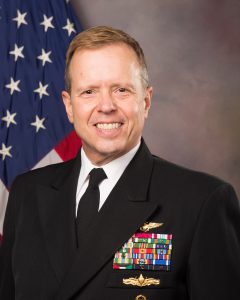 Captain Ott was raised in a Navy family, and grew up in Panama City Beach, Florida, Norfolk, Virginia, San Diego and San Francisco, California, and Charleston, South Carolina.  He graduated from the College of Charleston and received his commission in 1987 from Officer Candidate School in Newport, Rhode Island.  CAPT Ott returned to San Diego where, upon graduation with distinction from Surface Warfare Officers School, Pacific at Naval Amphibious Base Coronado, he was stationed aboard the USS TRIPOLI (LPH-10), at Naval Station San Diego.  After deploying to the Western Pacific and earning his Surface Warfare Officer designation, he proceeded to flight training in Naval Air Stations (NAS) Corpus Christi, Texas and Pensacola, Florida.  
Designated a Naval Aviator in September 1991, CAPT Ott was assigned to Helicopter Anti-Submarine Squadron Six (HS-6), HS-10 and HS-4, consecutively, all based at NAS North Island, California (NASNI).  He has deployed aboard USS ABRAHAM LINCOLN (CVN-72), USS CONSTELLATION (CV-64), USS CROMMELIN (FFG-37) and USS INGRAHAM (FFG-61).
As Deputy Director of the Combined Rescue Coordination Center, at the Combined Air Operations Center in Vicenza, Italy he served in support of Operations JOINT GUARD and NOBLE ANVIL in Bosnia-Herzegovina and Kosovo.
After graduating from the U.S. Naval War College in Newport, Rhode Island and the Joint Forces Staff College in Norfolk, Virginia, he was assigned to the U.S. Special Operations Command (SOCOM) in Tampa, Florida where he served as the Branch Chief for Current Air Operations (J3 Air).
CAPT Ott returned to San Diego in June 2005 and established the Helicopter Sea Combat Weapons School, Pacific at NASNI, serving as its first Commanding Officer.  Upon successful completion of O5 command, he was assigned to the Department of State, Bureau of Political-Military Affairs in Washington, D.C.  Following that assignment, he moved across the Potomac River to the Pentagon, where he served on the Chief of Naval Operations Staff in the International Engagements Division (OPNAV N52).  After a successful Pentagon tour, CAPT Ott was assigned to the U.S. Defense Threat Reduction Agency/U.S. Strategic Command Center for Combating Weapons of Mass Destruction, Fort Belvoir, Virginia, where he served as the Deputy Director for Intelligence, Plans (J2/J5).  His final Navy tour was on the faculty of the National War College at the National Defense University, Washington, D.C.
His personal decorations include the Defense Superior Service Medal (two awards), Legion of Merit Medal, Defense Meritorious Service Medal, Meritorious Service Medal (two awards), Navy Commendation Medal (three awards), Navy Achievement Medal (two awards) as well as various other service and campaign awards including the Battle E (three awards). 
CAPT Ott (Ret) is currently the Associate Director for F135 USN/USMC Fleet Sustainment at Raytheon Technologies/Pratt & Whitney.  He resides with his family in Simsbury, Connecticut.