CAPT WILLIAM "BILL" ROOP, USN (RET.)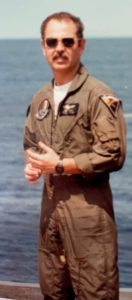 CAPT Bill Roop, USN (Ret.), former CO of HS-12, passed away Thursday evening, October 21, 2021 in San Diego from complications suffered in a fall at home during the previous week.
Captain Roop began his naval career in February 1967 as an Aviation Officer Candidate in Pensacola, FL and was designated a Naval Aviator on June 21,1968 at HT-8, NAS Ellyson Field. His Helicopter Designation Number is R-9908.  His 27-year Navy career included assignment to numerous operational aircraft carrier-based Helicopter Antisubmarine squadrons, worldwide operational deployments, command of Helicopter Antisubmarine Squadron TWELVE based in Atsugi, Japan and command of Naval Air Facility, Atsugi, Japan. Ashore he was assigned to Fleet Composite Squadron EIGHT at Naval Air Station Roosevelt Roads, Puerto Rico, as COMNAVAIRLANT H-3 NATOPS Evaluator attached to Helicopter Antisubmarine Squadron ONE, to the staff of the Secretary of the Navy in the Office of Legislative Affairs as the Principal Deputy for Senate Liaison, and as Executive Officer of Naval Air Station, Jacksonville, FL, one of the Navy's largest industrial complexes. Over the course of his career, he attended Defense Systems Management College, Washington DC completing the Program Managers course in acquisition management and the Naval War College in Newport, RI receiving a Master of Arts degree in National Security and Strategic Studies. Among many other honors, he was awarded the Legion of Merit and the Navy Meritorious Service Medal (2 awards).
One of the most experienced helicopter pilots in the Navy, Captain Roop accumulated nearly 5000 rotary wing flight hours, the vast majority of which were in the SH-3 Sea King. Following retirement in 1994, Captain Roop was employed by Chugach Alaska Corporation. While employed with Chugach, Captain Roop lived and worked in Valdez and Anchorage, Alaska and Washington, DC. Upon retirement from Chugach, he moved to Poway, CA where he was employed as a helicopter simulator instructor at NAS North Island.
Born in Radford, Virginia, Captain Roop attended Virginia Tech University and was a very proud Hokie his entire life. In retirement he was dedicated to serving ministries at St. Bart's Episcopal Church in Poway, CA. Captain Roop was active in retirement focusing on golf, travel, and a wide assortment of friends. His primary focus however was the love of his family. He is survived by his Wife of 54 years the former Cheryl McGrew; his son, Adam Roop of San Diego; his daughter Wendy Keegan, and son-in-law Pat Keegan of Nashville, TN, his cherished grandson, Nick; and his brother, Jack Roop.
A memorial service will be held aboard USS Midway Museum, San Diego, CA on December 11, 2021, at 11:30 am. Contributions may be made in Captain Roop's memory to St. Jude's Children's Hospital or the USS Midway Museum Foundation.
Fair winds and following seas shipmate.