CDR Barry W. Coats, USN (Ret.)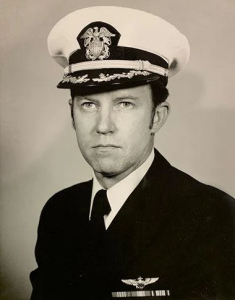 LT Coats became a Naval Aviator on June 29, 1962 at HT-8, NAS Ellyson Field, Pensacola, Florida. LT Coats was Navy Helicopter Pilot Designator Number R-6100.
Commander Barry Wingo Coats, USN (Ret.), passed away peacefully from his life on Feb. 9, 2021, surrounded by his loved ones. He was 87 years old. Barry bravely, and with much dignity, fought the good fight with Alzheimer's Disease.
He was born in Boliver, Tennessee, the son of Eveline Savage Coats and Henry Orren Coats. He started his life of travel as a young teenager by accompanying his mother and stepfather, Horace Holmes, educated in Shanghai, China and later Mussoorie, India, for several years.
After graduating from Georgia Tech and marrying his sweetheart, Mary Helen "Tippy" Joiner, he began his lifelong love of the skies as a Naval aviator. He began with blimps, then amphibious aircraft, in Puerto Rico, and finally on to his favorite aircraft of all, helicopters. Serving with Helicopter Anti-Submarine squadrons 7, 3 and 1 on the East Coast, as well as attending Defense Intelligence School in Washington, D.C. He later worked at the National Security Agency, and attended War College in Newport, Rhode Island, and would go on to graduate from George Washington University with a masters degree in international affairs. He later took command of Helicopter Squadron 8, located at the time at Imperial Beach.
After his flying days, he spent the remainder of his 26 years, on the USS New Orleans (LPH) as the Air Boss, then became the Liaison Officer for the Trust Territories of the Pacific Islands, based in Guam, and lastly, Civil Affairs officer at CINCPAC, Camp Smith in Honolulu.
After his retirement from the Navy, he turned his attention to military contracting working on various development projects throughout the U.S and the Pacific region. He enjoyed repairing sports cars, traveling, music and perfecting his biggest challenges of all as a husband, father, son, friend, brother, uncle, grandfather of six and great grandfather of two.
Barry leaves behind his wife of 63 years, Tippy Coats, brothers Richard Holmes and Henry Coats, sister, Jo Thompson, daughters Lin (Mark) Foletta, April (Ken) Switay and son Barry (Stacie) Coats. After his work-life was completed, the Coats family came back to live in Coronado where he and Tippy became active members of Christ Church of Coronado. Although his family feels the immense loss of his absence, knowing his final destination brings them great comfort and joy.
Due to COVID restrictions, a memorial celebration of Barry's life will be held by the family at a later date in the Spring at Miramar National Cemetery. In lieu of flowers, donations may be made to George G. Glenner Alzheimer's Family Centers, INC. (www.glenner.org) in Barry's name or a charity of your choice.
http://www.coronadonewsca.com/obituaries/cmdr-barry-w-coats-usn-ret/article_5d58c486-804b-11eb-b01e-4f52c5405bbd.html