CDR David John Noland, USN (Ret.)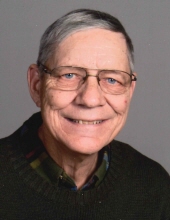 Commander David John Noland USN, (Retired) passed away September 16, 2022, at the age of 75, surrounded by his family.
David was born on May 6, 1947 to John and Edith (Froehly) Noland in Manhattan, New York. He graduated from Red Bank Catholic High School in Red Bank, New Jersey, and obtained a Bachelor of Science Degree in Electrical Engineering from Marquette University. While at Marquette, David fell in love with Rebecca Keil of Eau Claire and they were married May 27, 1969, at St. Olaf's Catholic Church, following David's graduation and commissioning as an Ensign in the United States Navy.
David's military career took him and his family around the world. He served during the Vietnam War aboard the USS Ashtabula, AO-51. He earned his pilot's wings as a Naval Aviator in Pensacola, FL. He qualified to fly both fixed wing planes and helicopters. He and Becky enjoyed living on the Naval Base in Guantanamo Bay, Cuba, where they made life-long friendships. David joined the U. S. Navy's Helicopter Mine Countermeasures Squadron HM-12, and later HM-14, as a pilot of RH53D Sea Stallion helicopters. The squadrons performed mine-sweeping operations in critical sea lanes around the world. He also completed the program management course at the Defense System Management College. He retired from the Navy at the rank of Commander.
David was very devoted to his family. He and Becky were blessed with two loving children. Philip is married to Hang (Pham) and they are parents of Olivia, William and Jack. CeCelia is married to Robbie Breedlove and they are Autumn's parents. David loved being addressed as "PaPa" and took special care to teach his grandchildren about so many things. He looked forward each year to a special Christmas shopping trip with his grandchildren where each child was able to select his or her favorite toy.
David had many interests before and after his retirement to Eau Claire, including bridge, history, ham radio, model trains, stamp collecting, and book collecting. He was a principal volunteer in the restoration of the SOO Line No. 2719 steam locomotive, and served as Vice President and Secretary of the Friends of the #2719.
Photography was one of David's favorite hobbies. David traveled the world and took thousands of pictures. His portraits of friends and family are especially treasured.
David is survived by his wife of over 50 years, and their children and their families, and his dear sister, Janet Panter, and her children, Michael and Caroline, all of New Jersey. He is very much missed by his cousins, Greg Froehly, Jane and Ken Martin, and Peter and Ellen McManus, all of New York, Kenneth and Zilma Froehly of Connecticut, Susan and Leonard Teich of Texas and Bert Froehly of California. He will be sorely missed at family gatherings by his brothers-and- sisters in-law: Frank and Cindy Keil of Michigan, Jeff Keil and Nancy Miller-Keil of California, Gary and Becky Keil of Texas, Lori and Dan Ortiz of Alaska, and Sue and Lee Christensen, Mike and Karen Keil, and Heidi and Matt Schultz, all from Wisconsin. Uncle David is also missed by his 36 nieces and nephews.
A Mass of Christian Burial will be held at St. Olaf's Catholic Church at 10 a.m. on Monday, September 26, 2022. There will be a visitation at the church from 9-10 a.m. David will be interred with full military honors at the Northern Wisconsin Veterans Memorial Cemetery in Spooner, WI at a later date.
Chippewa Valley Cremation Services – Celebration of Life Center in Altoona is assisting the family