CDR Drury "Chip" Charles Nimmich Jr., USN (Ret.)

ENS Nimmich became a Naval Aviator on April 7, 1978 at HT-18, NAS Ellyson field, Pensacola, Florida. ENS Nimmich was Navy Helicopter Pilot Designator number R-14603.
Drury "Chip" Charles Nimmich Jr., 69, of Summerville passed away peacefully on Friday, April 28, 2023.
A Memorial Service will be held on Saturday, May 6, 2023 at 1 o'clock at Parks Funeral Home Chapel, 130 West 1st North Street, Summerville, SC 29483. Inurnment will be at The Citadel at a later date. In honor of Chip, memorials can be made to any animal shelter in the area.
Chip was born on March 6, 1954 in Summerville, SC and is the son of the late Dru and Mary Nimmich. He spent many years serving his country as a U.S. Navy Pilot. Along with his time in the U.S. Navy, Chip was a part of the Citadel Associations. In his free time he enjoyed building model air crafts and spending time with his loved ones.
Chip is survived by his wife of 42 years, Stuart Nimmich of Summerville, SC; son, Drury C. Nimmich III of Summerville, SC; daughter, Claudia Gros of Summerville, SC; brothers, Mike Nimmich of Sumter, SC, and Geoff Nimmich of Beaufort, SC. He is predeceased by his parents, Dru and Mary Nimmich].
Arrangements by Parks Funeral Home, 130 West 1st North Street, Summerville, SC 29483. www.parksfuneralhome.com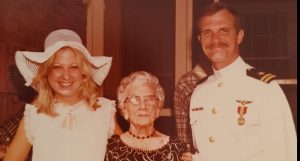 Fair Winds and Following Seas CDR Nimmich