CDR Edmund W. Berry, USN (Ret.)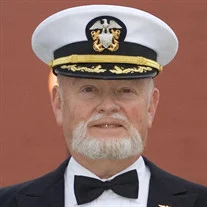 ENS Ed Berry became a Naval Aviator on September 19, 1975 at HT-18, NAS Ellyson Field, Pensacola, Florida. ENS Berry was Navy Helicopter Designator Number R-13611
Commander Edmund William Berry, USN, Retired left for his final duty station on Wednesday, the 26th of April, 2023. He is survived by his wife, Nancy; his brothers, Dan, Tim, and Joe; his sister Ann; two daughters, Ann and Emily, and four grandchildren, who have learned over the years to appreciate his quick sense of humor, his fun-loving personality, and his love of good Irish whiskey.
Born to a Marine Corps pilot and a first-generation Irish immigrant in Cherry Point, North Carolina, Ed grew up with a love of the outdoors that continued throughout his life. He hunted, fished, and boated whenever he had the chance—until he discovered the greatest sport of all time: golf. When Uncle Sam came calling during the Vietnam War, he signed up to join the Navy based on the promise he could fly. Twenty-two years and a master's degree later he had not only flown, but had taught others to fly, influenced national security decision making, and become an adjunct professor of same through the Naval War College.
After he retired in 1994 Ed followed his wife's career back to Pensacola where their love story began so many years prior and took up substitute teaching and volunteer work to fill his days in meaningful ways. Through Civitan International and church service he touched the lives of countless local families. He enriched the choir of St. Jude Thaddeus church every Sunday by picking up as many harmonies as he could with his rich voice, strong in the belief that making a joyful noise unto the Lord was the best form of worship.
Ed was the life of every party he attended and was renowned for his smoked meats and baking prowess. His passionate and playful approach to life helped him build powerful bonds with his grandchildren, who have always been his biggest fans. His stories kept everyone around him laughing even as he lost his twenty-one month battle with pancreatic cancer. He will always be remembered as the embodiment of the saying "love conquers all."
Visitation will be at Faith Chapel North funeral home in Cantonment, FL from 5-7 PM on Thursday, May 4th. A funeral Mass will be said at St. Jude Thaddeus church on Friday, May 5th at 10:30 AM, with graveside service to follow at Barrancas National Cemetery at 1:00 PM. In lieu of flowers, the family has asked that you contribute to the charity of your choice in Ed's name.
Many of you may want to send a sympathy card:. Mrs Nancy Berry 1933 Filly Road Cantonment, FL 32533
Fair Winds and Following Seas CDR Berry!