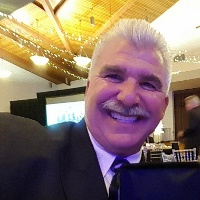 CDR GUY NATHANIEL "YUG" CARUSO, USN (RET.) SIGNAL CHARLIE

CDR Guy Nathaniel Caruso, USN (Ret.) received his wings on September 6, 1991 at HT-18, NAS Whiting Field, Milton, FL. CDR Caruso's Navy Helicopter Designation Number is 21704
CDR Guy Caruso, USN (Ret.) age 53, of San Diego, CA, passed away from injuries sustained from a motorcycle accident at about 7:40pm on August 16th 2019 on I-15 in San Diego, CA.
Guy was born on April 20th, 1966, in Chicago, IL. He went to Saint Margaret Mary Catholic Elementary school, then to Lane Tech high school and graduated from Northeastern University in 1990 with a Bachelors in Accounting. He was accepted to Naval Aviation Officer Candidate School and Naval Flight Training. Earned his Naval Aviator Wings in 1991 and spent a distinguished 25 year Naval career  flying helicopters and participating in countless deployments and detachments around the world; participating in the assault in Somalia and in Operation Enduring Freedom in Afghanistan  immediately following  9/11. He Attended the U.S. Naval War College and National Defense University earning his M.A. in National Security and Strategic Studies, and Joint Professional Military Education, in addition to countless senior staff assignments.
Following his naval career, he couldn't stay out of the cockpit, and became a commercial airline pilot with Envoy Air, where he was recently awarded an upgrade to captain, and was scheduled to begin upgrade training in September.
In addition to his military and flying activities, Guy had a full life at home, where he loved to race motorcycles on the race track, play golf, workout at the gym, work on his house, and of course spend time with his beautiful family; his wife Irene, his daughters Sammi and Roberta, his son Cesar, and his grandchildren Damien and Nathaniel. No one was more devoted to his family, than Guy. Even though he was a kid at heart, he was meticulous in taking care of his family, planning for their future, taking care of business, or any activity he undertook. He could always be counted on to do what was needed, and to do it right. He was a man of integrity and reliability. He was generous with his time, his talent, and his money. He always made time to help his family, friends, or neighbors in need, whether it was his talent,  his counsel, or company.
He was a devoted Catholic, and could be found at Mass every Sunday even if he was traveling. He was a member of the Knights of Columbus, formally a Grand Knight, and spent countless hours volunteering with the Knights of Columbus at St Michael's Catholic Church, as head usher, security officer, and board member. When Saint Michael's needed someone he was always there to help.
Everyone who knew him, loved his generous spirit with his infectious smile and laugh. With his ever present positive outlook, he's the kind of person that, made your day, even if you were having a bad one.
He is survived by his wife, Irene, his children: Cesar, Samantha, Roberta. His siblings: Gina, Ross, Brian(twin), and Bret. His grandchildren: Nathaniel and Damien. His nieces: Bella, Gracie and Mia. He is the son of Philip Caruso(deceased)  and Antoinette R. Caruso(deceased)  both of Chicago, IL.
There will be a Viewing and Vigil, on Monday August 26th , from 4-8pm at Poway-Bernardo Mortuary, and a funeral Mass at St. Michael's Catholic Church, on Tuesday, August 27th, at 10:30am. Immediately followed by a procession to Miramar Cemetery for Full Military Honors and burial at 12:30pm.(Sharp). Reception immediately following, to celebrate his life, with food and beverages, on Tuesday from 1:30pm-4:30pm. Please come and celebrate his life with us…