CDR John Charles "Jack" Macidull, USNR (Ret.)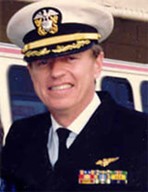 LTJG Macidull became a Naval Aviator on September 16, 1968 at HT-8, NAS Ellyson Field, Pensacola, Florida. LTJG Macidull is Navy Helicopter Pilot Designation Number # R-10059.
John Charles "Jack" Macidull USNA, USNA '67
Commander John C. Macidull USNR (Ret) passed away peacefully in the night on 12 August 2023 at his home in Hayes, VA. He was 79 years old. "Jack" was born into a military family on 17 February 1944 in Philadelphia, PA; his father Joseph Macidull was a Colonel in the U.S. Army.
Jack graduated from the U.S. Naval Academy in 1967 where he excelled as an aero engineering scholar taking many elective courses, and also as a 2nd tenor in the USNA Glee Club.
After completing flight training in Pensacola, Jack was designated a naval aviator and a helicopter pilot in 1968. His first tour of duty was with HC-1 during the Vietnam conflict flying SAR in H-2s and H-3s. Jack made two WestPac deployments on aircraft carriers in 1969 and 1971 and performed combat rescues under challenging conditions. For these rescues he was awarded  4 Navy Comms with Combat V and also the Air Medal with Bronze Star for a night rescue in the Tonkin Gulf in poor weather and an inoperative doppler system. From HC-1 he served at NWC China Lake, CA, from 1971-74 as a weapons test pilot in fixed wing and helicopter aircraft. He also performed a number of challenging rescues during this tour of duty including one high altitude rescue of a stranded injured hiker on Mount Whitney at 13,000 feet altitude for which he received an Air Medal.
In civilian life, Jack worked as an aerospace engineer with several companies beginning in 1974 with Teledyne-Ryan Aeronautical Company in San Diego CA where he helped develop drone aircraft and other aircraft types. In 1979 he began work as an accident investigator with the National Transportation Safety Board. He became a senior aircraft engineer/investigator for NTSB investigating many accidents, perhaps most notably working on the team that investigated the Space Shuttle Challenger accident.  One of nine books he published was about that disaster and it was entitled, "Challenger's Shadow…"
In 1990, Jack retired from the Naval Reserve with 20 years service. After his retirement from Civil Service in 1994 as a GS-15, Jack's main pursuits were travel, music, Annapolis reunions and authoring books on a variety of subjects. Six of his books are available on Kindle.
Jack eventually retired to Hayes, Virginia with his wife Eva, where they have enjoyed the past 20 years in their home on Chesapeake Bay.
Jack was predeceased by his parents Joseph and Mary Macidull and his brother Boyd Macidull. He is survived by his wife Eva Marie; sisters Joan and Madeline Leigh, step-daughter Sierra, and step-granddaughter Eliana.
Fair Winds and Following Seas Commander