CDR Lena "Sparkleberry" Kaman, USN
Legislative Fellow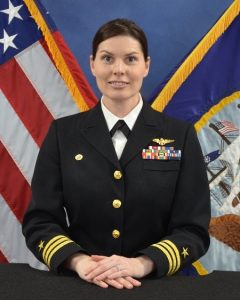 Commander Lena (Buettner) Kaman is the daughter of a Navy veteran of Korea and Vietnam.  Raised in Shawano, Wisconsin, she became a member of the Reserve Officer's Training Corps at the University of Wisconsin-Madison in August 1996.  After graduating with a Bachelors of Arts in French and becoming commissioned in May 2000, she reported to flight school in Pensacola, FL.
She was designated as a Naval Aviator in March 2002 and reported to HSL-40 for SH-60B Seahawk training in Mayport, FL.  After qualification in the SH-60B, CDR Kaman reported to HSL-48 in Mayport, FL in December 2002.  She deployed with Detachment Five onboard the USS LEYTE GULF (CG 55) from February 2004 – August 2004 on a MED/MEF cruise.  She was awarded the Air Medal for flying over 100 combat hours in support of OPERATIONS IRAQI and ENDURING FREEDOM.
Upon return from deployment, she was assigned to Detachment One as the Operations Officer.  She deployed on the USS THOMAS S. GATES (CG 51) from June 2005 – September 2005 in support of UNITAS and PANAMEX.  The deployment was abbreviated due to Hurricane Katrina.
Following her first fleet tour, CDR Kaman reported to HT-18, NAS Whiting Field, FL, in January 2006 as an instructor pilot in the TH-57.  During this tour, she was awarded the Pensacola Lions Club HT-18 Instructor of the Year for 2007.  She served as Training Air Wing Five's TH-57 Standardization Officer from June 2008 through August 2009.  She transitioned to the Navy's Full Time Support community in February 2009.  CDR Kaman became a member of America's Squadron, HT-8, in August 2009.  She served as the Reserve Department Head, Safety Department Head, and Operations Officer.  She was awarded the Association of the United States Navy Full Time Support Officer of the Year for all Chief of Naval Air Training squadrons for 2010.  In 2011, she earned her Masters of Aeronautical Science from Embry-Riddle Aeronautical University.
In January 2012, CDR Kaman joined the staff of the Chief of Naval Personnel in Washington, DC where she served as the Head, Enlisted Advancement Planner in the Enlisted Plans and Policy department.  She then served as the Flag Aide for the Chief of Navy Reserve from July 2014 to September 2016.  She graduated with a Masters of National Security and Strategic Studies from the Naval War College in Newport, RI in November 2017.  CDR Kaman joined the HT-8 Eightballer team in April 2018 and served as the Commanding Officer from June 2019 to September 2020.  She is now serving as a Legislative Fellow in the House of Representatives. 
CDR Kaman has flown more than 4,200 hours in naval aircraft.  Her personal awards include the Meritorious Service Medal (3 awards), the Air Medal, the Navy Commendation Medal (three awards), the Navy Achievement Medal (two awards), and various service and campaign ribbons.  She is married to Christian Kaman of Maryland and they have twin toddler sons, Jean-Paul and Theodore.
Former Commanding Officer HT-8