CDR Mark Bass "Nacho" Vaughan, USN (Ret.)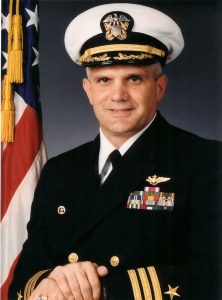 ENS Mark Vaughan, USN became a Naval Aviator on September 18,1981 at HT-18, NAS Whitting Field, Milton, Florida. ENS Vaughan was Navy Helicopter Pilot Designator R#16245.
Mark Bass Vaughan was born on October 9, 1958 to Edgar Vaughan III and Patricia (Bass) Vaughan. After a few early years of travel, his family settled in his father's hometown of Shelbyville, KY. He graduated from Shelby County High School and enrolled in the United States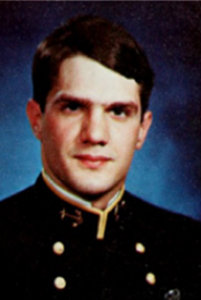 Naval Academy in 1976, where he rowed crew and became involved in the Navigators ministry. He graduated in 1980 and went on to flight school in Pensacola, FL, where he met his wife, Donna Hallberg. They were married in June of 1982 and soon after embarked upon the adventurous life of a Naval officer. Mark and Donna had three children and lived in six different states, as well as one foreign country over the course of his 21 year naval career. Mark is the former Commanding Officer of VR-57.  Mark retired from the Navy in 2001 and soon after began his career as a pilot for FedEx, where he would serve for an additional 22 years. In 2009, Mark enrolled at Biola University's Institute of Spiritual Formation. He graduated in 2013 and became a spiritual director in the Los Angeles/Orange County, CA area. Mark also volunteered as a pilot for Orbis International, a charity that operates a flying eye hospital to locations around the world. He enjoyed cycling and running; he completed several marathons and triathlons. Mark was a true light in this world and cared so deeply about people and about his Lord. He was diagnosed with brain cancer in June of 2021, and passed away on January 22, 2023. He is survived by his wife of 40 years, Donna; his children Anna, Nate, Rachel, and their spouses; five precious grandchildren; and his brothers Edgar, David and Doug.
Memorial services will be held at Granada Hills Friends Church in La Mirada, CA at 11 AM on February 25, 2023, and First Presbyterian Church in Shelbyville, KY at 10:30 AM on March 11, 2023. In lieu of flowers, the family requests consideration of a donation to one of the following charitable organizations that Mark had a passion for: a) Institute for Spiritual Formation, Talbot Graduate School, Biola University (Please designate "other" and "Institute for Spiritual Formation"); b) Operation Integrity; or c) Orbis International.
Published by The Sentinel-News from Feb. 21 to Mar. 3, 2023
Mark Vaughan's Memorial Service was on Saturday, 25 Feb 2023.  View the recording of the service at the link below.
https://boxcast.tv/view/mark-vaughn-memorial-djx4s5r4bctdaamhwfri
Mark Vaughan, 15th Company, passed away peacefully on 22 Jan 2023 at home with wife, Donna, and family by his side.  Mark fought the good fight, kept the faith, and was courageous through the end.  The family greatly appreciates all of the love and support they've received, especially over these past few very difficult weeks. There will be two memorial services for Mark, one will be near his home in La Mirada, CA and the other will be in his hometown of Shelbyville, KY.  Information on the memorial services will be announced at a later date.  
FAIR WINDS AND FOLLOWING SEAS CDR VAUGHAN