CDR Michael "Greek" Loizos, Jr., USN (Ret.)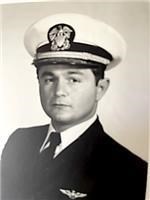 ENS Michael "Greek" Loizos, JR., USNR was designated a Naval Aviator on May 14, 1982 at HT-18, NAS Whiting Field, Milton, FL.  ENS Loizos is Navy Helicopter Designator Number R-16615.
Michael Loizos, Jr., known to many as "Greek," earned his eternal wings on April 1, 2022. Mike was born in Neptune, New Jersey to Michael and Maria Loizos. Mike was an accomplished wrestler and was very proud of the many titles he won in high school and college and credited his success in life to the discipline he learned as a wrestler.
In 1980, Mike joined the United States Navy and became a Naval Aviator. Mike loved serving his country, and especially loved being a helicopter pilot. When people would thank him for his service, he would always reply with a smile on his face that it had been his privilege to have served and he truly meant it.
In 1984, Mike married Sheila and 37 years of adventures followed. Mike was passionate about life and was an avid skier, hiker, and scuba diver, which led to many memorable trips with Sheila at his side trying to keep up. Mike was very excited when he became a dad, which led to even more adventures including dirt biking, motorcycle riding, boating, shooting, and cliff diving, as he loved teaching his sons how to do all the things he loved to do.
Mike retired from the Navy in 2001 and was able to focus on raising Zach and Jake and helping them become the young men they are today. Mike made many good friends while in the Navy who remained like brothers until the end, and he was very grateful for their friendship and support throughout the years. Mike never met a stranger and was always ready for a good adventure or a good party.
Mike is survived by his wife Sheila, his two sons, Zachary and Jake, his brother Jim (Kathy), a large family, both Greek relatives and Southern in-laws, and a wealth of friends, all too many to list, that loved him and will miss him greatly. Life will be a little less bright without his larger-than-life personality.
Mike has now begun his final adventure and those who knew him well can imagine him with a big smile on his face saying a line he could frequently be heard saying right before he would try some daring stunt, "Hey guys, I think I'm on to something!"
The family would like to thank the staff from Community Hospice and Palliative Care in Jacksonville, Florida for their care and dedication in making sure Mike was comfortable during his last few months. In lieu of flowers, please consider a donation to this amazing organization of caregivers. A Celebration of Life will be announced later this year to celebrate Mike's adventure filled life.
Fair Winds and Following Seas CDR Loizos