CDR Thomas Roger Dean, USN (Ret.)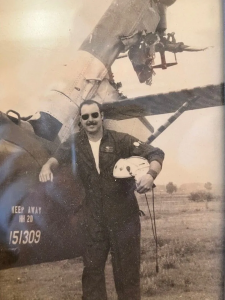 LTJG Thomas R. Dean, USN became a Naval Aviator on July 15, 1970 at HT-8, NAS Ellyson Field, Pensacola, Florida. LTJG Dean is Navy Helicopter Pilot Designator Number R-11167. CDR Dean is NHA Lifetime Member #256.
Thomas Roger Dean, Commander U.S. Navy (retired), 75 of Stanardsville, VA, passed away on Sunday, April 23, 2023 at UVA Hospital after an extended illness. He was born in Conneautville, PA, on January 4, 1948, to the late Jack McCall Dean and Shirley Rogers Dean. He was also preceded in death by his daughter, Rachel A. Dean.
He is survived by his wife, Laurie M. Dean; brother, Robert E. Dean and wife Kathleen of Sharpsville, PA; sister, Laura A. Dean of Athens, GA; sister-in-law, Harriet M. Perry and husband Edward of Ocean Springs, MS; nephew Alex Perry and wife Kumi of Ocean Springs, MS; niece Katie Dean Breit, husband Dave of Sharpsville, PA, and great-nephews Lincoln and Westin.
Tom was a graduate of Conneaut Valley High School and Penn State University, where he was in Naval ROTC. Along the way, he also earned a master's degree from George Washington University. After Penn State and flight school in Pensacola, FL, where he met Laurie, he had a distinguished career as a helicopter pilot and administrator, serving in Annapolis, Norfolk, Pensacola, Italy, Greece, and England before his retirement after 23 years of service. He was a lifetime member of the Naval Helicopter Association. After retirement from the Navy, he worked in computer technology for a number of years, and they moved to Stanardsville, where he was active in local civic organizations including Ruritans and STAR (Stanardsville Area Revitalization, a public-private partnership dedicated to restoring the vitality of the town). He loved travel, history, Stanardsville, Spring Oak Farm and his tractors, and good food, drink, and conversation.
A graveside service will be held at 11:00 am on Saturday, April 29, 2023 at the cemetery at Spring Oak Farm, 1919 Octonia Road, Stanardsville, VA, with Rev. Erl "Puck" Purnell officiating.         
The family will receive friends on Friday, April 28, 2023 from 6:00 to 7:00 pm at Preddy Funeral Home Chapel in Madison.
In lieu of flowers, donations in his memory can be directed to *STAR*, P.O. Box 838, Stanardsville, VA 22973 (or online at http://www.stargreene.org/donate/ ).
Fair Winds and Following Seas