CDR WILTON J. "JERRY" SMITH, JR., USN (RET.)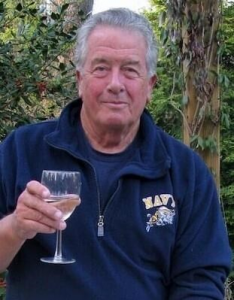 LTJG Wilton J. Smith, Jr., USN received his wings on January 26, 1965 at HT-8, NAS Ellyson Field, Pensacola, FL. LT Smith was Navy Helicopter Pilot Designator Number R-7733. 
Carmel Valley – Wilton J. Smith Jr. (Jerry) passed away on April 24th, 2021. 
"CDR Smith's first assignment was with Helicopter Antisubmarine Squadron SIX, HS-6, when, in 1966 he deployed aboard USS Kearsarge, CVS 33.  CDR Smith was a pioneer in the early days of Navy Combat Search and Rescue and was a decorated combat helicopter pilot involved in a number of successful and extremely hazardous rescues of downed US Airmen in the waters off of Haiphong, North Viet Nam.
He attended the Naval Post Graduate School where he became an Acoustical Engineer and later transitioned to the Aviation Engineering Duty Officer Community.  In the 1970s he was assigned to Air Test and Evaluation Squadron One, VX-1, where he pioneered development and tactical employment of the advanced ASW signal processing equipment that was the mainstay of both the P-3 and LAMPS MK-III communities.
In the late 1970s CDR Smith was assigned to the Staff of CINCUSNAVEUR where he lived in London with his family.
Following his retirement from the Navy, CDR Smith attended the  George Washington University Law School.  After graduation he practiced International Aviation Law and served with the Federal Aviation Administration until he retired in 2011. 
He spent many wonderful years sailing the Chesapeake Bay. His great knowledge of history illuminated many places he anchored. One of his favorite cruises was on the Pride of Baltimore, a clipper designed in the 1800s, sailing to Halifax, Nova Scotia. After retirement from the FAA, he and his wife, Linda, continued sailing the eastern seaboard, including Key West, on their catamaran.
At the time of his death, CDR Smith and his wife were residents of Carmel Valley for 10 years after moving from Annapolis, Maryland.
His favorite boat, Growler, an 18 ' catboat, is inscribed on a plaque in El Carmelo Cemetery in Pacific Grove near a Monterey Cypress where he will be inurned.
Jerry's son Gordon lives in Durham, England with his wife Ann and son Eli Alexander Smith. He was predeceased by his daughter, Larkin Margaret" Edited Family Obit CAPT Sandy Clark, USN (Ret.).
"Our crew was in Det A, on HS-6 West-PAC in 1966 and we saw plenty of enemy fire. On July 7, we went into Haiphong Harbor and rescued Bill Isenhower (A4D pilot).  The junks were closing in on us, and as soon as he was in the horse collar, feet coming out of the water, we transitioned to forward flight  recovered Isenhower in forward flight, at about 100 knots, as we headed back out to sea!   Jerry was at the controls during the inflight recovery!!  Then on July 27, 1966, while operating from the U. S. S. RANGER, we had to launch at night off a pitching and rolling deck, proceed to the coast of North Vietnam, just North of the DMZ, in rain and clouds. As we approached the coast, the Wx. Cleared, and with the help of a 500 # bomb at the waterline, courtesy of the 3 circling AIR Force B57's,  we knew our entry Point.  Just as we crosse the beach,  I still remember, in the dim cockpit lights, Jerry sucking back in the armor plated seat, Keying the mike and saying, "HERE IT COMES"!! A tracer went straight up, almost in the rotor area, and for the next 27 minutes, it was steady tracers and some 12.7. ( Conrad & Armstrong crewmen /Gunners went through over 3000 rounds of 7.62, M60 ammunition in 27 minutes, plus 2 each M-60 barrel changes) This rescue, of Air Force Captain Marvin Mayfield, is detailed in "Leave No Man Behind" by George Galdorisi & Tom Phillips. Jerry received the Distinguished Flying Cross for this rescue. He received at least 2 Air Metals on that cruise. He was always cool, efficient, and dependable.  Enjoyed flying with him!! I feel a large loss with his passing.  Loss of a GOOD Man!"
Ron Clarke HS-6. 1965/66/67
"CAPT Arne Bruflat, USN (Ret.) flew with Jerry in HS-6 aboard the  USS Kearsarge CVS-33 off VN in '67." 
Fair winds and following seas, Shipmate.
To Plant Memorial Trees in memory, please visit our Sympathy Store.
Published in The Salinas Californian from May 7 to May 8, 2021.
"Very sorry to hear that Jerry has left us.  One of his many talents was art, and I've attached a drawing (below) that he made for Al Fox which I scanned and printed out at the 2017 reunion so RRs could sign it with messages for Jerry since he didn't join us.  His "Big Mutha" was one of a kind and reflects some of his sense of humor."  
Dick Lynas HS-6 1965-68