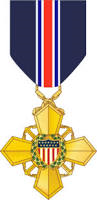 Coast Guard Cross
The Coast Guard Cross is awarded to any person who distinguishes themselves by extraordinary heroism not justifying the award of the Medal of Honor, while serving in any capacity with the Coast Guard, when the Coast Guard is not operating under the Department of the Navy, under one of the following conditions:
While engaged in action against an enemy of the United States

While engaged in military operations involving conflict with a foreign opposing force or international terrorist organization

While serving with friendly foreign forces engaged in an armed conflict against an opposing armed force in which the United States is not a belligerent party.
To warrant this distinctive decoration, the act or the execution of duty must be performed in the presence of great danger or at great personal risk and must be performed in such a manner as to set the individual apart from his shipmates or fellow Coast Guardsperson. An accumulation of minor acts of heroism does not justify the award. The high standards demanded must be borne in mind when recommending the award. Created and authorized since 2010.
The Coast Guard  helicopter recipients of this award are as followed: