COL John Telles, Jr., USMC (Ret.)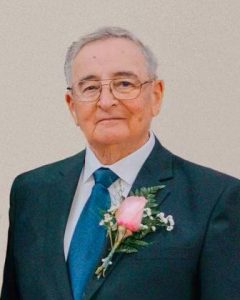 1stLT John Telles, Jr., USMC became a Designated Navy Helicopter Pilot on May 24, 1963 at HT-8, NAS Ellyson Field, Pensacola, Florida. 1stLT Teles was Navy Helicopter Pilot Designator #R-6604.
John Telles, Jr, 84, passed away peacefully on May 25, 2023, with his family at his side.
A native of East Los Angeles, John was the son of Rachel (Garcia)and John Telles. While still attending Roosevelt High School, John joined the Naval Air Reserve at age 17. He always wanted to fly! He received his flight wings in 1960 as a 2nd Lieutenant. The following year, he married Cecilia (Coria), whom he'd known since childhood and together they grew a beautiful family with four children. The family was stationed in Hawaii, Florida, Virginia, Rhode Island, California, and Japan.  John served in two Vietnam combat tours flying both the F8E Crusader and the AH-1 Cobra helicopter gunship. He humbly received 63 Air Medals and 3 Distinguished Flying Crosses for his duty. John later flew  the VH-3 "Marine One" as a Presidential Helicopter Command Pilot for Presidents Nixon and Ford. His many accounts of these adventures will be missed by all! John was very proud to serve this country and did not take his life for granted, nor the many who paid the ultimate price. For years he taught children about the American flag and other patriotic duties, occasionally displaying his embellished sword.
John is a graduate with a BS Industrial Management from Roger Williams College, and MS Systems Management from USC. He is also a graduate of the US Naval War College. As a staff officer he later served as Director of Logistics Operations IlI MAF in Okinawa, Japan. John retired from the US Marine Corps in 1984 with 28 years total service advancing to the rank of Colonel.
Following retirement, John traveled the country as a trainer for PeopleTRAK software company. The past 20 years, he worked as an aviation consultant and educator. He served on executive committees for military air shows in San Diego and AIAA aerospace technical society as an educational instructor, and never passed up the opportunity to sit in any simulator. He loved to inspire flight and wanted to be among the stars. He often joked he was born too soon because he wanted to be an astronaut. If you spent any time in the evenings with him, he would point out the constellations and talk about the night sky and unfathomable galaxies.
John was an avid musician, primarily playing the saxophone from junior high through Vietnam and eventually many years with big bands and jazz bands. He leaves a music education legacy, having taught students at St. Joseph Academy in Escondido and numerous family members. John also directed the church choir for 7 years at St Francis Parish in Vista. He was a faithful man who used his gifts well, and again, always inspired others to do the same. John was an accomplished artist who enjoyed aviation and other still life using acrylics and pencil. He enjoyed tennis, fishing, football, and all things associated with his beloved grandchildren and great grandchildren.
John is preceded in death by mother Rachel (Hank) Acosta, father John Telles, and brother Leonard Telles.
He is survived by sister Cissy (Ernie) Villanueva, wife Cecilia (Coria), John (Kelly) Telles, Lisa (Chris) Ledyard, Catherine (Richard) Bagwell, and Diana Telles. He also leaves 17 grandchildren and 10 great grandchildren, with 3 more due this year.
Fair Winds and Following Seas Colonel
In lieu of flowers, please consider a memorial contribution to St. Joseph's Academy at
https://www.saintjosephacademy.org/giving