CWO4 Willard Anthony Haver, USN (Ret.)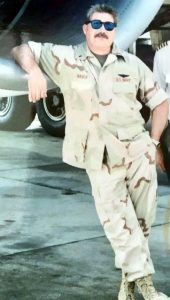 The grease monkey, record playing, antiquing, retired air crewman, rescue swimmer, veteran, officer, and all-around good dude, walked out to the garage one last time on June 4, 2021. The man, the myth, the legend. Tony Haver was fire and rain. He was the werewolf of London and a tiny dancer. The jumpin' Jack flash, tambourine man who heard it in a love song listened to vinyl on his old stereo (purchased on deployment in Italy during the 80's) every Sunday morning. Tony preferred the early Stones and the late Beatles.
Born to William W. and Esther G. Haver (both deceased), The Dude is survived by his daughters, grandchildren, DT, and younger siblings. Tony loved his country and his Fairlane. His girls were his pride, and the grandkids were his joy. The Dude's proudest accomplishment was raising three strong, independent women. He taught them to work on cars, to love nature, that good music gets you through anything and to just be thankful. Tony took great pride in stocking their toolboxes.
Tony was love and sarcasm personified. His bear hugs and hidden snacks will be missed.
Visitation will be held at Rosewood -Kellum Funeral Home, Monday, June 14 from 5:00-7:00PM. Funeral services will follow on Tuesday, June 15 at 2PM. Eternal rest will be at Arlington National Cemetery. Fair winds and following seas CWO4-Haver. You may offer condolences at www.kellumfuneralhome.com
Willard Haver Obituary – Virginia Beach, VA (dignitymemorial.com)