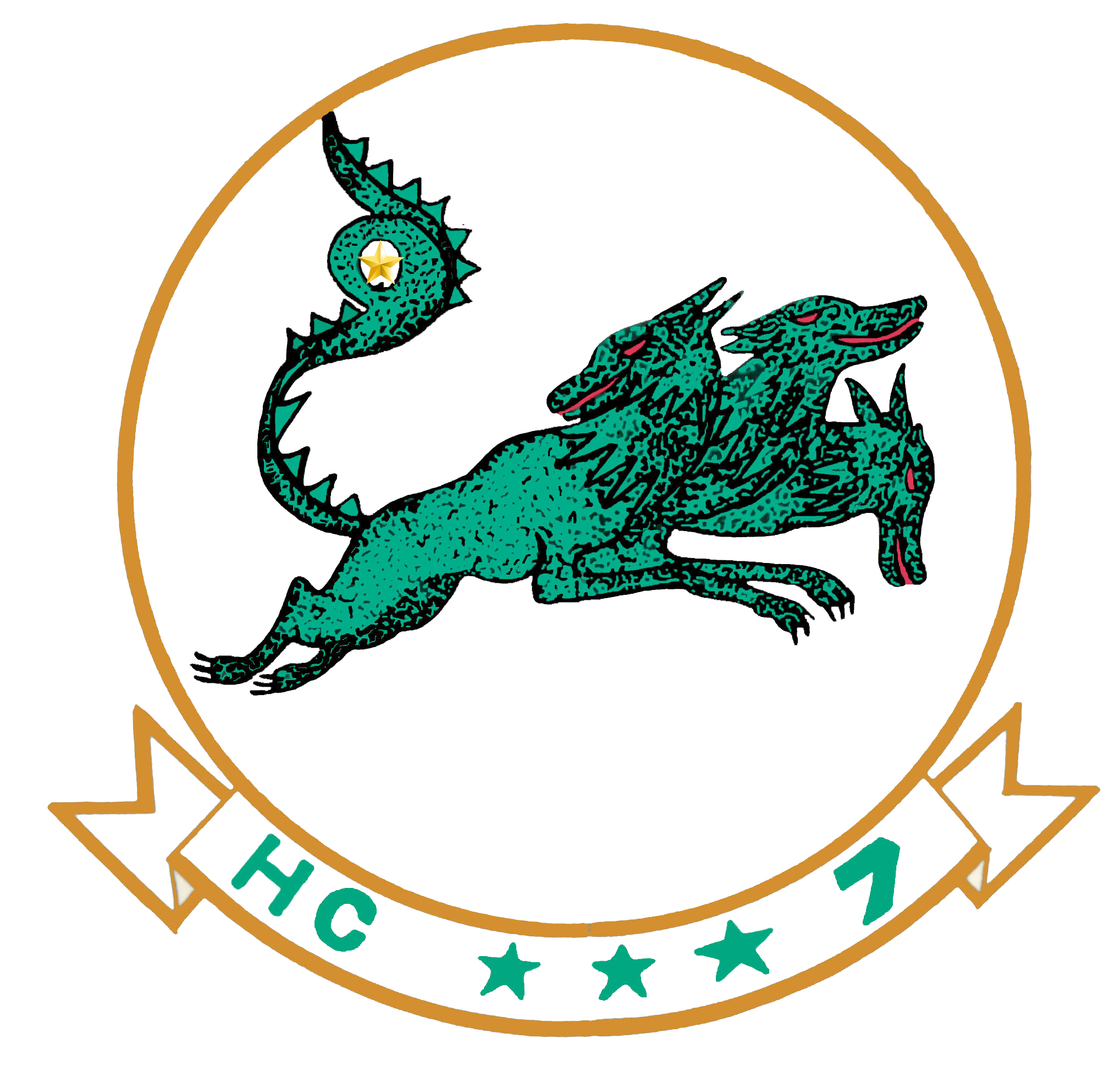 HC-7 RESCUE 104(1) 7-June-1972 (Wednesday)
HH-3A Sikorsky Seaking helo Det 110 Big Mother #67
USS Duluth (LPD-6) Combat Day (2)
1.7 miles off North Vietnam coast
Water: 80⁰ Air: 90⁰ Wind: 8 knots Sea State: 2 ½-1 ft choppy
Pilot – LT James S. Kelly
Co-pilot – LTJG Early H. Frazier
1st crew – ADJ-2 Richard J. Tinsley
2nd crew – ADJ-3 Jimmy C. Keeney
(Rescue Report – HC-7 N0. 103) – No report for 104 on file
Alert received – 1345: Alert call relayed from Big Mother 67
Vehicle departed – 1345: 28 miles – Poor radio comm., UHF down in A/C
Arrived on scene – 1405 : Passed lead to BM 67 due to lack TACAN & one UHF
Located survivor – 1405: visual, locate smoke dropped by BM 67 locate survivors A/C & chute
Begin retrieval – 1408: swimmer dropped, close proximity mine fields – enemy fire
Ended retrieval – 1410: helo hoist – enemy fire
Survivor disembarked – 1445: Normal landing, USS Duluth (LPD-6)
RA-5C Vigilante 156616 (AC-601) (Comnch Trl 601) RVAH-1, USN,
USS Saratoga ( CVA-60)
Lt Cdr C. H. Smith – pilot
The Atlantic Fleet carrier USS Saratoga arrived on the line on 18 May for its first and only tour of the war. With the arrival of the Saratoga the only available fleet carrier not to have served in Southeast Asia during the war was the USS John F Kennedy. The Saratoga lost its first aircraft on 7 June during a photographic reconnaissance sortie near Haiphong. A Vigilante was taking photographs of anchorages among the islands of Haiphong where foreign-registered merchant ships tied up before offloading supplies in the port. The aircraft began a pop-up maneuver at 3,000 feet to start a photo run when it received an indication of a nearby SAM launch. Lt Cdr Smith broke first to the left and then reversed his course at which point the SAM exploded as it hit the aircraft. The port engine lost power and had to be shut down and after Lt Cdr Smith headed out to sea and selected afterburner on the starboard engine, it also failed. The electrical power failed and the controls froze forcing the crew to eject about 15 miles southeast of Haiphong. A Sea King of HC-7 was directed towards the Vigilante and rescued the crew within minutes of their ejection. (5)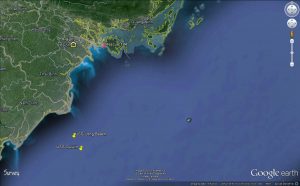 NO RESCUE REPORT 104 on file – SEE Rescue 103 for supplemental details.
BIG MOTHER 67 launched from USS Duluth (LPD-6), (12:35) (13)
BIG MOTHER 67 landed on USS Duluth (LPD-6), (14:31) spot two. (13)
BIG MOTHER 67 launched from USS Duluth (LPD-6), (14:52) (13)
13:38, Aircraft 601 down in the water at 20⁰ 32'N 106⁰ 58'E Pilot LCDR Smith and RIO LT Kunz recovered by helo. Both crewman in satisfactory condition. 17:44, LCDR Smith and LT Kunz returned aboard by SAR helo. (14)
"HC-7 Retrieves Pilots from SARATOGA vigilante" "KITTY HAWK FLYER" Vol XI, Number 98, USS Kitty Hawk (CVA-63) Friday June 9, 1972 … The first plane the Saratoga has lost since her arrival in the Gulf of Tonkin. The rescue was the 12th for HC-7 since the beginning of the North Vietnamese offensive. – posthumously contributed by Rich Tinsley (sent by daughter Beth Trynoski)
Jim Keeney – after report (2006)
We launched for our pre-position as soon as we were airborne. Guard went off with a "MayDay". We flew into Haiphong Harbor Entrance, noting the mines on the way in. Also noticed 2 PT boats racing to try to capture the Pilot. We got to the position of the Pilot and all HELL broke loose. LT Kelly flared and Tinsley tapped me OFF, I went. I hit the water hard, we must have been doing 20 knots, I came up. It was loud with all the firing at us, the pilot was OK, we were really close to a bluff and a gun site. I could see the NVA on the rocks. Got the pilot out of the raft and sunk it. Pulled him as far away from the bluff as I could while waiting for the helo to return. As the helo turned I started splashing the water to be seen. The helo came in and I was able to get the pilot and myself onto the hoist cable using the snap links. The helo never had to stop, as I gave Tinsley THUMBS-UP. We were dragged and pulled-up on the fly….
GAME SET MATCH — BIG MOTHER
1) Numbering as per HC-7 Rescue Log (accumulative rescue number)
2) HC-7 Rescue Log
3) HC-7 Det 110 Rescue report – NONE
4) Map – Google Earth
5) "Vietnam – Air Losses" By: Chris Hobson (with permission)
6) Loss aircraft location data provided by: W. Howard Plunkett (LtCol USAF, retired)
10) HC-7 History collection; Ron Milam – Historian
13) USS Duluth – Deck Logs
14) USS Saratoga (CVA-60) – Deck Logs
(Compiled / written by: Ron Milam, HC-7 Historian – HC-7, 2-1969 to 7-1970, Det 108 & 113)