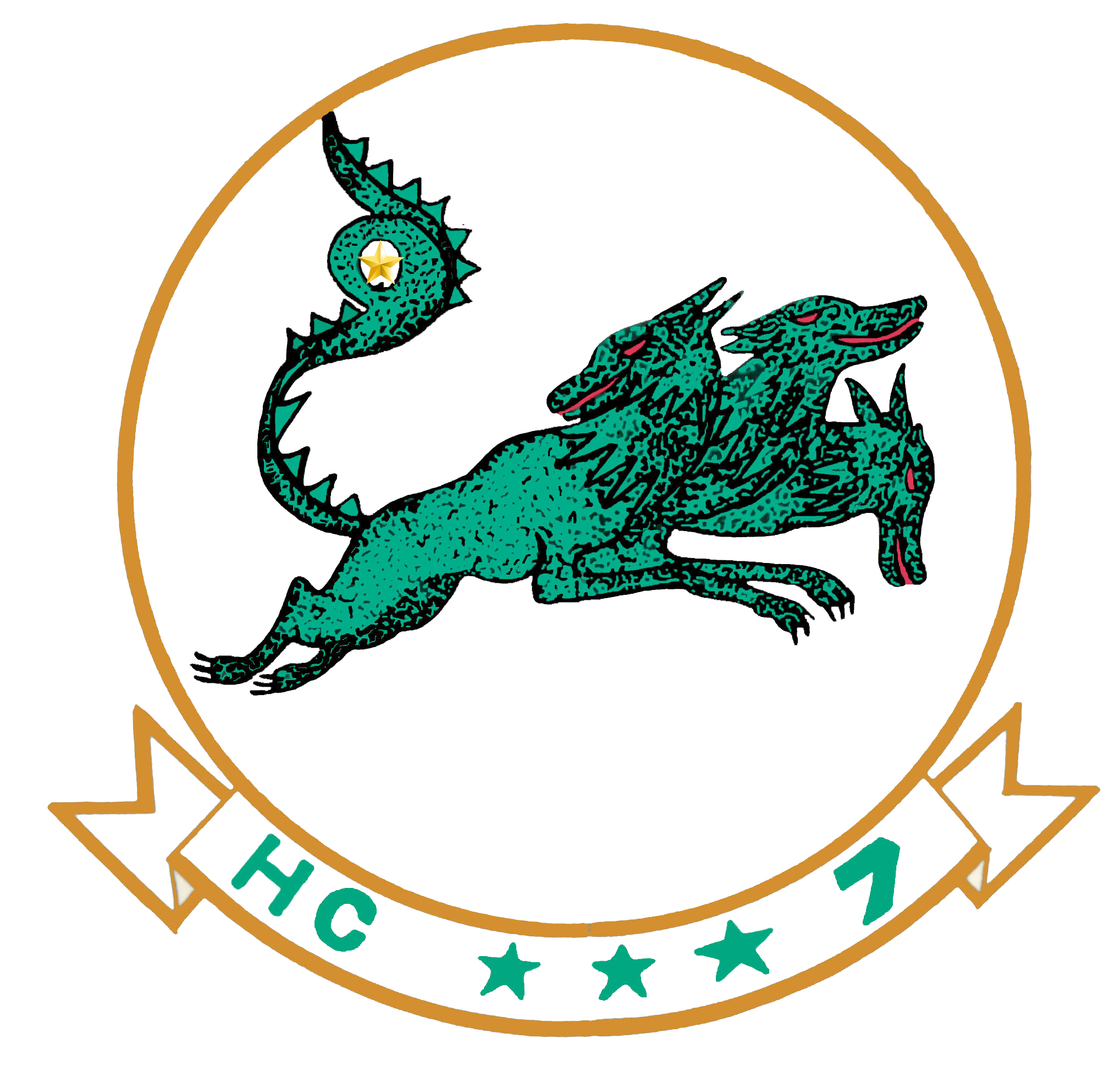 HC-7 RESCUE 123(1) 20-Sep-1972 (Wednesday)
HH-3A Sikorsky Seaking helo Det 110 Big Mother #66
USS Long Beach (CG-N-9) Combat Day (2)
39 miles off of North Vietnam Coast
Water: 82⁰ Air: 81⁰ Wind: 3-5 knots Sea State: 2 – 2-3 foot swells
Pilot – LT Franklin D. Lockett
Co-pilot – LTJG Jerry M. Haggerty
1st crew – AO-2 Mark A. Hoover
2nd crew – AE-3 Gary M. Tremel
Rescue Report; (2)
En Route to USS Long Beach
Alert Received – 08:15- emergency call UHF guard
Vehicle Departed – 08:15 – 20 Miles
Arrived on Scene – 08:29 –
Located Survivor – 08:29 – Visually, Flare
Begin Retrieval – 08:30 – 10' hover drop swimmer
Ended Retrieval – 08:31 – Helo Hoist
Survivor Disembarked – 08:33 – Aboard ship – USS Long Beach (DLG-29)
Total SAR time – this vehicle 0 hours – 20 minutes.
A-7B Corsair (NM-502) 154363 (Silver Foxes) VA-155, USN,
USS Oriskany (CVA-34)
1 Pilot, name unknown (5)
Lt. Stanley Frank Bloyer (2)
A Corsair from the USS Oriskany had to be abandoned during a weather reconnaissance flight when the aircraft's engine failed. The cause was suspected to be a failure of the engine accessory drive. (5)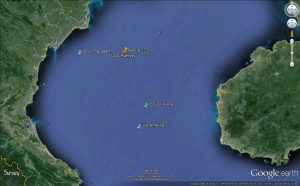 USS Ramsey (DEG– 2) Deck logs;
08–12 underway as before. 07:45 mustered the crew at quarters absentees none. 08:03 pilot sighted bailing out of disabled aircraft, 5000 yards off port bow. Commenced maneuvering on various courses and various speeds to recover pilot. 08:24 pilot in water 3000 yards off port bow, at 19°50.5'N latitude, 106°29.2'E. longitude. 08:34 set the pilot rescue detail. 08:38 pilot recovered from the water by helo. 08:45 commence maneuvering on various courses at various speeds to recover aircraft debris. 09:15 secured the pilot rescue detail, commence maneuvering on various courses at various speeds to take station in the sector bearing 000° to 040° distance 4000 to 7000 yards from USS Long Beach. (14)
"08:26 sighted downed pilot's parachute – set flight quarters – 08:40 downed pilot rescued by SAR helicopter Big Mother 66 on deck." (12)
STATEMENT OF HELICOPTER AIRCRAFT COMMANDER:
On 20 September we launched from USS AMERICA at approximately 0745 on the usual exchange of assets. At approximately 25 miles from the SAR picket ship we heard a "MAYDAY" call from an aircraft experiencing difficulties in engine operation. He reported seeing the picket ship before ejection. We were immediately vectored to the scene. Once the survivor was spotted we made a routine NATOPS pickup.
SAR INCIDENT OF 20 SEPTEMBER 1972 – STATEMENT OF CO-PILOT
We launched at 0750 from USS America to proceed to USS Long Beach. About 25 miles from our destination, we received a report over the radio that an aircraft had lost engine oil pressure. Shortly afterwards, we were informed that we would make the pickup and were given vectors. As we neared, the spot we were told that the survivors about 100 yards off the USS RAMSEY's bow. I spotted the survivor and we turned to position the approach into the wind. The survivor popped a day smoke. We were unable to do a 10' and 10 knot swimmer drop because of the position of the RAMSEY. Consequently, we pulled into a 10 foot hover, dropped the swimmer and then backed up and to the left from the survivor. We waited in a 40 feet hover until the swimmer was ready for the pickup. Then our 1st crewman talked us over the two in the water and we made the rescue. After the survivor was aboard, our crewman reported him in fine shape. We flew to the USS LONG BEACH and dropped the survivor off.
No problems were encountered and the rescue was unopposed.
STATEMENT OF FIRST RESCUE AIR CREWMAN
( underlined areas are illegible)
While en route to USS Long Beach ______ _________ we heard a call, over the _________ air that an aircraft had lost engine _________ _________, I wasn't sure of that area he was in at that time, __________ ________ _________ ___________ Long Beach started giving us vectors to the survivors. _________, my second crewman started getting into his swim gear __________________________________ Long Beach ________________ that the survivor was __________________________
______________ . Within a few minutes, we were approximately _________________
__________________________________________ when she re-____________ the survivor 100 yards off ______________ a smoke for a wind check. We then made __________________________________________________________ approach and I left TREMEL out at approximately 10 feet and ____________
We then moved back off to the left and ______________ for __________ to prepare the survivor for hoisting. When ___________ was ready we moved back _________ and picked them both up with relative ease. The survivor said he has no injuries so we then proceeded to _____ _________.
STATEMENT OF SECOND RESCUE AIR CREWMAN – GARY M. TREMEL
We had left the courier USS America, approximately 0800, September 20th 1972 and were on our way to USS Long Black. Approximately 30 minutes after departure, we got word on our radios that an aircraft had lost engine oil pressure. The second helo was returning to USS America and the third helo was slightly ahead of us but further north __________ to the ___________ pickett ship. At that time, we received ___________ to the scene and I began getting into _______ ________.
We still weren't sure if we would be the primary helo. Still receiving vectors, we were informed slightly after that we would make the pick-up and that the survivor was approximately 1500 yards ahead of the USS Ramsey.
As we were approaching the ship, we saw a day smoke popped by the survivor. We came around for an ___________ approach and I positioned myself in the cargo door. We made a very slow approach to the survivor to avoid any possibility of overshooting – the ship being very close at this time. The water entry was good and I gave a "thumbs up". I proceeded to swim approximately 10 feet to the survivor using an underwater breaststroke to check for shroud line entanglement. As I surfaced, I asked the pilot if he was feeling ok. He said he was fine and after one more dive, I was assured he was completely free of his chute and all shroud lines. Meanwhile, the halo has moved left and after of our position and was waiting in a hover. I elected to the survivor away from his raft rather than sink it, and at that time, the halo started moving in for the pickup. I have no problem attaching the pilot's snap link to my harness but then started having trouble with my facemask. During my preparation, I have forgotten to adjust the strap and the mask kept sliding down, covering my mouth and inhibiting my breathing. ACE Hoover, the 1st Crewman swung the cable past us and dragged it through the water straight to us. My facemask was really becoming a hindrance to me during final hook-up so I placed it on my forehead and hooked up underwater without the facemask having no further trouble. Once attached, we were lifted into the hole and started moving forward. We reported to our pilots that the survivor was feeling fine, and proceeding to the USS Long Beach.
The whole operation was under a very relaxed atmosphere and all parties involved did an excellent job. Too bad, they aren't all this easy.
1) Numbering as per HC-7 Rescue Log (accumulative rescue number)
2) HC-7 Rescue Log
3) HC-7 Det 110 Rescue report
4) Map – Google Earth
5) "Vietnam – Air Losses" By: Chris Hobson (with permission)
6) Unclassified Accident Report – B-1-45
10) HC-7 History collection; Ron Milam – Historian
12) USS Long Beach – Deck Log
13) USS America (CVA-66) and USS Oriskany (CVA-34) NO data within Deck Logs
14) USS Ramsey (DEG-2) – Deck Logs
(Compiled / written by: Ron Milam, HC-7 Historian – HC-7, 2-1969 to 7-1970, Det 108 & 113)