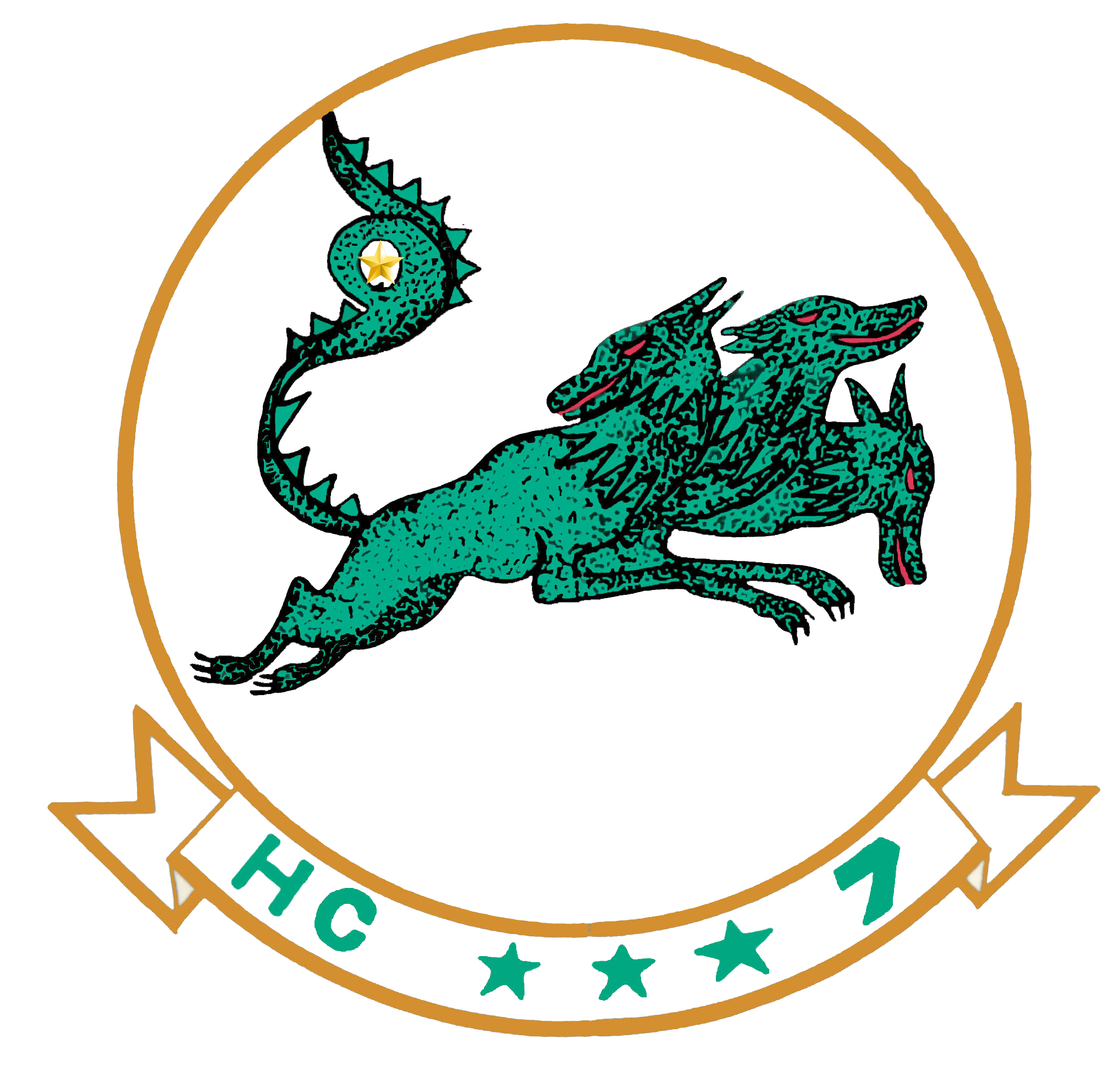 HC-7 RESCUE 22 (1) 16-JAN-1968 (Tuesday)
UH-2A Kaman Seasprite helo DET 101
USS Providence (CLG-6) Routine Day(2)
54 miles off North Vietnam coast
Water: 76⁰ Air: 71⁰ Wind: 18 knots Sea: 5 feet
Pilot – LTJG Ronald B. Lewis
Co-pilot – Ens Paul J. Skrzypek
1st crew – AE-3 Jose L. Feliciano
Alert received – 0713 : radio call from CLG–6 a bridge, "Kitty Hawk aircraft in water"
Vehicle departed – 0714: departed foreseen approximately 3 to 5 miles
Arrived on scene – 0717: smoke flares seen immediately then hovering helicopter visual
Located survivor – 0719: brief visual search
Begin retrieval – 0720: survivors in inflated life jackets
Ended retrieval – 0725 :
Survivor disembarked – 0734: survivors taken directly to USS Kitty Hawk
C-1A 146054 Trader – Greyhound, Grumman USN, USS Kitty Hawk (CVA-63)
QMSN Robert E. Masterson (HC-7 Rescuee)
ATR -3 Charles R. Francis (HC-7 Rescuee )
Lt Robert M. Korbelar (HC-1 Det 63 Rescuee)
WO1 James G. Hambley (HC-1 Det 63 Rescuee)
GMT1 Robert D. Jackson (HC-1 Det 63 Rescuee)
MSSN Ralph L.Blakeslee (HC-1 Det 63 Rescuee)
SN John P. Sterling (HC-1 Det 63 Rescuee)
Lt Cdr William Joseph Thompson (KIA), panel 34E – row 060
Lt Orville Dale Cooley (KIA), panel 34E – row 058
AO-3 William Henry Reedy (KIA), panel 34E – row 060
(12)(4) C1-A crew names from USS Kitty Hawk; Deck Log and Narrative of Events – 1968
HC-1 Det 63 crew – pilot Lcdr Lee F. Wright, co-pilot Ens John Hyde, crewman ABH-3 Robert G. Siebuhr and ATN-2 Ronald C. Mattson. (4)(11)
While maneuvering on various courses and speeds for the morning fixed wing launch. On a VIP flight to DaNang, at 07:12, during a catapult launch one of the Kitty Hawk's C-1A Trader transport aircraft with 10 people aboard veered off the port side of the ship and crashed into the sea.(5) The Greyhound veered to the port side, probably due to a damp deck from a "light rain" 10 minutes before, the plane struck the Fresnel Lens.
07:17 the USS Kitty Hawk sounds the man overboard port side alarm and signals with six short blasts (7) to begin maneuvering on various courses and speeds to avoid the aircraft in the water. (12) Immediately the screening ship USS Rogers (DD-876) is assigned as search and rescue (SAR) commander as the Kitty Hawk continues flight operations. A plane guard UH-2C helicopter, piloted by LCDR Lee F. Wright (HC-1 Det 63) and crew observes the accident and speeds to the visible tail section.
Ltjg R. B. Lewis and crew (HC-7 Det 101) at 07:13 are notified by USS Providence "KITTY HAWK AIRPLANE IN THE WATER". Lewis is 3-5 miles distant conducting a test flight, within three minutes he and crew spot smoke flares and see the hovering HC-1 helo. (3) They conduct a brief search, at 07:20 find two passengers with inflated life vests, QMSN Robert E. Masterson and badly injured ATR-3 Charles R. Francis. Lewis hovers over the two as the crewman lowers the sling. Masterson assists Francis into the sling and he is hoisted aboard the helo. Masterson is next. "The success of the mission would have been delayed if it were not for the uninjured man assisting the injured man into the sling" (3) 07:34 the rescued sailors are delivered to the USS Kitty Hawk. Lewis and helo crew return to accident site to search further, unable to determine the number of persons to be rescued, due to initial lack of communications. At 07:51 HC-7 Det 101 helo returns to USS Providence, half an hour later they begin the normal routine of passenger transfers. (13)
At 10:00 the USS Providence sets course to rendezvous with USS Ranger (CVA-61). (13) USS Kitty Hawk continues flight operations.
USS Rogers (DD-876) — At 07:11 USS Kitty Hawk reports to USS Rogers, a plane in the water on her port side. Steering various courses and speeds while standing by to recover personnel from the water. 07:15 Helo recovering personnel, flares in sight, 07:20 second man recovered from water, three men can be seen in the water at this time. 07:25 maneuvering various courses and speeds, while remaining in area of lost aircraft, lowered the motor whale boat into the water where there are several flares nearby in the water this time, to conduct further search for personnel and gear, Helos from Kitty Hawk and USS Providence (CLG-6) searched area and recovered a total of six (6) people. 08:47 motor whale boat came along side to refuel. LT Penny assumed the deck and conn. 08:50 continued search. 09:08 lifted boat to the rail. 09:26 lowered boat into the water to search for debris. 10:20 lifted boat to the rail. Continued spiral search pattern while searching area of lost plane. 12:00-16:00 Steaming as before. 12:15 left scene of lost aircraft, completed search and steering various courses and speeds to rejoin the USS Kitty Hawk. (14)
Declassified Congratulatory Message – "The quick response and professional performance of your helo det assigned my flag ship following the tragic crash of Kitty Hawks C1A on 16 Jan 68 is noted with distinct satisfaction. LTJG R.B. Lewis, ENS P.J. Skrzypek and AE-3 J.L. Feliciano are to be commended for the expeditious rescue of two passengers, one of whom was seriously injured, VADM ( William F.) BRINGLE"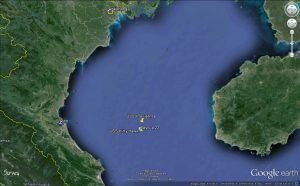 1) Numbering as per HC-7 Rescue Log (accumulative rescue number)
2) HC-7 1968 Command Report
3) HC-7 Det 101 Rescue report
4) HC-1 1967 Muster Roll
5) "Vietnam – Air Losses" By: Chris Hobson (with permission)
6) Map – Google Earth – positions from ships deck logs
7) The Bluejackets' Manual – Feb 1966 – man overboard signal, page 355-356
10) HC-7 History collection; Ron Milam – Historian
11) Kaman Rotor Tips – March-April 1968
12) USS Kitty Hawk – Deck Logs
13) USS Providence (CLG-6) Deck Logs
14) USS Rogers (DD-876) Deck logs
(Compiled / written by: Ron Milam, HC-7 Historian – HC-7, 2-1969 to 7-1970, Det 108 & 113)