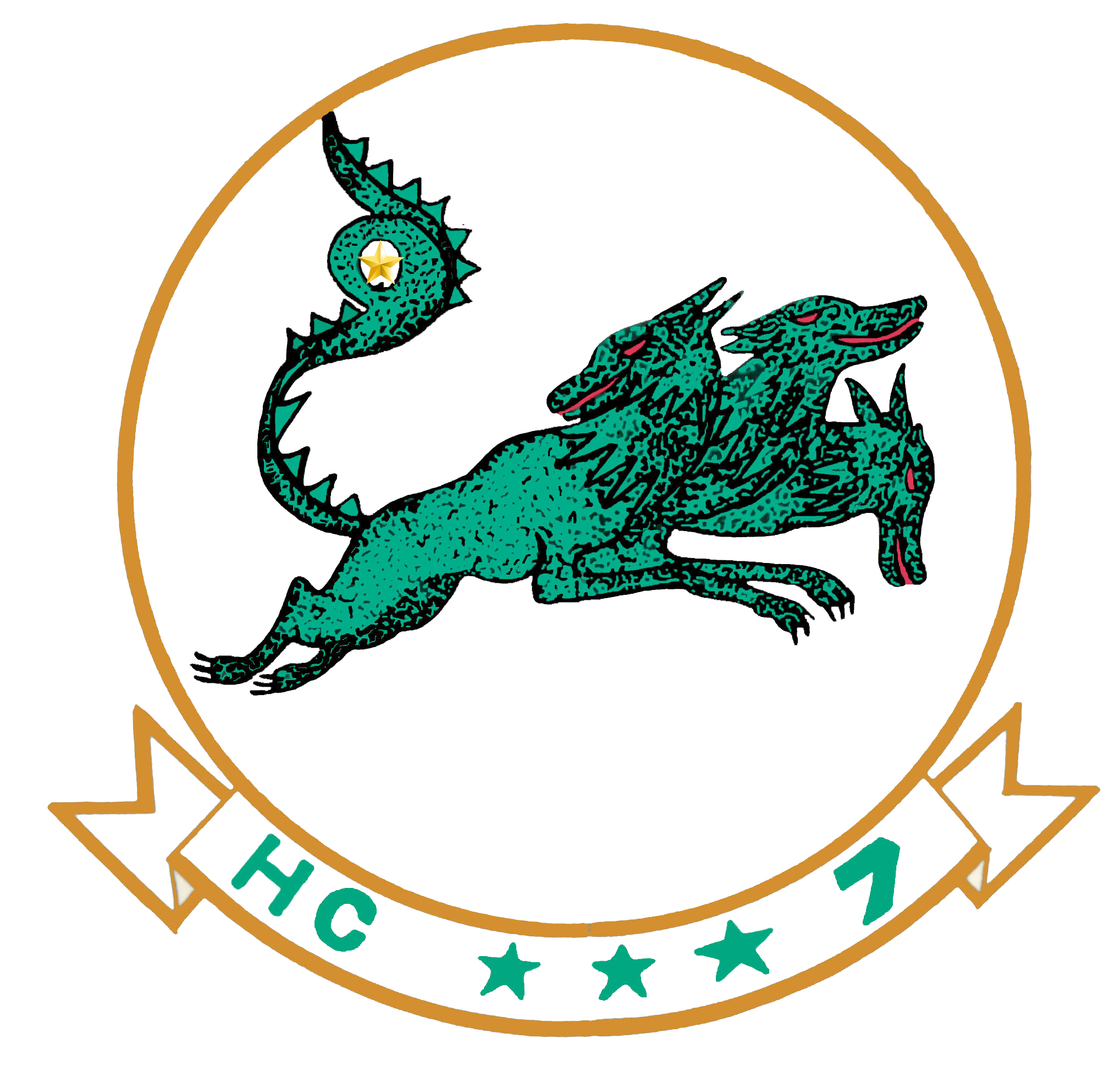 HC-7 RESCUE 57 (1) 6-Oct-1968 (Sunday)
UH-2A Kaman Seasprite helo 151306 (6) Clementine 2 Det 109
USS Richmond K. Turner (DLG-20) Combat Night (2)
2.8 miles off North Vietnam coast
Water: 84⁰ Air: 84⁰ Wind: 8 knots Sea State: 2 – Wave height 3'
Pilot – LT William L. Berry
Co-pilot – LTJG James P. Brennan
1st crew – AMS-2 Richard R. Lavigne
2nd crew – ADJ-3 Thomas J. Levasseur
Alert received – 2155: Ship 1MC
Vehicle departed – 2200: 53 miles
Arrived on scene – 2221: no search required
Located survivor – 2221: TACAN / Steer from Rescap
Begin retrieval – 2223: Strobe light
Ended retrieval – 2225:
Survivor disembarked – 2255:
A-7A Corsair II 153273 NK-612 "Charger 612" VA-27, (Royal Maces) USN
USS Constellation (CVA-64)
LTJG George M. Biery II
The Corsair would become a very useful Iron Hand aircraft in due course of time and indeed was still being used in that role during Operation desert Storm in Iraq in 1991. The Corsair was soon put to work as an Iron Hand aircraft in Vietnam equipped, like its predecessor the Skyhawk, with the Shrike anti-radar missile. However, on one of the aircraft's early SAM raids, the North Vietnamese came out on top. A strike force including an Iron Hand flight of Corsairs made a night raid on a SAM site that was known to be active near Phuc Bien, 15 miles north of Vinh. Lt Biery made his run against the site to launch his Shrike just as a missile lifted off. Unfortunately, the Shrike failed to fire and Lt Biery almost stalled as he made a high-G pull out at 10,000 feet. He saw the SAM detonate about 200 feet behind his aircraft, which immediately went out of control. The pilot ejected soon after crossing the beach and was quickly rescued by a Navy helicopter from the destroyer USS Richmond K Turner. (5)
USS Richmond K. Turner , cruising with USS Isbell (DD-869) on south SAR station, the day begins with the arrival of Big Mother 75 at 07:17. Between 14:54 and 18:21 Big Mother 75 is launched and recovered, twice "Protector 45 is recovered and launched along with USS Turner's small boat for the transfer of DESRON 21 to USS Sterett. At 18:21 Big Mother 75 is launched as the USS Turner steers various courses and speeds to come along side of USS PLATTE (AO-24) to refuel. 20:57 the Turner has completed refueling and now prepares to take on stores from USS MARS (AFS-1). 21:43 the SAR alarm is sounded, Clementine 2 is placed on the deck and launches at 21:50 to attempt a rescue. Clementine 2, receives a steer of 250⁰, 53 miles. With a TACAN and steer from Rescap the search, time is minimal. The helo crew observes a strobe light, hurries to the site to drop the rescue swimmer. Hostile fire is observed has helo departs the area, back-off and wait for signal. 22:15 all lines are clear from USS MARS, and USS Turner turns southwest and increases speed to 25 knots closing on Clementine 2. 22:23 Clementine 2 reports to Turner that, "They have the survivor and are returning to the ship". Suvivor was very happy to be picked up. (7) 22:53 Clementine 2 is aboard the USS Turner, with survivor, flight quarters are secured as Turner returns to South SAR station. (3)(12) Survivor aboard Turner, files charges against the helo crew for stealing his pistol. They did not have it ! (7)
Note: Position of downed aircraft from W. Howard Plunkett (USAF retired), approx 3.8 miles off coast. USS Richmond K. Turner ship's deck logs have NO positions shown, placed 70⁰, 40 miles from rescue position.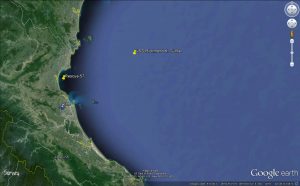 1) Numbering as per HC-7 Rescue Log (accumulative rescue number)
2) HC-7 1968 Command Report
3) HC-7 Det 109 Rescue report
4) Map – Google Earth
5) "Vietnam – Air Losses" By: Chris Hobson (with permission)
6) William Berry's October, 1968 flight log
7) Thomas Levasseur – phone conversation – 8-23-2015
8) Loss aircraft location data provided by: W. Howard Plunkett (LtCol USAF, retired)
10) HC-7 History collection; Ron Milam – Historian
12) USS Richmond K. Turner – Deck Logs
(Compiled / written by: Ron Milam, HC-7 Historian – HC-7, 2-1969 to 7-1970, Det 108 & 113)