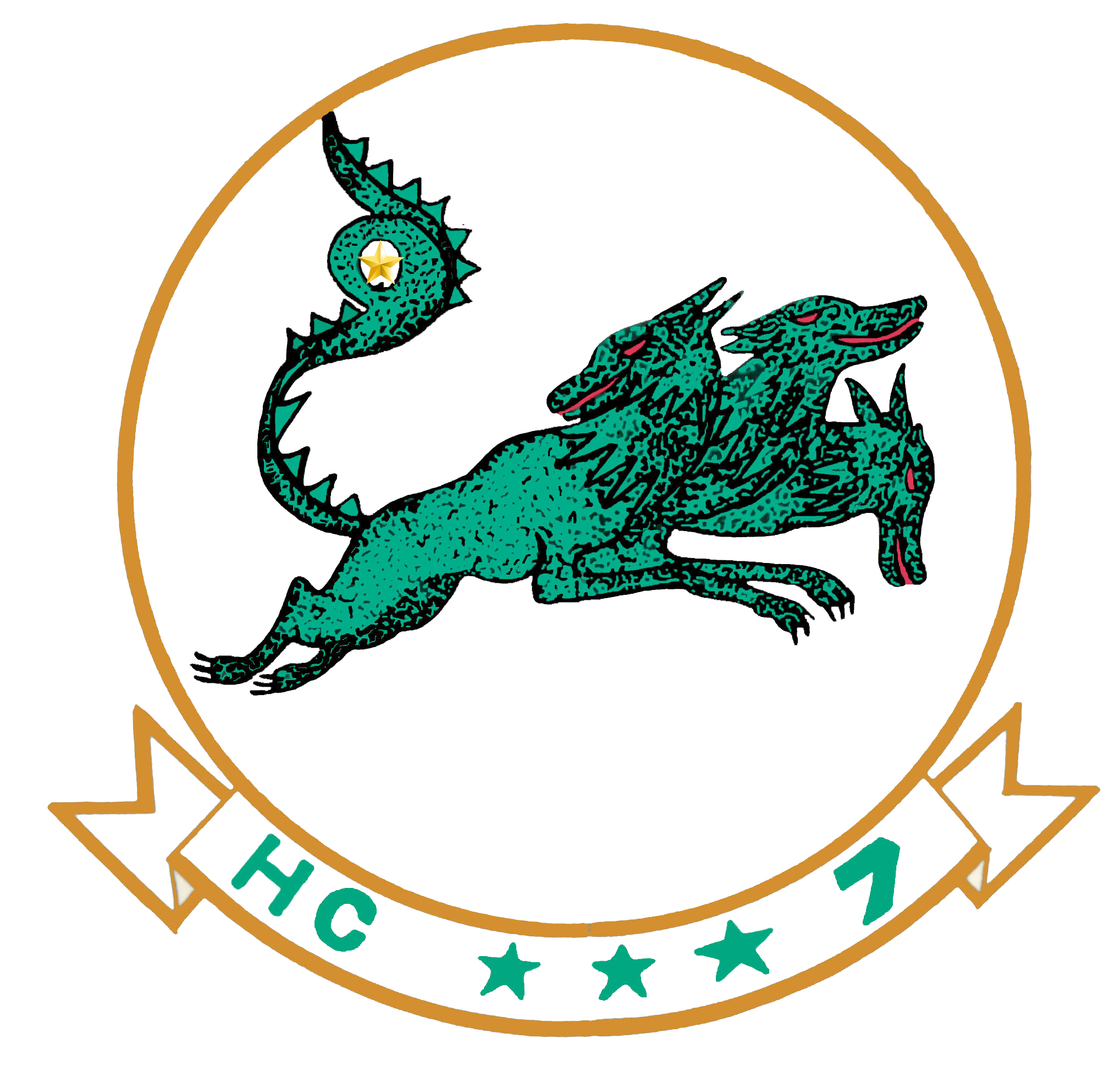 HC-7 RESCUE 58 (1) 9-NOV-1968 (Saturday)
UH-46A No. 52 152494 Boeing Sea-knight helo DET 102
USS MARS (AFS-1) Routine Night (2)
18 miles off North Vietnam coast
Water: 78⁰ Air: 80⁰ Wind: 10-15 knots Sea State: Calm – Wave height 3'
Pilot – LT John C. Cook Jr.
Co-pilot – LTJG Brit "Roger" Armstrong Jr.
1st crew – AN Edward L. Dutiel
2nd crew – ADJ-3 Robert S. Bichel
Alert received – 0619: Radio
Vehicle departed – 0620: 1/4 miles
Arrived on scene – 0621: no search required
Located survivor – 0622: visual
Begin retrieval – 0623: Flare
Ended retrieval – 0624: En Route USS Mars (AFS-1)
Survivor disembarked – 0625:
USN USS MARS (AFS-1
ABH-3 George T. Wainwright
( Aviation Boatswain's Mate – Handler – Third Class )
Operating independently, USS MARS prepares for another day of Seventh Fleet ship replenishment. Cruising on a base course of 340⁰ at 12 knots, 05:48 set flight quarters and launched Helo #51 . Sunrise would not be for another hour. 06:00 the MARS takes station on the USS OGDEN (LPD-5) and Helo #52 launches. Vertical Replenishment commences (VERT-REP) for USS OGDEN and USS TRIPOLI (LPH-10). 06:20 the man-overboard signal sounds. (12) Wainwright, a cargo handler/spotter, who ensured the correct pallets were rigged and sent to the correct ship, fell off the stern.(10) Good kid! There was a stack of plywood or sheets of metal on the flight deck and PO3 Wainwright stood on top of the stack to keep the sheets from being blown over board by helo wash. Well, the stack started peeling off, a sheet at a time, with Wainwright riding it like a surfboard or flying carpet. He went right over the side. (10) Helo #52, being closest to the scene was notified via the radio. They drop the cargo sling load on the ship and immediately peeled off, as the crewmen remove the cargo hook and rig the hoist. The one-quarter of a mile flight took one minute; the survivor had shot a flare. (3) Survivor looked sheepish for falling overboard, but barely had time to get wet. (10) Rescue was affected at 06:24 and back aboard the USS MARS at 06:25, medical reported Wainwright appeared uninjured, just his pride hurt. 06:52 the sun rose, as the day continues, 07:10 Vert-Rep began for USS TOWERS (DDG-9).
" The Five Minute Rescue "
1) Numbering as per HC-7 Rescue Log (accumulative rescue number)
2) HC-7 1968 Command Report
3) HC-7 Det 102 Rescue report
4) Map – Google Earth – position from USS MARS deck log
10) HC-7 History collection; Ron Milam – Historian (John Cook)
12) USS MARS – Deck Logs
(Compiled / written by: Ron Milam, HC-7 Historian – HC-7, 2-1969 to 7-1970, Det 108 & 113)