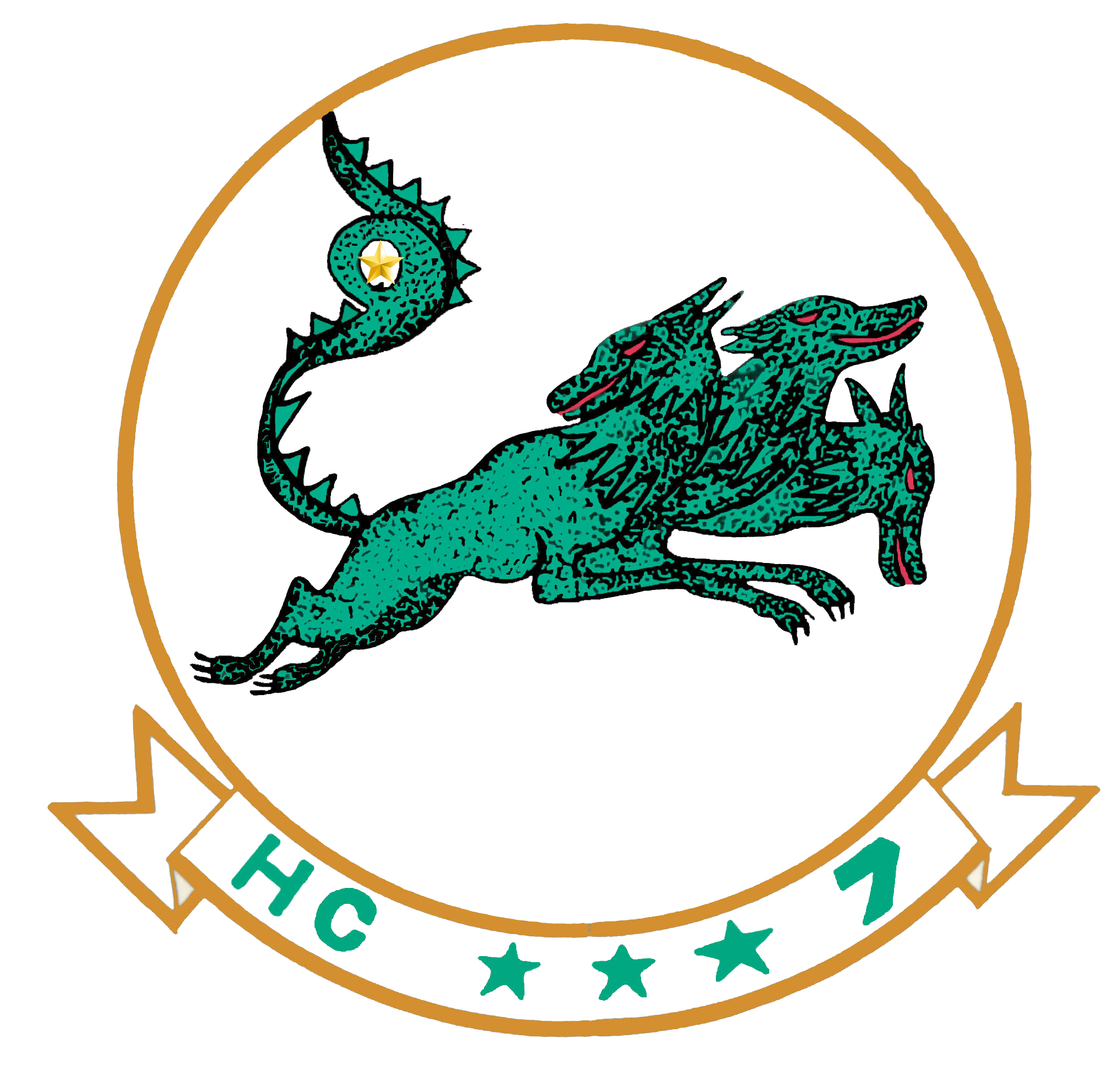 HC-7 RESCUE  80      12-Aug-1970 (Wednesday)
HH-2C  (Charlie)  Kaman Seasprite helo     Clementine II     Det 104
USS  FOX (DLG-33)        Routine Day (2)
South SAR station.
50 miles off the coast of North Vietnam
Pilot – LT                 Joseph W. Behunin
Co-pilot – LTJG      John P. Kennedy
1st crew – AT-3        Dewayne E. Cornish
2nd crew – ADJAN   Randall D. Cochran
Wednesday   12 August 1970   —  USS FOX (DLG-33) – PIRAZ/SSAR
1103 – CLEM II on deck.  1108 – secured flight quarters.  1215 – SAR ALERT, Super Heat 211, F-8 aircraft reports flame out, bearing 32 0°, distance about 8 miles.  Flight Quarters.  1217 – CLEM II is airborne and clear of the ship.  1218 – sighted smoke bearing 298° distance about 8 miles.  1226 – CLEM II recovered pilot.  Maneuvering to recover wreckage of downed aircraft.  1230 – CLEM II is on deck with recovered pilot CDR. Marshall O. WRIGHT, VF-162, USS Shangri La (CVA-38), injuries to pilot: Diagnosis; immersion, pulled muscle right thigh. Circumstances; had to bail out of aircraft.  Treatment; ice pack posterior right thigh, aspirin.  (HC-7 Rescue # 80  – HH-2C)   1443 – received injury report, RICHTER, James, SN, 12-Aug-1970 1215-1345 during SAR ALERT, Diagnosis; heat exhaustion:   Circumstances; man was wearing wet suit during SAR ALERT and did not take salt tablets.  Treatment: cold water wash-down, sodium chloride, potassium chloride added. (see below)
NOTE: RICHTER, Jim was a crew member of USS FOX. Assumed he was the ship's rescue swimmer, to assist rescue if needed.  Found his photo and name within the FOX's cruise book.
F-8H   Crusader  148660 (AJ-211)   "Super Heat"  (Hunters)  VF-162,  USN,
USS Shangri-La (CVS-38)
CDR  M. O. Wright  (XO)
A Crusader was abandoned during a combat air patrol following problems with the aircraft's fuel system.  The pilot was rescued from the Gulf of Tonkin. (5)
"Two Milestones Passed"
"HC-7 Rescues Aviator in Gulf" The mission was the squadron's 77th successful rescue mission and the first to be performed by any squadron in the Navy's new HH-2C Sea Sprite.  Receiving a May-Day call from a pilot, who was forced to eject from his F8H.  The Det 104 helo was airborne before the pilot entered the water.  Swimmer Cochran, entered the water to help the aviator free himself of his parachute.  Thirteen minutes after the call, CDR Wright was safe aboard the SAR ship."  (3)
"The report is accurate.  The rescue was textbook routine because Joe Behunin had trained us well.  The only things I can add are that it was a beautiful CAVU day, blue skies and unlimited visibility.  We were in the Fox wardroom when they called flight quarters and were airborne less than 3 minutes later.  We spotted the survivor while he was still coming down in his parachute.  Dwayne Cornish and Randy Cochrane, who may have exited the helicopter at a little higher than 10′, were perfect.  
As the article says, it was the first HH-2C rescue in the gulf; I believe it also became the only HH-2C/Clementine rescue.
Respect to all Seadevils,    John Kennedy (6)"
"A routine pickup using NATOPS procedure.  Just like we had trained to do repeatedly.  (Over and over again and again)"  (10)
1225 USS Shangri-La receives word that pilot of A/C 211, CDR Wright, ejected, A/C mission returning to ship from Force CAP.  1226 pilot pickup by rescue helo from North SAR station. (12)
1) Numbering as per HC-7 Rescue Log (accumulative rescue number)
2) HC-7 – NO rescue report within collection and no lost plane location of record
3) Atsugi "Skywriter" – Aug-21-1970 – "HC-7 Rescues Aviator in Gulf"
5) "Vietnam – Air Losses" By: Chris Hobson (with permission)
6)  John Kennedy – email 12-30-2020
7) USS FOX – Deck Logs
10) HC-7 History collection; Ron Milam – Historian    (from-Dewayne E. Cornish)
12) USS Shangri-La  (CVS-38) – Deck Logs
(Compiled / written by: Ron Milam,  HC-7 Historian  –   HC-7,   2-1969 to 7-1970, Det 108 & 113)