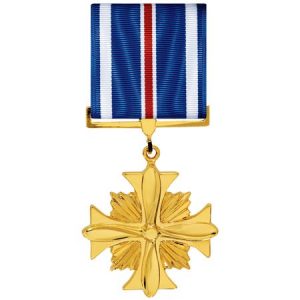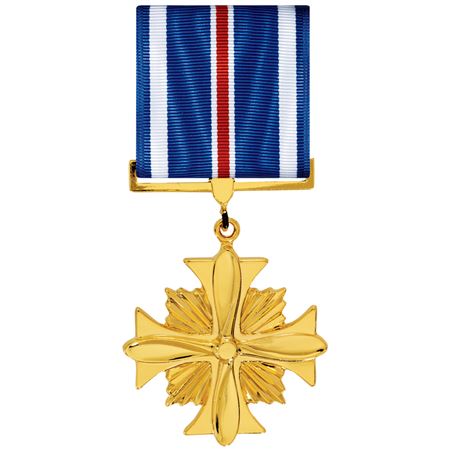 THE SECRETARY OF THE NAVY WASHINGTON
The President of the United States takes pleasure in presenting
The DISTINGUISHING FLYING CROSS to
LIEUTENANT HAROLD V. PEPPER, United States Navy
For service as set forth in the following
CITATION
The President of the United States of America takes pleasure in presenting a Gold Star in lieu of a Second Award of the Distinguished Flying Cross to Lieutenant Harold V. Pepper, United States Naval Reserve, for extraordinary achievement in aerial flight as a pilot of Fighter Squadron SEVEN HUNDRED EIGHTY ONE, operating from U.S.S. BONHOMME RICHARD in attacks against hostile North Korean and Chinese Communist forces. While on an armed reconnaissance mission on 2 November 1951, Lieutenant Pepper was flying as flight leader of a flight of F9F jet aircraft when he discovered and led his flight against an enemy troop and supply convoy in the enemy held TANCHON area. Despite intense medium and light anti-aircraft fire from portable weapons within the convoy and the extremely hazardous mountain terrain which made attacks most difficult, Lieutenant Pepper persistently attacked this convoy with low-level rocket and strafing runs causing an estimated one hundred fifty casualties among the troops which ran from their troop carriers and exploding and burning eleven of the supply vehicles and five of the troop-carrying trucks. These fires burned so fiercely that they spread through three nearby enemy warehouses where intermittent explosions caused their destruction or heavy damage. The effective destruction of this supply group interrupted a delivery of vitally needed supplies and equipment to the frontline enemy troops. His courage and gallant devotion to duty were in keeping with the highest traditions of the United States Naval Service.
Return to Distinguished Flying Cross