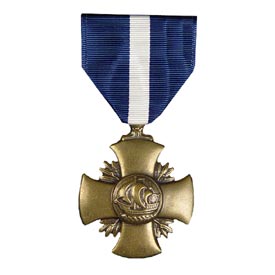 The SECRETARY OF THE NAVY WASHINGTON
The President of the United States takes pleasure in presenting
The NAVY CROSS to
AIRMEN NORMAN B. STAYON
UNITED STATES NAVY
For service as set forth in the following
CITATION
For extraordinary heroism on 26 March 1971 while serving as second gunner in the lead aircraft of a light fire team from Helicopter Attack (Light) Squadron THREE (HA(L)-3), flying convoy escort along the Can Gao Canal, Kien Giang Province, Republic of Vietnam. Petty Officer Stayton was participating with his fire team in providing overhead cover for a boat convoy when one of the boats carrying 9,000 gallons of explosive jet fuel struck a mine, detonating the fuel. Two enemy rockets then struck the boat, following which burning fuel spewed across the water. When he observed a wounded man struggling to shore to escape the flames and the hail of enemy bullets hitting the water, Petty Officer Stayton alerted his pilot, took the initiative and dived from the hovering helicopter into the burning canal to carry a life preserver to the survivor. Although immediately wounded in the leg, Petty Officer Stayton nonetheless succeeded in reaching the victim, who had sustained serious burns and was in a state of shock, and shielded him with his own body while attempting to tow him to the recovery site. Thwarted in five attempts to reach the hovering helicopter because of the current, the enemy fire, and the helicopter rotor downwash, Petty Officer Stayton, although close to complete exhaustion, managed to wave his arms and get the attention of a river assault craft which proceeded to rescue both men. By his valiant and persevering efforts in the face of intense enemy fire and almost insurmountable circumstances, Petty Officer Stayton was directly instrumental in the rescue of a seriously wounded fellow serviceman. His heroic actions were in keeping with the highest traditions of the United States Naval Service.
Return to Navy Cross