LIEUTENANT Robert W. Burnand, Jr.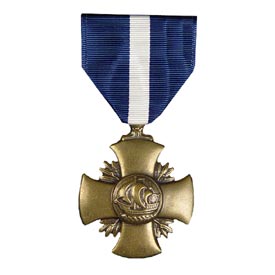 The President of the United States takes pleasure in presenting
The NAVY CROSS to
LIEUTENANT Robert W. Burnand, Jr., United States Navy
For service as set forth in the following
CITATION
The President of the United States takes pleasure in presenting the Navy Cross to Robert W. Burnand, Jr., Lieutenant, U.S. Navy (Reserve), for extraordinary heroism in action from 12 through 16 October 1966 while serving in a detachment of Helicopter Anti-Submarine Squadron SIX (HS-6), temporarily embarked in U.S.S. INTREPID (CVS-11), flying as Plane Commander of an armored search and rescue helicopter during a series of related rescue missions in support of combat operations in Southeast Asia. Lieutenant Burnand was vectored to an inland area of North Vietnam on three separate search and rescue flights in valiant attempts to rescue a downed Navy pilot. Although encountering severe enemy ground fire, he persisted in his attempts to locate and rescue the survivor. During the final search into the same area, he and his crew demonstrated fearless bravery while under fire. An accompanying helicopter was riddled by intense enemy automatic-weapons fire which completely disabled one of its engines, forcing it to retire toward the sea. Observing this action, and realizing that it was absolutely mandatory that the operation continue in the same location, Lieutenant Burnand and his crew decided to take a calculated risk and expose themselves to enemy fire in a valiant attempt to thwart the North Vietnamese and complete their mission. By executing skillful evasive maneuvers and effectively directing accurate counterfire at the enemy, he and his crew suppressed enemy resistance to such an extent that they successfully completed their assigned mission. By his outstanding courage, exceptional skill and fearless devotion to duty, Lieutenant Burnand upheld the highest traditions of the United States Naval Service.
Return to Navy Cross